Add Facebook pixel to a typeform
Using Facebook ads to share your typeforms? Adding Facebook pixel allows you to see how many people view, open, and submit your typeform from Facebook sources.
What you need
A Business Typeform account
A typeform you want to share
A Facebook account and page, with Ads Manager set up
It's really easy to add Facebook pixel tracking to your typeforms. All you need to do is copy your pixel ID from Facebook and add it to your typeform. Let's break it down:
1. Go to Facebook Ads Manager, and click the hamburger menu icon:
2. Now click Pixels in the menu that opens:
3. On the next page, simply click the green Create a Pixel button:
4. Once created, you'll see your Pixel ID in the top left corner of the page. Highlight this with your mouse, and copy it to your clipboard.
5. Go to your Typeform Workspace, and open the typeform you want to track.
6. In the Connect panel, you'll see Facebook pixel listed - you can also search for it in the search bar. Click the Connect button once you locate it.
7. A new window will appear. Paste in the pixel code you copied earlier and click Save to finish.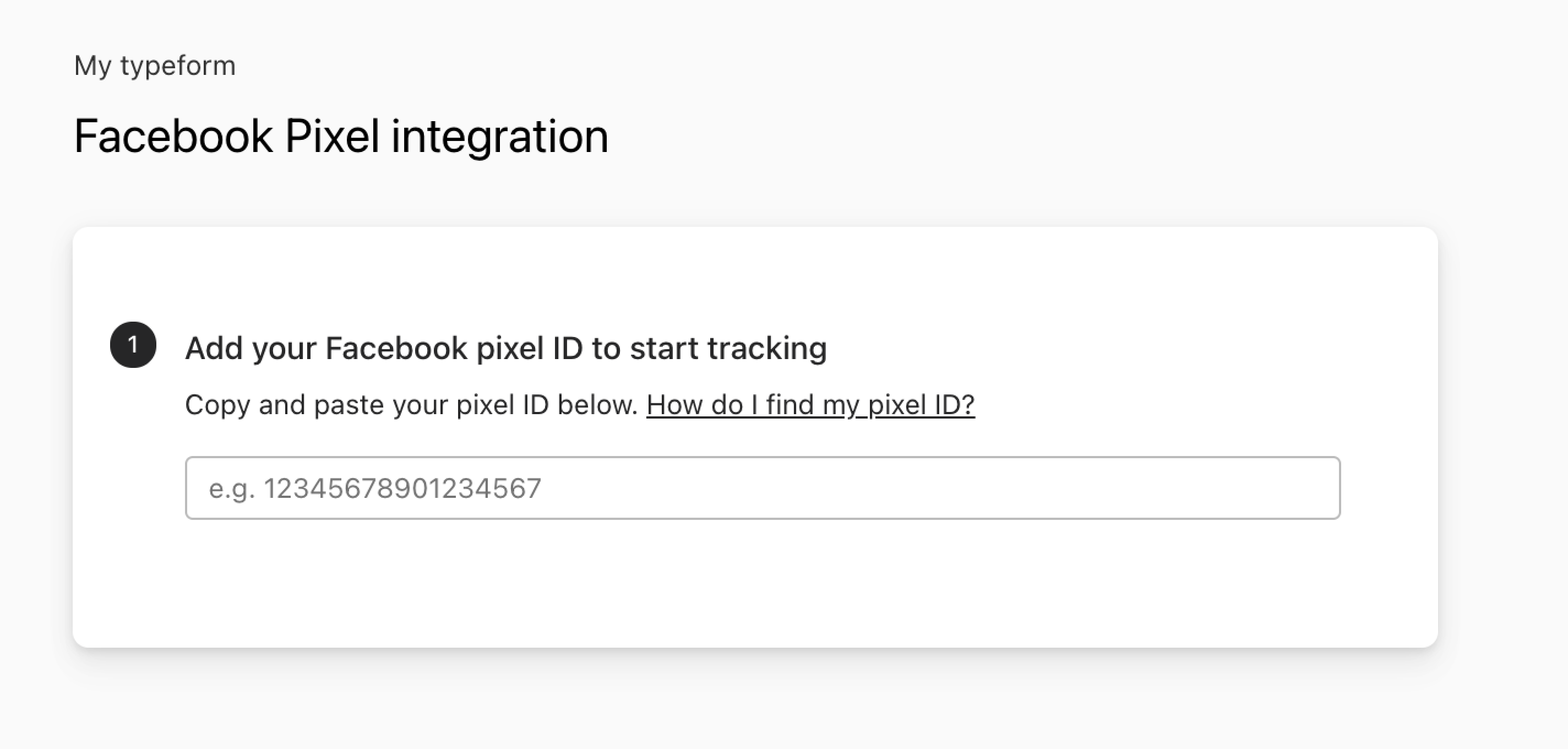 Warning! You can only have one pixel per Facebook Ad Account.
Which Typeform events are tracked?
Facebook pixel tracks page views by default. On top of this, Typeform sends the following custom events, so you can set up your funnel and conversion events.
TypeformFirstInteraction: triggered when someone does any of the following: click on the Welcome Screen, press the button on the first question/statement (if you don't have a welcome screen, you scroll to the next question.)
TypeformSubmit: triggered when someone completes a typeform and clicks Submit.

Tips! If you're using Google Chrome, you can install Facebook's pixel helper extension by going here. This will help see which events are being triggered when you are testing your typeform.
Tracking Conversions

Warning! You will need to submit your form at least once with the Facebook Pixel configured to ensure the custom events are available in your Facebook business account.
1. Go to the Custom Conversions page here for your Facebook business account. Click the Create Custom Conversion button to begin the setup.
2. Depending on the goal of your campaign, your conversion event may be a URL or it may be the submission of the typeform.
3. If it's the submission of the typeform, change the Website event from All URL Traffic to TypeformSubmit on the pop-up to create a custom conversion.
4. You can then apply a category (e.g. purchase, lead, registration) and a value.
5. Click Create to complete setup.

Tips! Using Facebook Pixels on multiple typeforms? Distinguish between conversion events by combing the TypeformSubmit event with the page URL. See the screenshot below.