Connect your typeform with Slack
We're currently working on an upgraded version of the Slack integration. If the below instructions don't match what you currently see in your account, please follow the instructions in this article.
Use this integration to get responses sent to Slack the moment someone completes your typeform. Share with a channel or via direct message.
Our Slack integration is a great way to share customer feedback, poll results, leads, or survey answers with your teams.
At Typeform, we use this integration to share rating scale score feedback, and our teams say they love getting feedback as it comes in. We can then act on this feedback, by pinging our Education team for example, if someone has a good suggestion about our Help Center.
What you need
A Slack account
A typeform to connect to Slack

Warning! The Slack integration can only send up to 50 values (questions, Hidden Fields, scores, and variables) in each message. If your typeform is longer, you'll need to choose up to 50 items during the integration setup process to send to Slack.
Here's how to set up
1. Log in to your Typeform account and open the typeform you want to connect with Slack. I'm using a simple product feedback typeform. Click Connect to see our integrations.
2. Now you can see our Slack integration. Click the Connect button: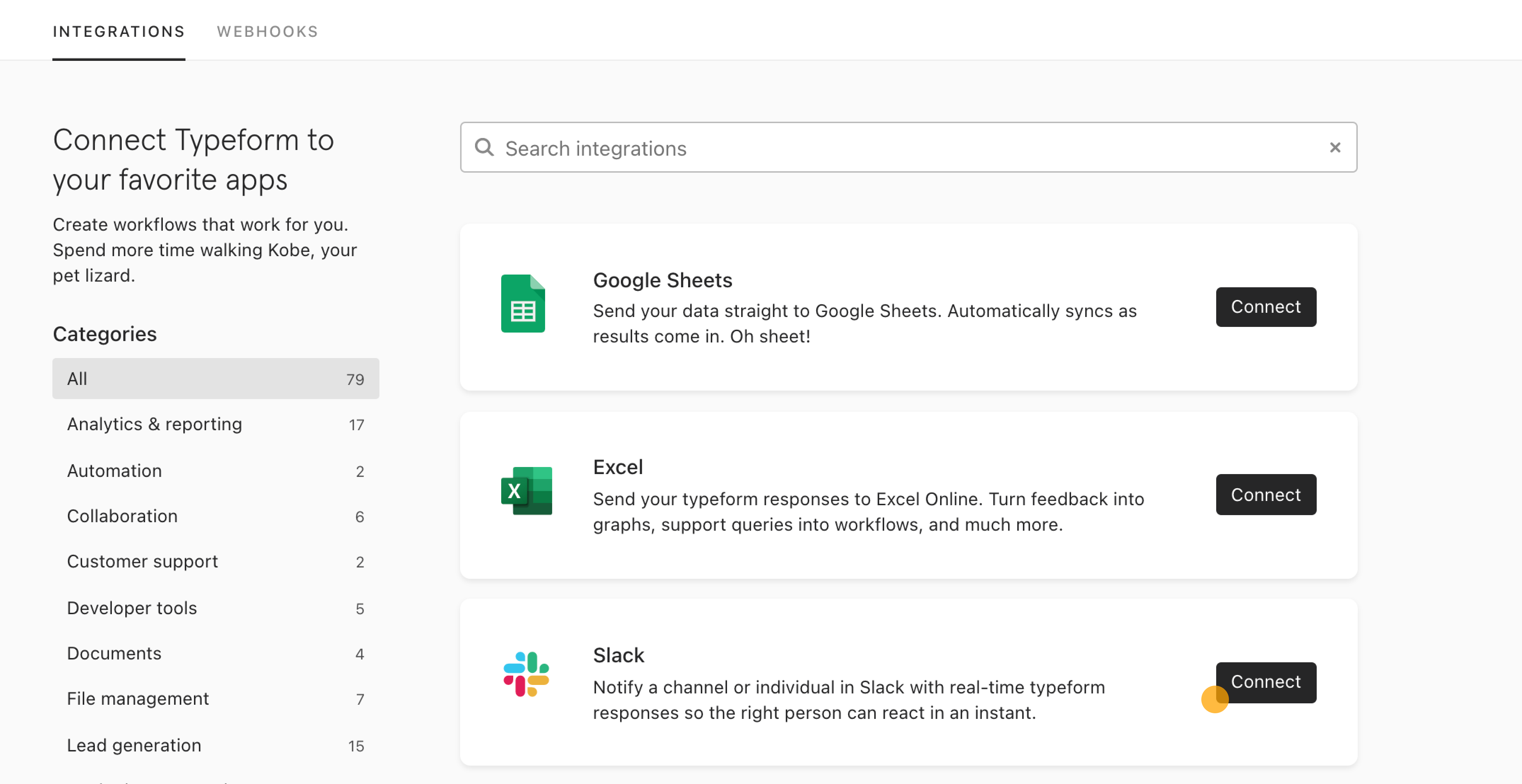 3. You'll be asked to log in to Slack, and give Typeform permission to access your account. If you've already connected a Slack account, you can select this from the dropdown menu that appears:

Note! You can associate multiple Slack accounts with your Typeform account. Any account you have previously connected will be listed here. Each unique typeform can be integrated with one Slack account: in other words you can't integrate the same typeform with multiple Slack accounts.
4. Now it's time to choose where you share your responses. Click the dropdown menu to browse your Slack channels. Type "@" if you want to search through users to send a direct message.
I've chosen to share with my amazing team in our #eteamchat. Now click Continue.
5. Next we'll ask you which answers you'd like sending to Slack. You can choose between sending some specific answers, or all of them:
Let's choose some specific questions.
6. We'll show you a list of all your typeform's questions, Hidden Fields, and variables, with a check box next to each one:
Uncheck any questions you don't want to be sent to Slack, and click I'm done to continue. You can send up to 50 items (including questions, Hidden Fields, scores, and variables) to Slack. 

Note! Make sure that your questions are not longer than 2989 characters. The Slack API has a 2989 character limit, so if your question is over this limit, the results won't be sent to the integration.
7. To make your integration live, click Activate integration:
8. Check out your Slack app now – you'll see a notification from Typeform that someone connected a form to that channel or direct message:
9. Back in your Typeform account you'll see the Slack integration now has a blue toggle. You can use this to turn your integration on and off. If you want to delete the integration, click the three dots: 
10. Now you can share your typeform, and wait for the answers to roll in!