Cancel your Typeform account
Is your campaign over, or have you just realized that you no longer need certain features of your Typeform plan? You can cancel your plan by following the instructions in this article.
Check out this article if you're looking to upgrade or downgrade your account.
Important! When you cancel your Typeform plan, you will have limited access to your typeform results after the plan cancellation goes into effect, and any typeforms using paid features will go into trial mode. For more details, see this page. 
To cancel your plan:
1. Log into your account, click the alias in the top left corner, and go to Plan & Billing. 
2. Click Change my plan. 
3. On the next screen, choose the Free option to cancel your plan; changes will apply at the beginning of the next billing period.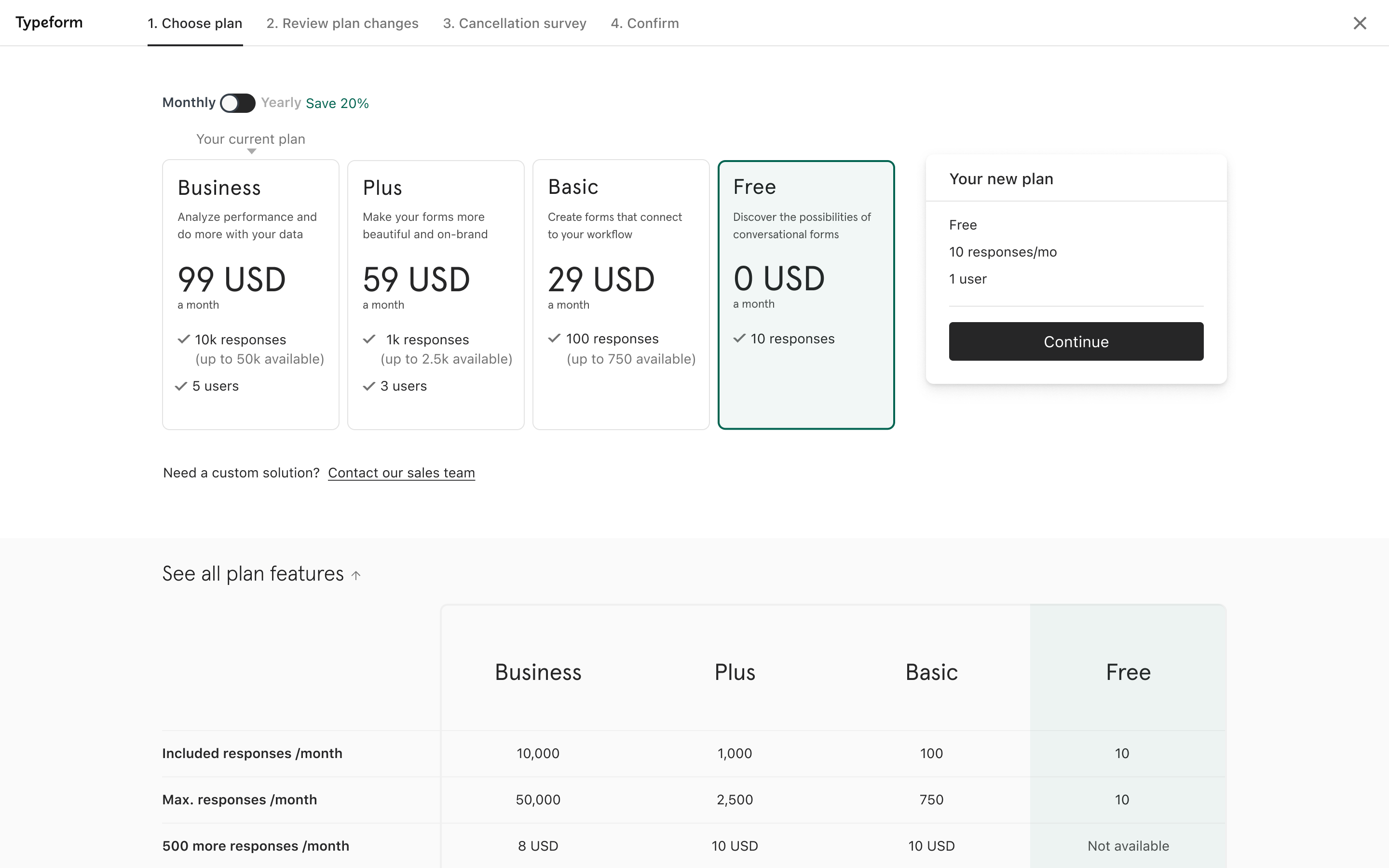 A price summary of your new plan will appear on the right-hand side of the screen. Once you've made your selection, click Continue to move on. 
4. Next, review the changes that will be applied to your plan starting from the next billing period. Note that when your plan cancellation goes into effect, you will have limited access to your historic responses, and any additional team seats you had on your former plan will be removed. See this page for more details. 
Click Continue to survey to move to the next step.
5. Next, you'll be asked to fill out a short Cancellation survey. This survey helps our team learn more about why you're leaving your plan and how we can improve in the future.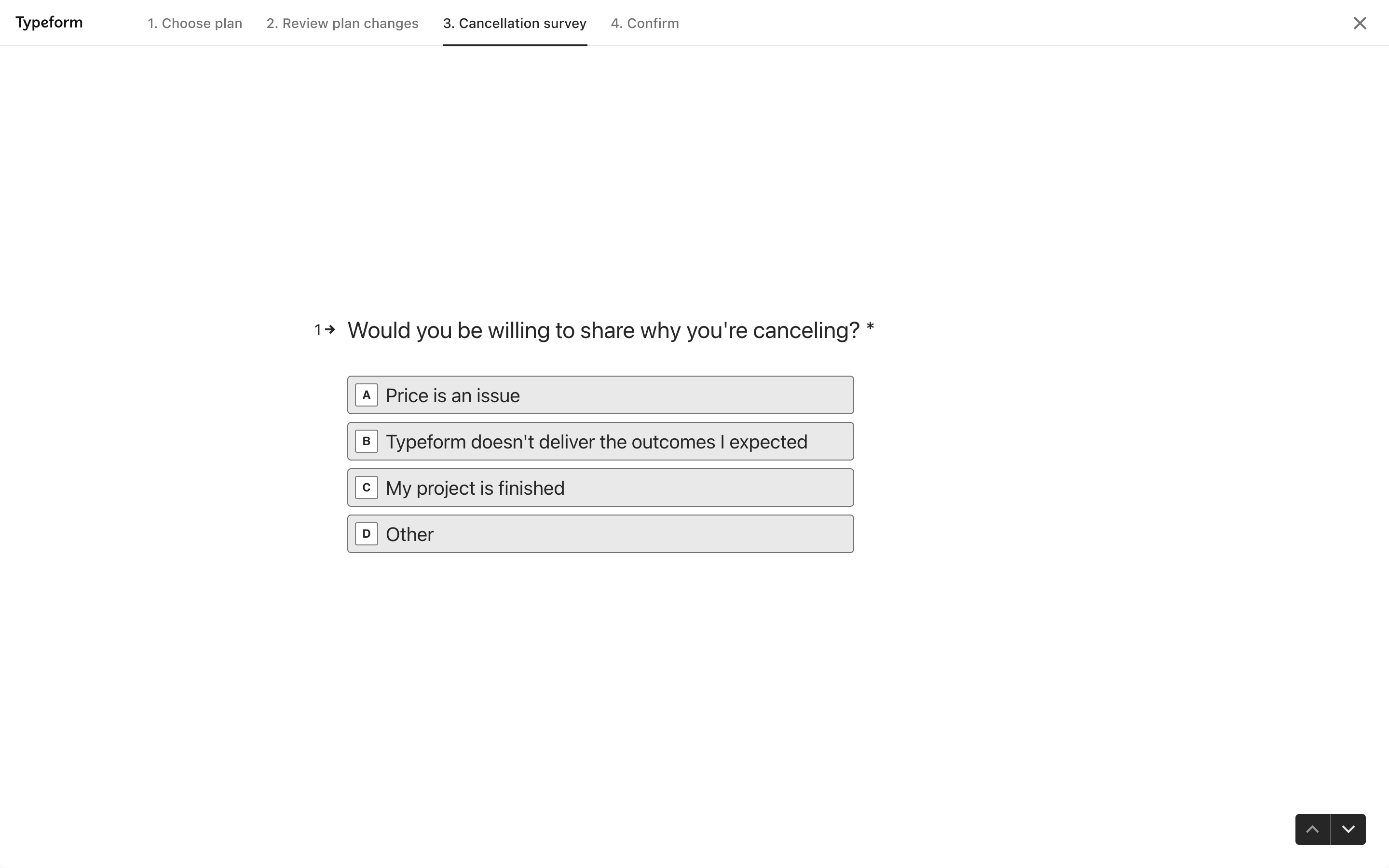 6. After you finish the survey, you'll be asked to review and accept the changes you'll see in your plan after the next billing period. Check the checkbox in the right-hand sidebar to confirm you understand your upcoming plan changes. Then, click the black Downgrade button.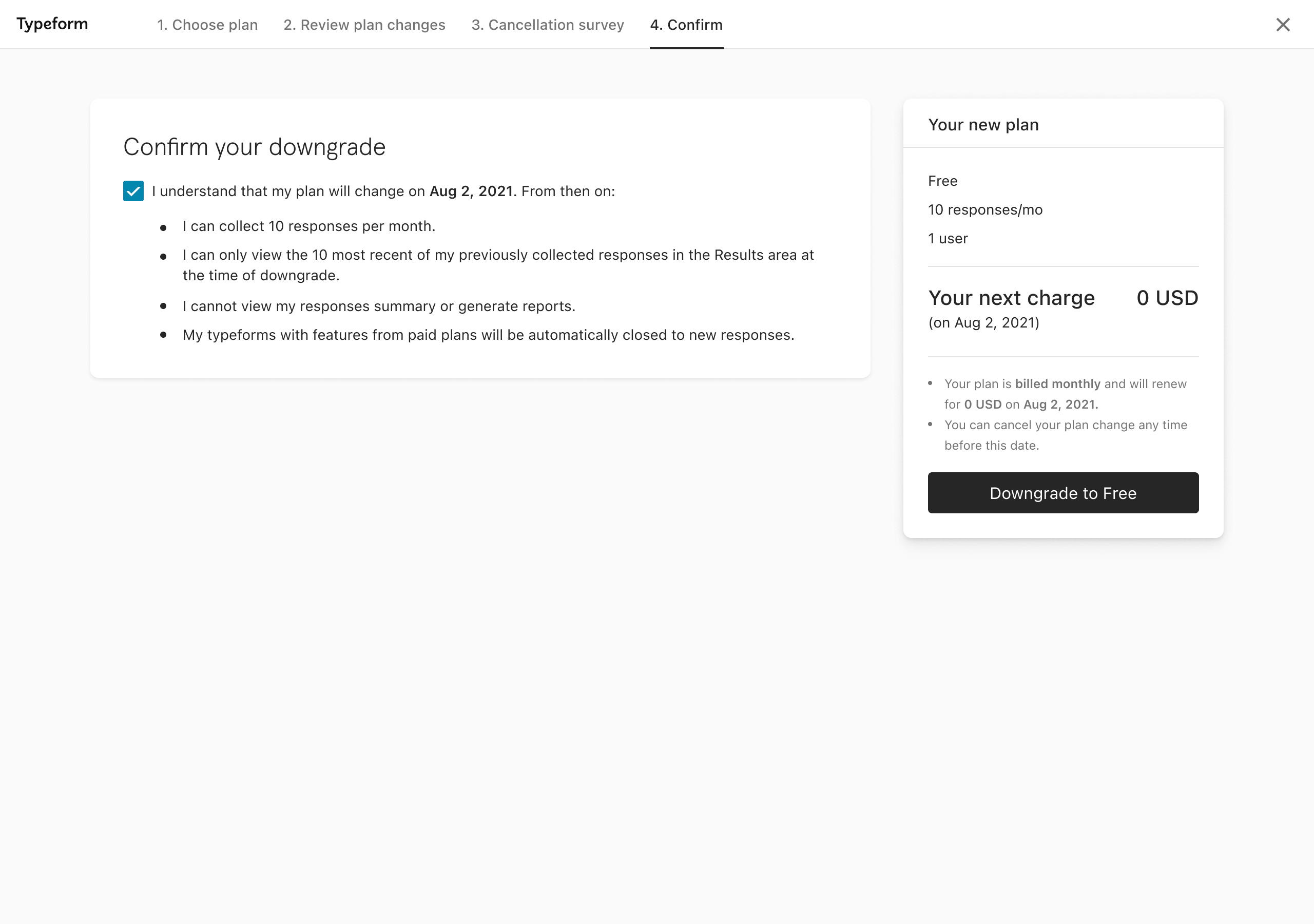 The downgrade will not go into effect until the end of the paid period. For example, if on Aug 8 you cancel a monthly subscription that was meant to renew on Aug 27, you will still have access to paid features until Aug 27. Your typeforms and the responses you have already collected will not be deleted after the downgrade goes into effect, although your typeforms may go into trial mode and you will have limited access to response data. 
7. Having second thoughts? On your Plan & billing page, you'll be able to cancel the downgrade before it goes into effect: 
When you cancel your plan, we'll send you an email confirming the cancellation. If you can't find this email, it might have landed in your spam folder. If you didn't get the email at all, please check the Plan & billing section of your account to make sure that the cancellation was successful.