How to use Typeform for stress-free event planning
Whether it's dinner with friends, a company retreat, or a huge trade show, event management means a ton of stuff to organize. Things like: Who's coming? What are people going to eat? Where will they stay?
When you're talking about hundreds or thousands of people, that's a lot of information to deal with. So you'll need to collect, store, and process that info as simply as possible.
The showcase below looks at four companies you may already know. But what you might not already know, is that they use Typeform to make planning, organizing, and running their events a lot smoother.
Here's how you can too.
Get people hooked at registration
"The registration process shouldn't be a barrier to your event."
Use a sharp-looking typeform with conversational questions to get more attendees. Just take it from LAUNCH, the world's largest startup event.
After collecting basic contact details and payment info, LAUNCH gathers more information about each participant. This includes finding out about people's roles, and what kind of services their companies are looking to buy.
This valuable data lets organizers easily segment their audience, and follow up accordingly. It also allows LAUNCH to tailor the event to specific attendees.
Have a look at their registration typeform.
But not all events need to push for extra info. Some registration forms are shorter and simply focus on sign-up. Once someone's registered, the process follows up with a typeform asking for more information.
So you've got options. Like the one below.
→ Discover how LAUNCH gets 15k event sign ups per year with Typeform.
Build enthusiasm by following up
Once you've got your attendees, give them more details about the event. This lets you take your event management process to the next level.
For example, when Gabi and Typeform's Home Team organized "Typefest," our company retreat, she followed up with staff by providing the weekend's itinerary through a second typeform.
This meant we could take next steps like select our dinner menu and confirm our travel plans.
Check out our company retreat typeform.
Automatically close event registration
At some point, you'll need to close your event registration form to new sign ups. If you're lucky, it's because you sold out. Or maybe your event is happening tomorrow, so it's too late for new sign-ups.
Forget about remembering to close your typeform. Instead, set it to close automatically at a specific date and time, or when it has collected enough entries to fill every seat in the house.
No more unexpected guests = more fondue to go around.
Learn how to set your typeform to close automatically here.
Segment attendees with a post-registration survey
British video game conference EGX follows up their registration process with a typeform that aims to match the event with the desires of participants.
It also collects important marketing information like gaming habits, Internet use, and household income. But the questions aren't required, so people can skip anything they don't feel like sharing to keep respondents moving through the form.

EGX's typeform is also beautifully branded, with a slick background image and perfectly matched color choices. This attention to detail means the typeform fits seamlessly with their brand for a more cohesive user experience.
Check out their post-registration typeform.
Continue the feedback loop to improve your next event
Office Ninjas has the mission to "breathe fun energy into the admin profession." So they turned to typeform for a more human process to gather feedback after their event. Because feedback helps to grow and improve future events.
"Typeform makes the survey process less painful for everyone involved by making it super easy to create beautifully-designed surveys that aren't a total drag to fill out."
Simple rating questions help gauge the success of different parts of your event. And open-ended text questions give people space to write exactly what they feel about their experience.
If you want more honest feedback, you can also make the typeform anonymous to complete. For some people, this lets them assess things more openly.
Take a look at their feedback typeform.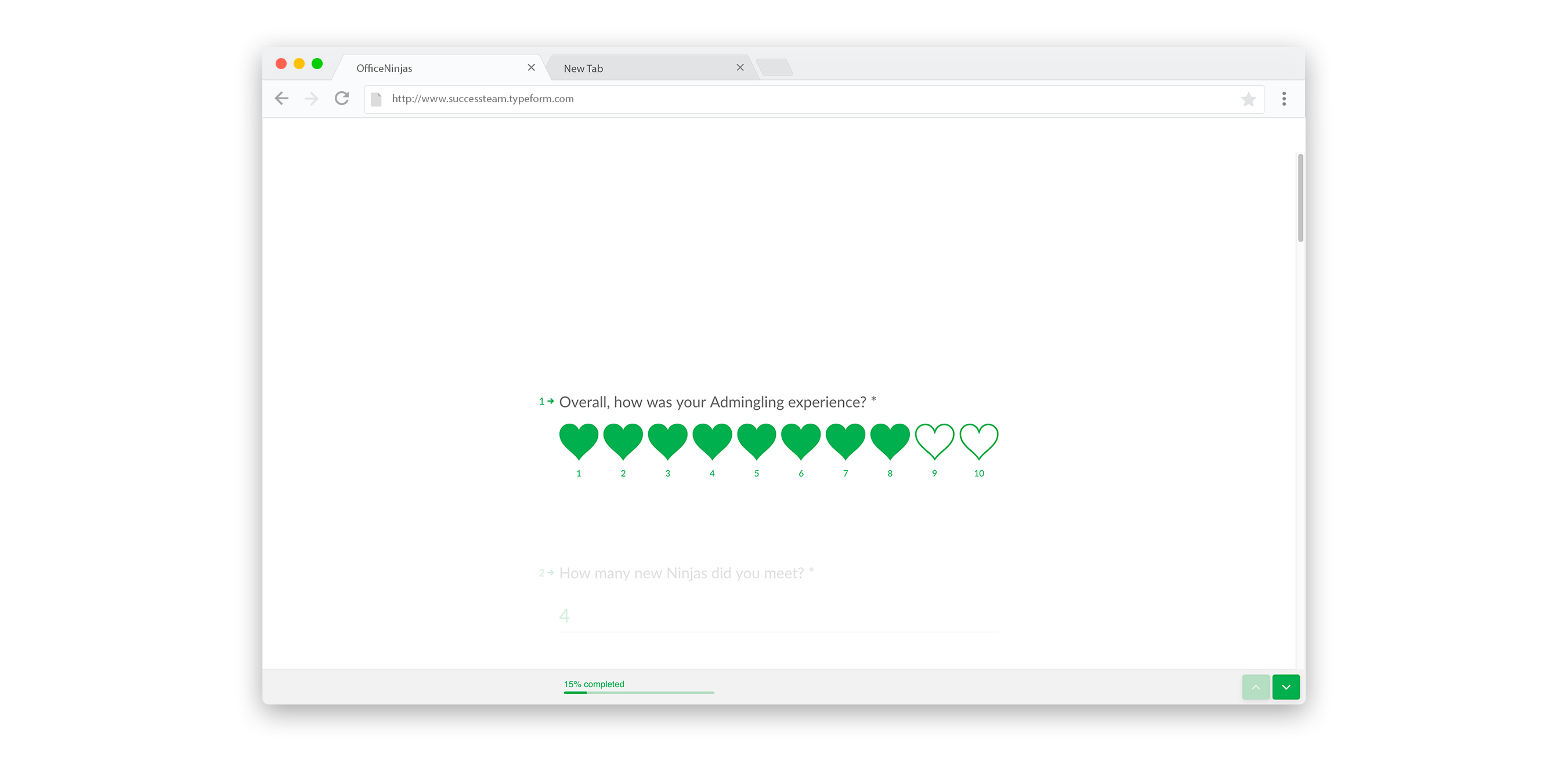 Using this feedback circle, you can make organizing your event simpler, and ensure that future ones continue to be better. Of course, there are parts of this process that you may not need for every event—feedback for a dinner party might not be necessary.
But when used at just the right points in your planning journey, event management becomes a streamlined affair where you build relationships with attendees and continuously improve their experience. And that's what can turn your event into something that's well-attended, shared, and talked about.
Are you ready to improve your event management?
---
How did they do it?
Here are some tips on how to put it all together.
1. Customize your background to fit your brand
You can add a customized background to any typeform. Use it to match your brand, evoke emotions, or just to make it look sharp. Learn how to customize the look of your typeform.
2. Recall information for a more natural conversation
Want to make your typeform more personal? Be more conversational by reusing answers from previous questions with Recall information.
3. Use Logic Jumps to customize the screens they see
Do you need to send respondents to different questions, depending on the responses they give? Then you need to use Logic.
Need to take registration fees or receive payments? Create a Payment field.