How to manage your email preferences
GDPR gives you the right to control the information companies send to you. What this means with your Typeform account is that you can manage your email preferences, choosing what kind of messages you want from us.
Sometimes we do need to communicate with you. For example if you contact Support, or if we need to send you a receipt or invoice. That's why GDPR makes a clear distinction between transactional and non-transactional communications:
Transactional communications are sent in response to a user's interaction and are defined in strictly functional terms. For example, interactions with Support, password resets, invoices, etc.
Non-transactional communications are sent to those recipients who have opted-in for promotional content. For example, special offers, newsletters, company news, and product updates.
We like to think our non-transactional communications are pretty fun and we try not to bug you with things you don't care about! However, you can stop receiving any non-transactional communications if you like.
We've divided all this non-transactional stuff into three different categories:
Product intro, tips, and inspiration
Opt in to this and we'll send you tips, tricks, and inspiration articles to help you make your typeforms better.
Company news
Opt in to this and we'll send you updates about Typeform and our latest features.
Coupons and announcements
Opt in to this and we'll send you coupons and offers every now and then.
If you tick the Communications check box when you create an account and accept our Privacy policy and Terms of use, you are opted-in to all three categories.
If you don't check this box, you'll still receive emails regarding Product intro, tips, and inspiration (as specified in our Terms of use), although you can unsubscribe from them at a later time. Read on to find out how…
Communication settings
There are two ways to get to the Communications settings, where you will be able to manage your email preferences:
1. Click on the icon in the upper right corner of your Workspace and select Settings:
3. Now go to the Communications panel:
4. Here you can opt-in or opt-out individually to receive emails from the three different categories.
If you want to stop receiving emails from a category, you'll just need to turn the switch off. For example, if I only want to receive updates about Typeform as a company and our latest features, the panel would look like this: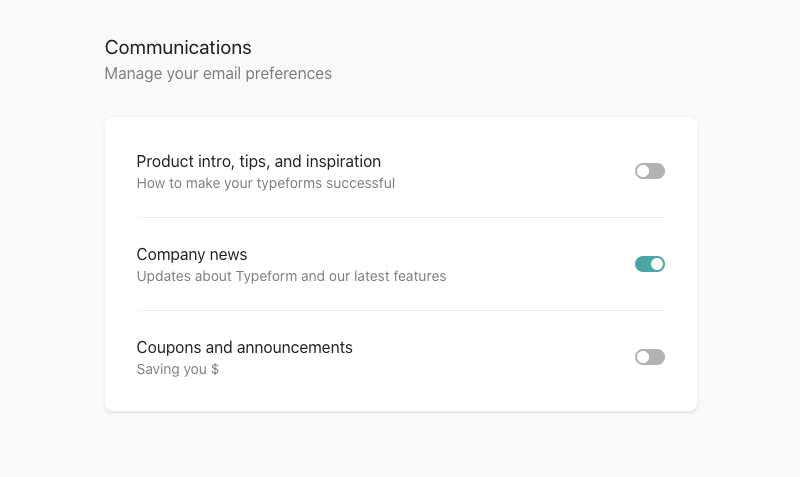 5. Alternatively, click on the Unsubscribe button at the bottom of any email that you receive from us, and you'll be taken to the Communications panel of your account.

Tip! Remember that if you unsubscribe or opt out from all our communication categories, you will still receive transactional communications, such as password reset emails, emails from Support (if you open a ticket with us), or invoices if you upgrade your account.
If you have any questions or issues about the Email preferences panel, or if you're still receiving promotional emails despite opting out, please contact us by clicking the button at the bottom of the page, and our Support team will be happy to help.
Want to learn about other GDPR data subject rights, or privacy in general? Check out our articles on GDPR and security at Typeform.