Upgrade your plan
Ready to upgrade your plan, collect more answers per month, and get more out of Typeform? Changing your plan is a cinch. Read on to find out how. 
Check out this article if you're looking to cancel your account plan and downgrade to the Free plan.
Please note that our plans renew automatically, and you must manually cancel your subscription if you're no longer using our service to avoid auto-renewal. You can find out more about this in our Terms & Conditions.
Upgrading your plan
1. Log into your account, click the alias in the top left corner, then click Plan & Billing. 

Note! Only organization owners or admins can change account plans. Other users will not be able to change the plan linked to the account.
2. Click Change my plan (or Upgrade, if you're on a Free plan). 
3. On the next screen, pick the plan level you'd like to change to: Basic, Plus, or Business. 
4. To select your billing frequency, click the toggle to switch between our yearly and monthly options.
If you're looking to stay on your current plan while increasing your monthly responses, you can also choose the new response limit at this step:
You can view plan prices in different currencies by clicking the currency dropdown menu in the top right of the screen: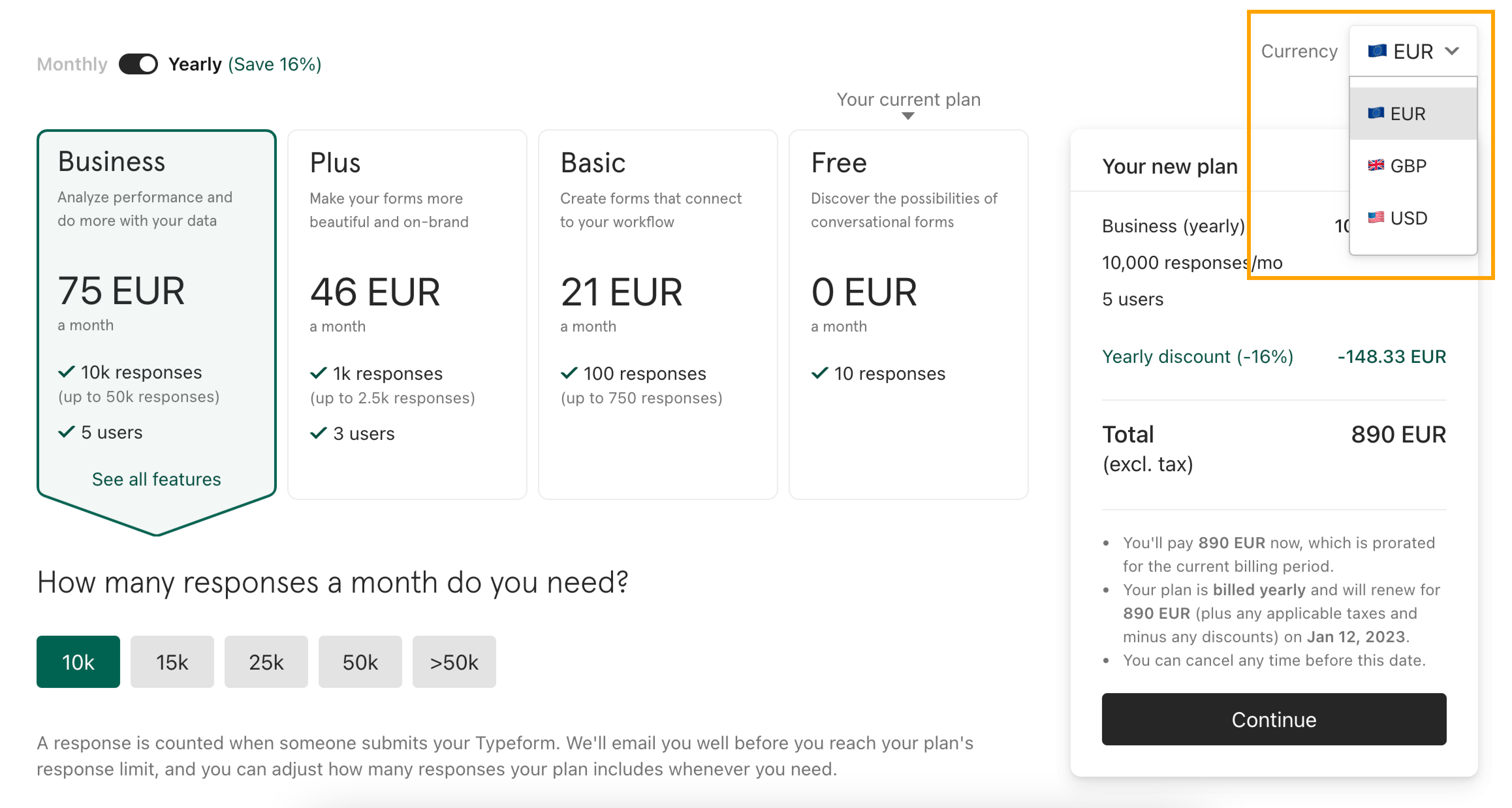 This dropdown menu will only appear if you haven't set a billing address. If you have saved a billing address on your Typeform account, plan prices will automatically appear in the corresponding currency. If you add or change a billing address as part of the payment process, plan prices will also automatically update to the currency that corresponds to that address. For example, if you choose to view prices in euros, then add a billing address in New York, prices will automatically change to US dollars. 
A price summary of your new plan will appear on the right-hand side of the screen. Once you've made your selections, click Continue to move on to payment. 
5. If you chose to upgrade your plan, after entering payment details, click Pay and upgrade to confirm. Your new plan will be active starting immediately, and you'll be billed the difference from your previous plan for the current payment period.