Workspaces
The first thing you see when you log into Typeform is your Workspace. This is where you store and organize all of your typeforms.
When you create your first typeform, it'll live in the default Workspace, known as My workspace. You can add multiple Workspaces to keep your typeforms organized. 
By default, typeforms are displayed in a grid view within a Workspace. They display by order of creation, with your most recently created first. However, you can also display your typeforms by date of last update or alphabetical order. Finally, you can view your typeforms in a list view, instead of a grid view. 
However, Workspaces aren't just a place to access your typeforms. There are plenty of useful tools to explore to help you stay organized.
What can you do in a Workspace?
Each typeform you create is represented by a rectangular box in a Workspace. Click on the three dots icon in the corner of one of these boxes to open the following series of options for that typeform: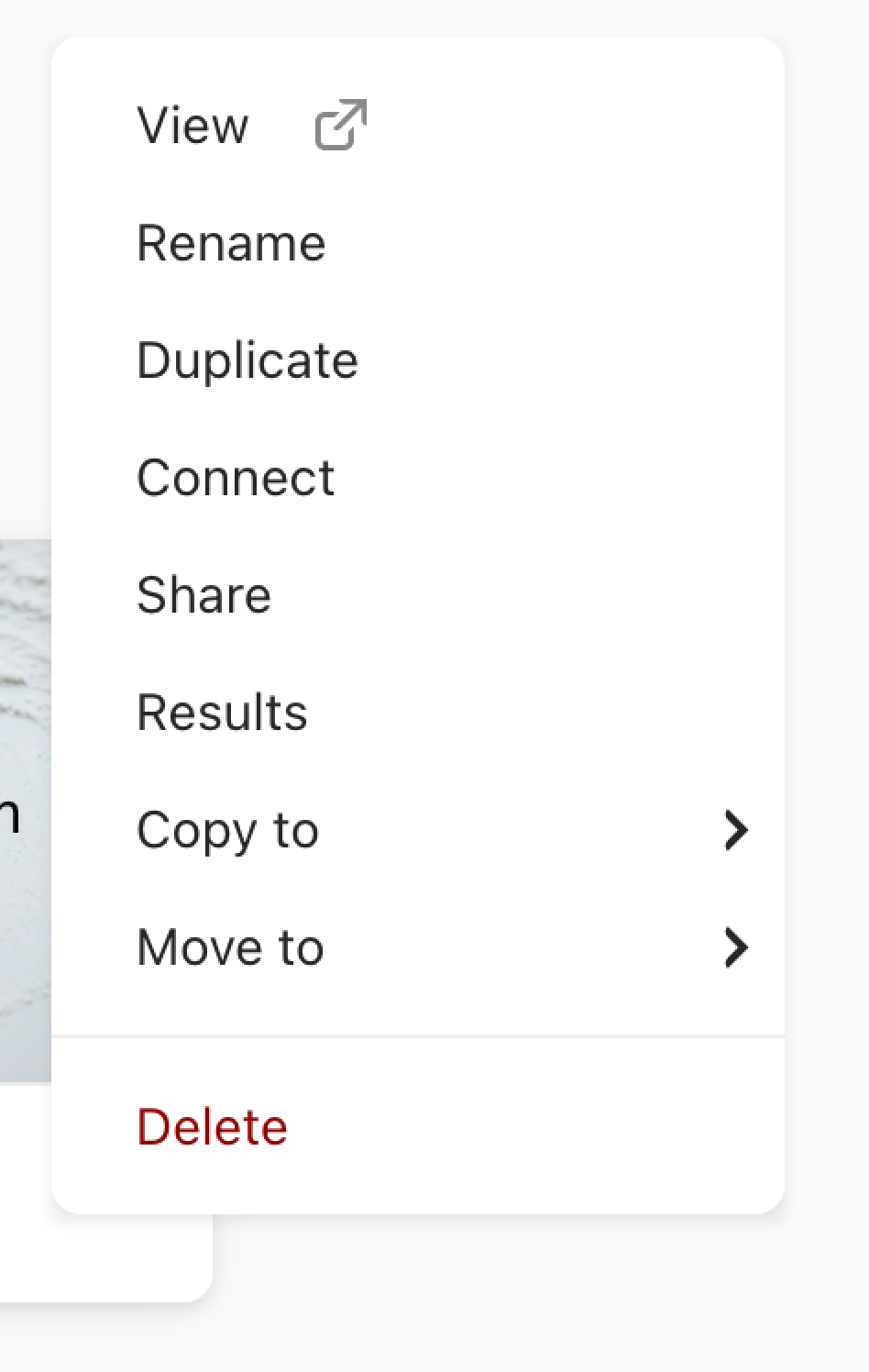 View – Opens your typeform in a new tab.
Rename – Click this to edit the name of your typeform.
Duplicate – Makes a copy of the typeform. This is great if you want to reuse something you built without losing the original. Results are not duplicated, but settings such as Self Notifications are copied over to the new typeform.
Connect – Takes you to the Connect panel, where you can set up integrations.
Share – Takes you to the Share panel, where you can share your typeform in a variety of formats.
Results – Takes you to the Results panel, where you can access your results.
Copy to – Copies the typeform to another Workspace.
Move to – Moves the typeform to another Workspace. 
Delete – Clicking this will display a warning message asking you to confirm if you want to delete the typeform. Be aware that if you hit Return on your keyboard, you will 'agree' to deleting your typeform!

Note: Only the Owners of a Workspace (see the 'Adding users to Workspaces' section) will see the Delete option.
Looking for a typeform or Workspace? Click on the search bar: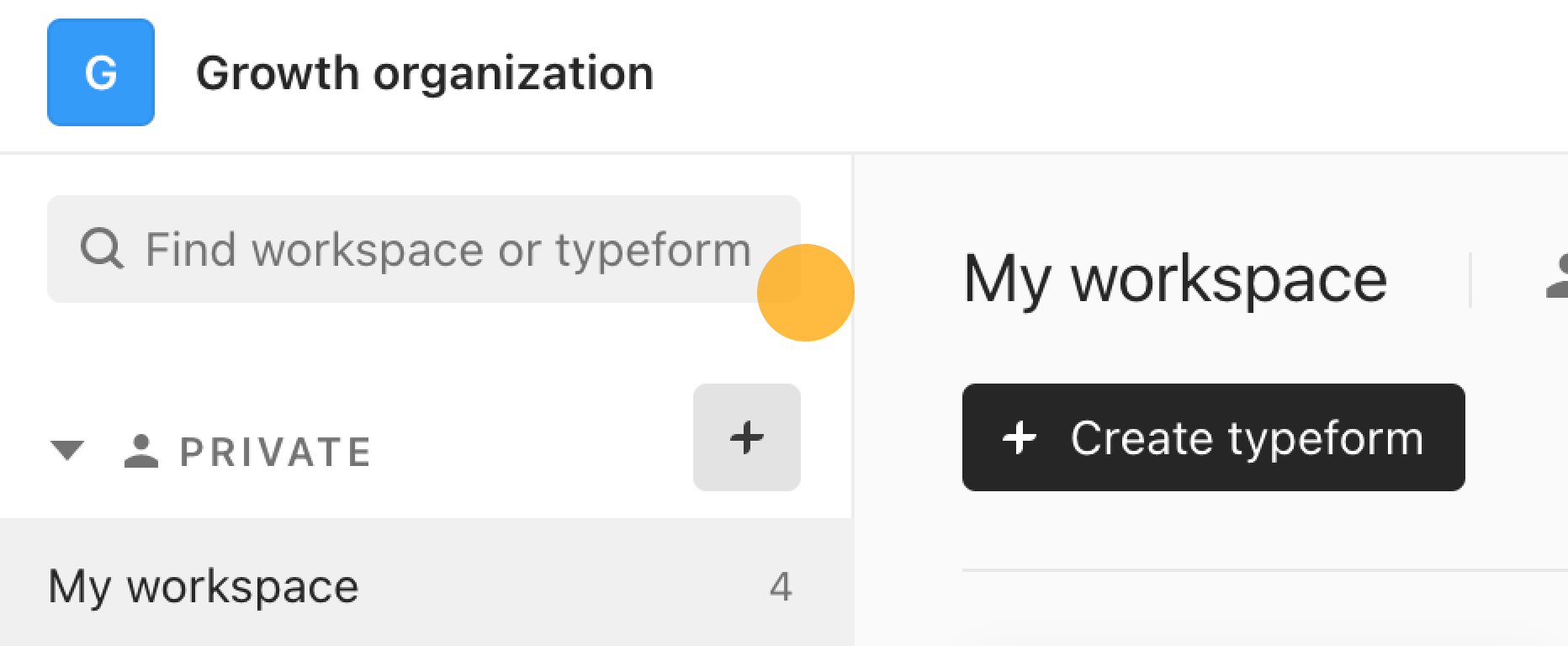 Now type to find what you're looking for:
Click any result to open that Workspace or typeform.
How to create new Workspaces
You can set up multiple Workspaces to help you organize your typeforms to make them easier to find. For instance, you could have different Workspaces for different campaigns, company departments, or quarters of the year.
1. Click on the + icon to create a new Workspace.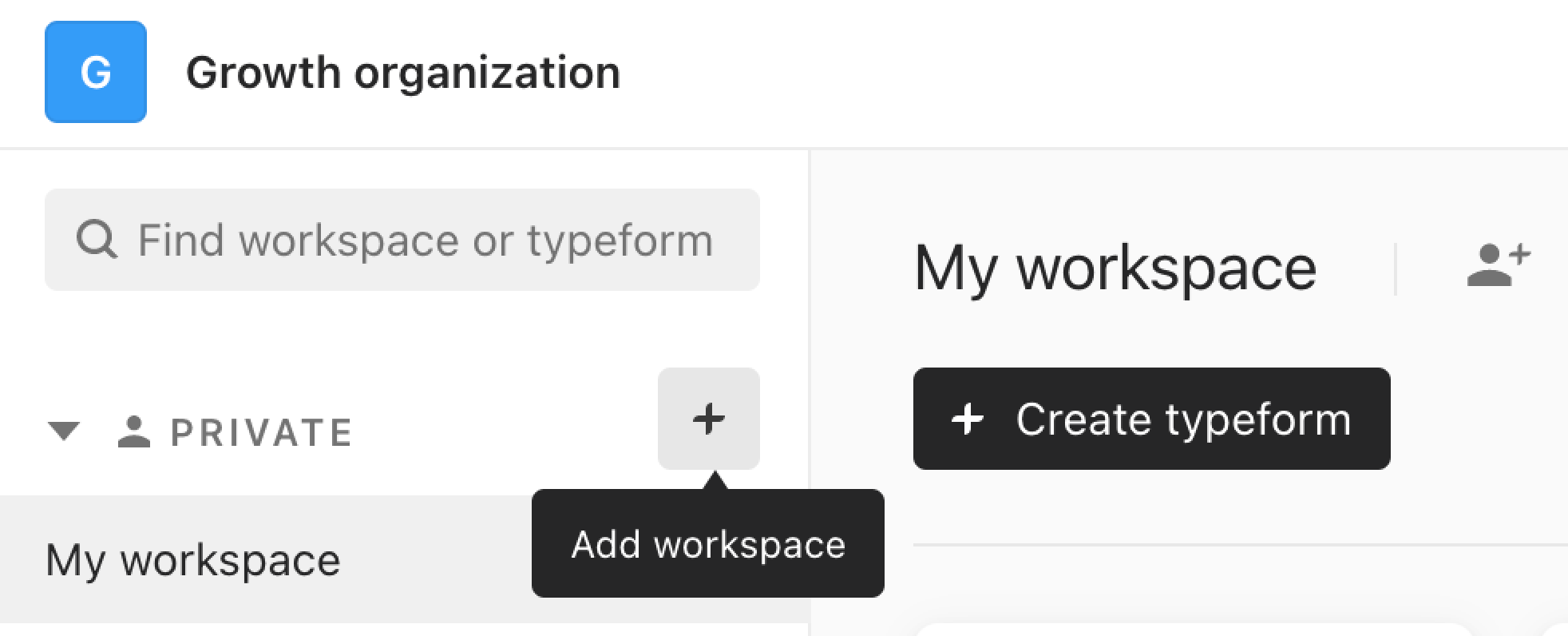 2. Give it a name by writing in the popup that appears.
3. To delete a Workspace, click the three dots icon next to its name and select Delete. Note that you cannot delete the default 'My workspace', even if you rename it, and you can't leave a Workspace that you own.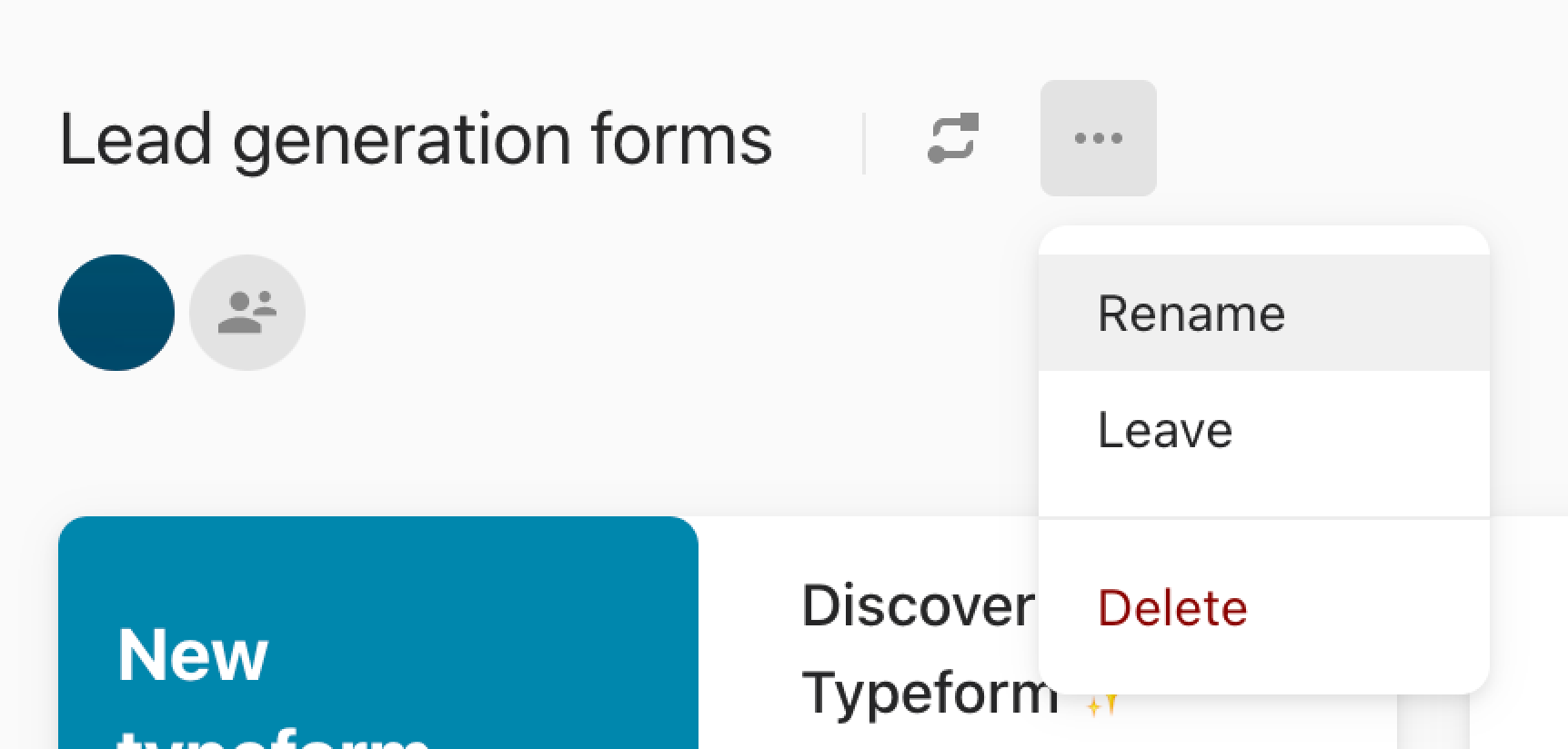 Move typeforms between Workspaces
When you do decide to organize your collection of typeforms into different Workspaces, you'll need to move them.
To do this, find the typeform in the Workspace it's stored in and click and hold on it. Then just drag it over to the Workspace you want to move it to in the left-hand panel:
This typeform is moving from My workspace to Lead generation forms.
Don't worry! Your typeform's configurations and results are maintained in this process.

Warning! You cannot move typeforms between accounts unless your account is on a Plus plan. When you are a Plus guest you can move typeforms to the Plus account owner's Workspaces, but not the other way around. To move a typeform between accounts, you must be an owner of the account where the typeform is originally located - see this section for more details. 
Organization Workspaces
Plus and above users can invite people to Workspaces. (To learn more about adding users to Workspaces, check out this article.)
Any Workspace in your account that you have invited other people to will appear under the Shared section. Unshared Workspaces will appear under the Private section: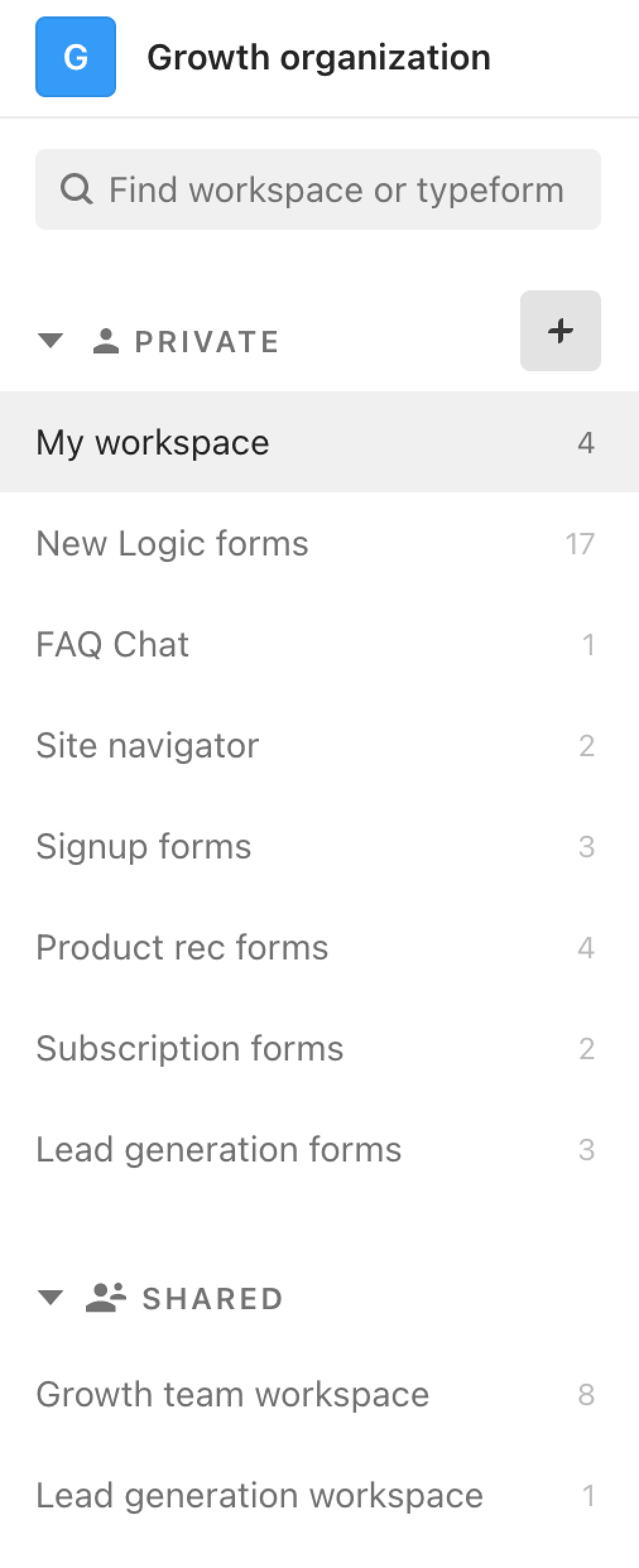 To see which organizations you have been invited to, and quickly view those Workspaces, click your account alias in the top left corner. The organizations you've been invited to will show under Your organizations:
Click on any organization name to view the shared Workspaces you are in. In this organization, the user is a member of three Workspaces: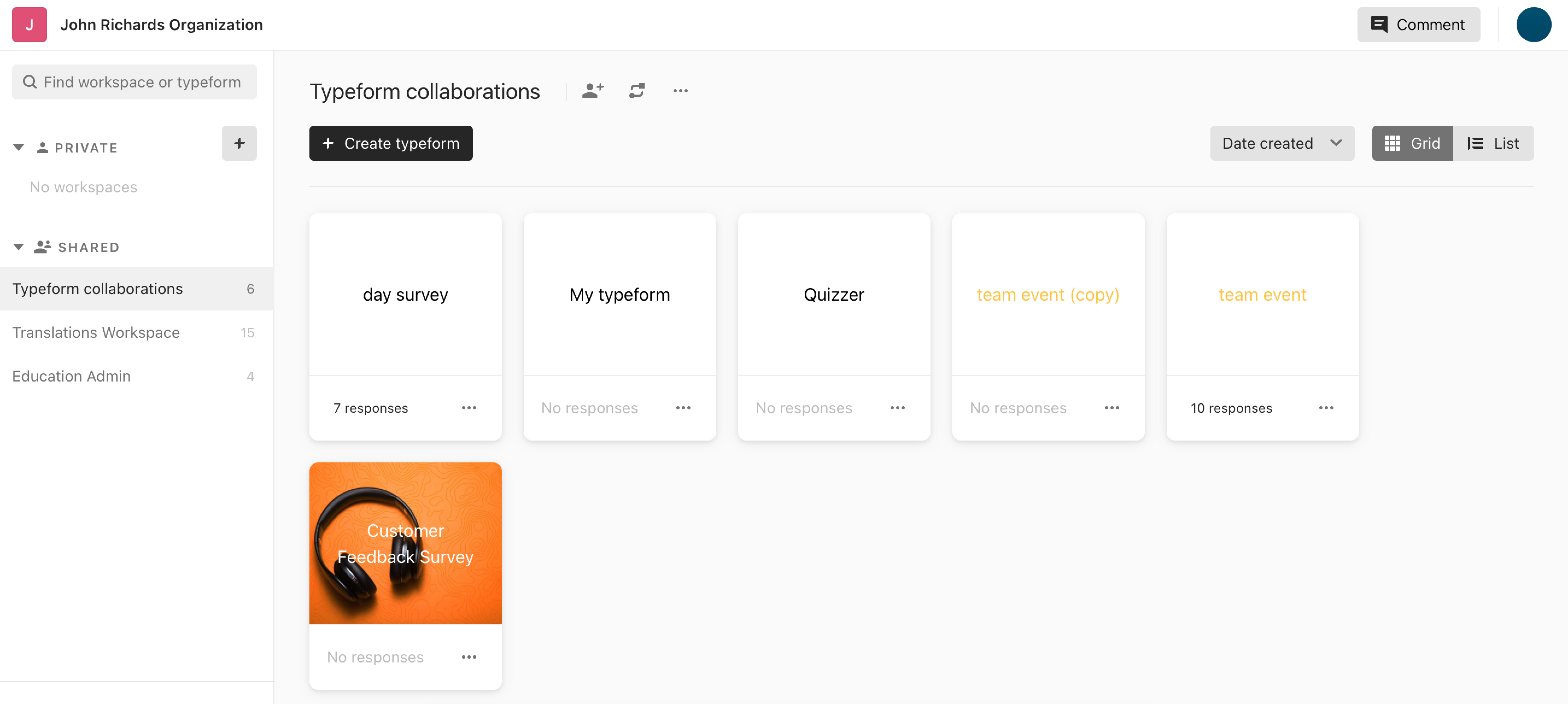 Notice that in the top left corner of the Workspace, you will now see the name of the organization you are viewing. You can create Personal or Shared Workspaces within this organization. 
Adding users to Workspaces
1. To add users to a Workspace, open that Workspace and click on the people icon next to the Workspace name.
2. Type in the user's email in the window that pops up. Then click Send Invite to send the invitation to that person. Until a user accepts the invite, their name will not be displayed in the user list (but their email address will). If the user is not yet in your organization, keep in mind that they will occupy one of your available organization seats. 
3. Once the user has received an invitation, they should click the Go to workspace button in the email they receive, then log into their account.
4. Shared Workspaces will display in the Shared section of the Workspace sidebar. Click the people icon to see a list of Workspace users.
5. Once added to a Workspace, users can have either Workspace Owner or Can edit roles. Account Owners are automatically given Workspace Owner status when added to a Workspace. Here's a breakdown of Workspace permissions: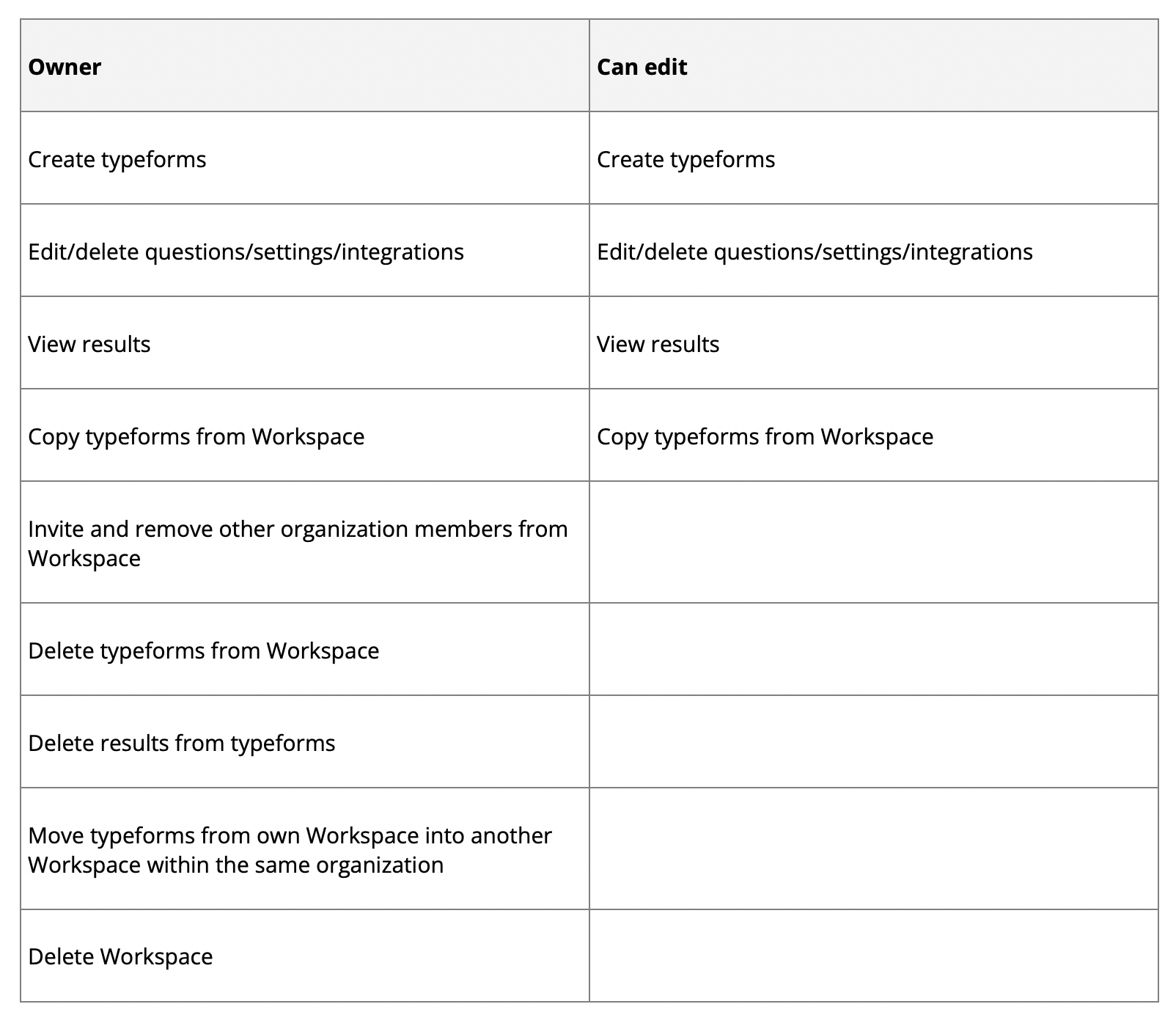 Workspaces can have multiple Owners. To assign ownership to a Workspace member  with Can edit permissions, open the membership management dialog, click the dropdown menu next to that person's name, and choose Owner.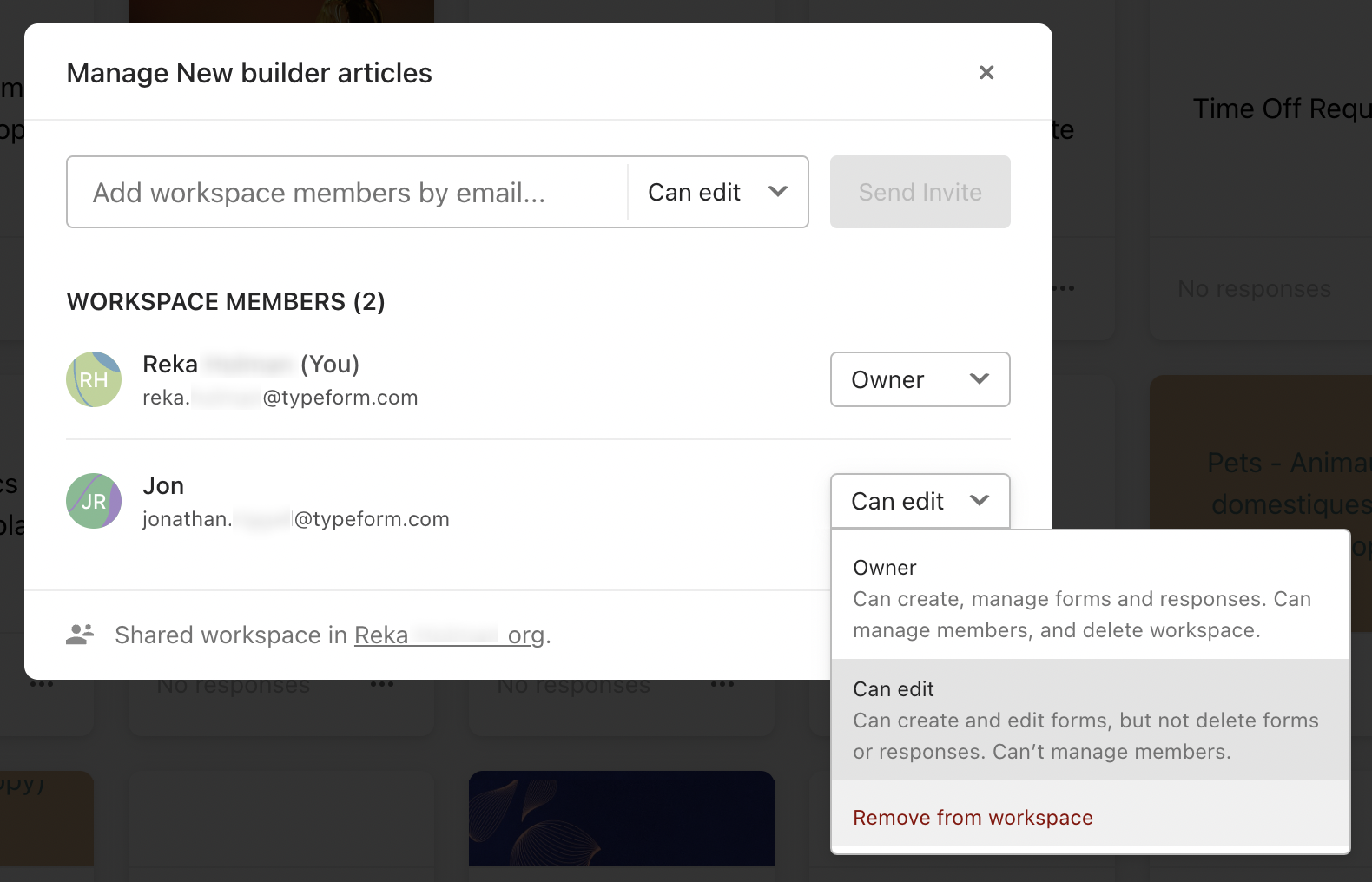 You can use the same dropdown menu to unassign ownership from the user. 
6. To remove someone from a Workspace, open the membership management dialog, click the dropdown menu next to that person's name and click Remove from workspace. 

Note! Removing a member from the Workspace doesn't automatically remove them from the team. You'll still see them as an organization member in the Members section of your account settings, and they'll still occupy an organization seat.