Build quote request forms and collect leads with Typeform
Set the first stepping stone to a lasting client relationship by making it simple for new leads to ask for quotes, demos, or more information about your business.
With Typeform, build beautiful and intuitive forms that collect contact details from potential clients while giving them the chance to get to know you better. Read on to learn how it's done, or click a section name to jump there:
Add questions that capture the information you need
Whenever you meet a prospective client - and especially when you can't do so in person - it's key to make your first interaction meaningful. Use Typeform's extensive customization options to add a template, prebuilt theme, or custom theme to your form, and put your business' best face forward.
Then, choose between nearly twenty question types to collect your new leads' contact details. Use a Multiple Choice question to learn why your lead has gotten in touch, whether it's to request a quote or demo, or simply ask for more information:
Then, use Logic to direct respondents to follow-up questions depending on their answer, or offer them a Calendly link to set up a personal meeting.
This typeform shows how it's done - feel free to test it out and use it for inspiration!
For more tips on creating forms like these, check out these guides:
Send your lead generation form out into the world
When you publish a typeform, we generate a handy URL that you can include in social media posts or preload during events to share your typeform as widely as possible. But it doesn't end there!
The Typeform Share panel gives you options for adding your form to your webpage in a variety of formats. Choose your favorite, customize the design, and you're good to go!
Are you sharing your typeform in multiple places, and want to know which of your links has generated the most interest? Use Hidden Fields or UTM tags to keep tabs on traffic or campaign sources - just click one of the links to learn how.
Not sure how to get started with embedding or sharing your typeform? Here's a list of guides that can come in handy:
Follow up with new connections
You already know that first impressions matter - but second impressions can seal the deal. Keep in touch with prospective clients after they submit your typeform, and you'll be that much closer to creating a lasting relationship.
Through the Typeform Connect panel, you can link your typeform to dozens of other apps and integrate new contacts into existing workflows.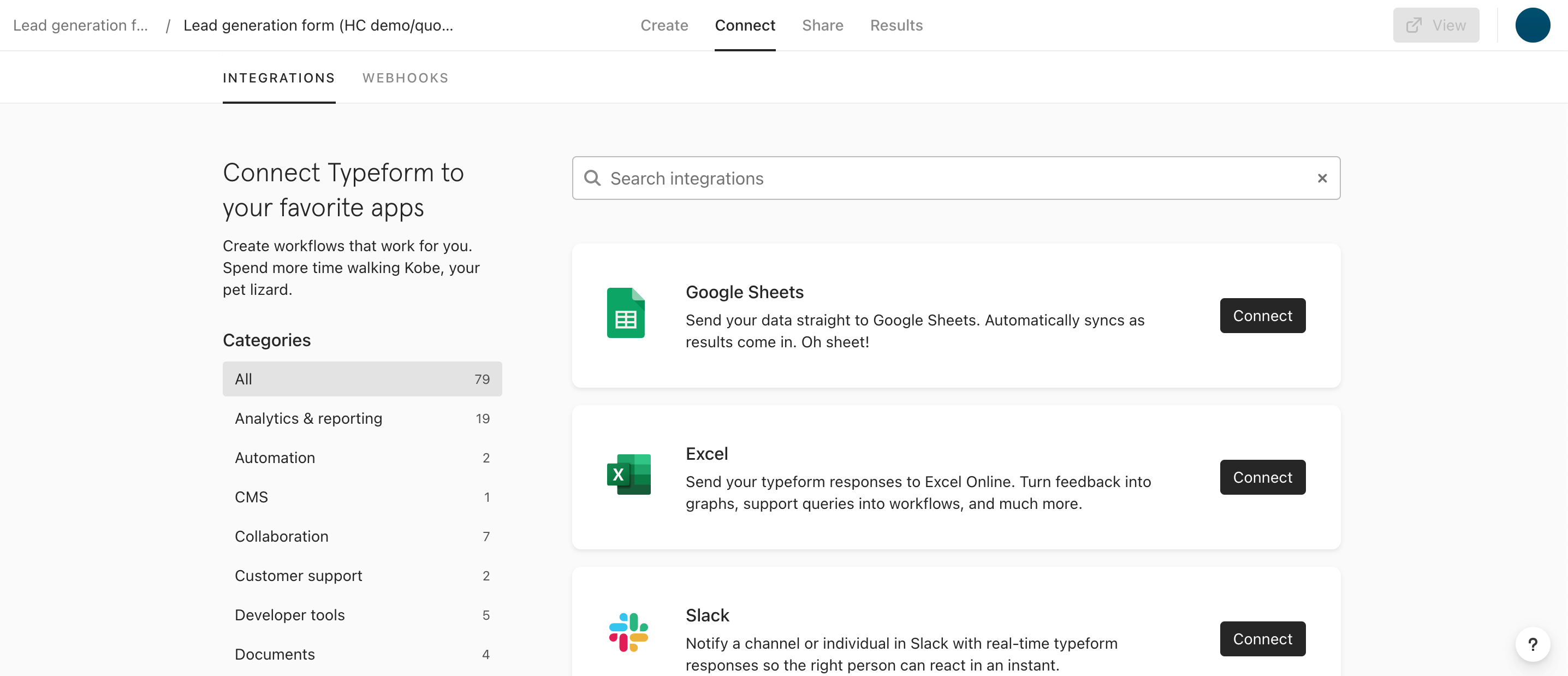 The possibilities for connecting your typeform to other tools are endless, but read on for a couple of our favorites!
Send leads to Salesforce, HubSpot, ActiveCampaign, Airtable, or Klaviyo to track the budding customer relationship from the get-go. Just click the name of each tool to learn more!

For an ultra-personalized experience, import new contacts to VideoAsk and send direct video messages to follow up with each respondent. Here's the how-to!
Browse all available integrations here, or check out Zapier for even more ways to connect Typeform to your favorite apps.