Right to rectification
GDPR gives you the right to rectify or change all personal data a company holds about you. This means you can do this with your Typeform data. This article explains how to rectify, complete, or delete the data held in your Typeform account.
Here's a list of the data you can fix or change in your account:
Name
Email address
Subdomain
Language
Profile picture
Payment details
VAT number (for EU-based users)
Billing address
This data is split between the Account, Plan & Billing, and Preferences sections of your Settings. Read on to discover how to find them.
Getting to Settings
To open your account settings, click the alias in the top left corner of your Workspace and select Account: 
Here, you can change the following:
1. Modify your account name.
2. Edit the subdomain of your account (doing this will modify the URL of your typeforms. See this article to find out more).
Click Preferences, also in the left-hand sidebar, to change the following:
1. Change your display name. 
2. Get a profile picture using Gravatar, or change your picture.
3. Change the email associated with your account.
4. Change your account language. 
Rectifying billing and payment information
The Plan & Billing section allows you to correct or complete your billing and payment information (or adjust your plan). You can access this section by clicking Plan & Billing from the left-hand sidebar of the Settings page. This will bring up a screen with an overview of your plan, card and billing information and past invoices: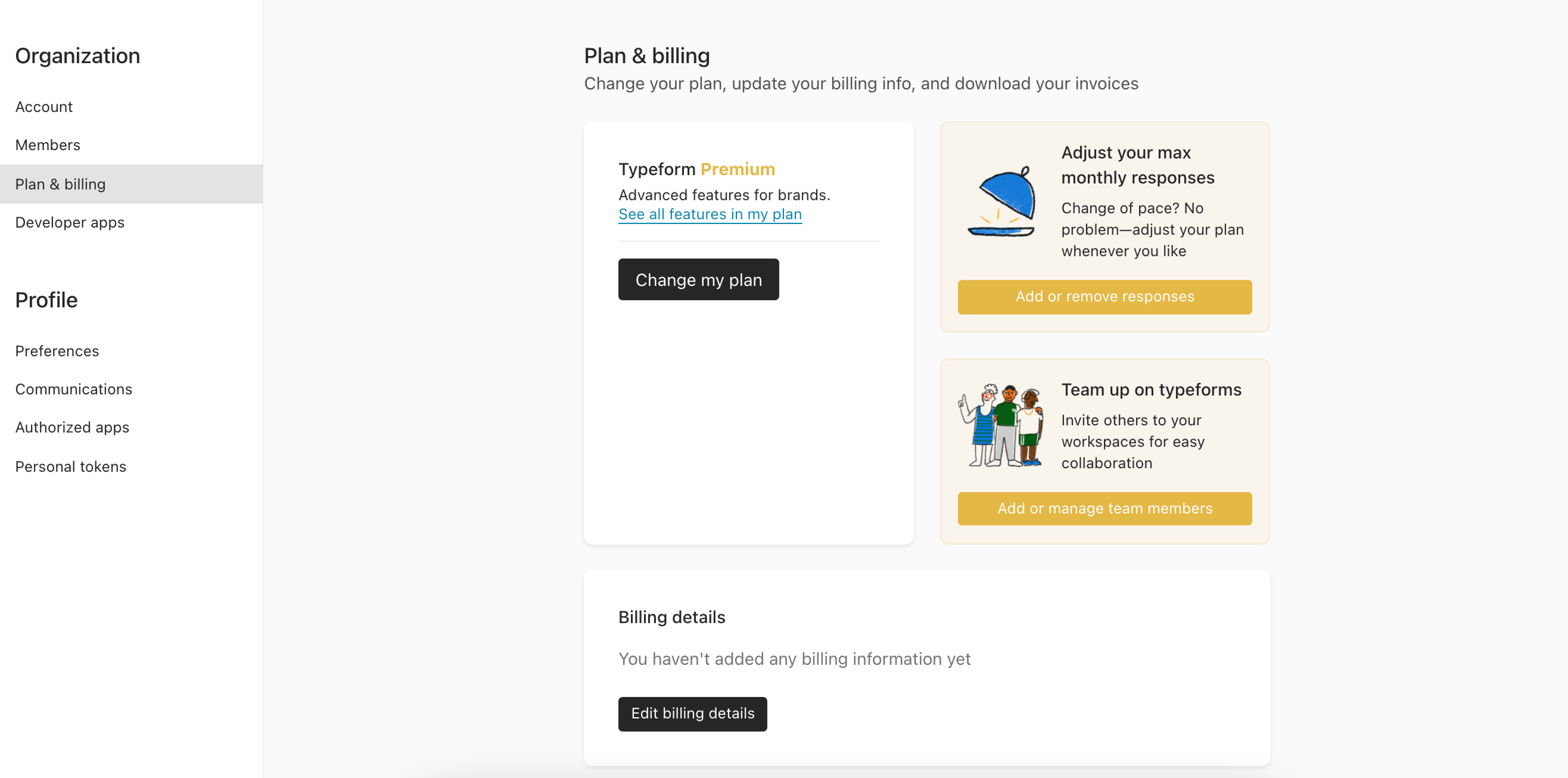 Note! You may see a slightly different interface here, depending on your Typeform plan.
Scroll down the page and click Edit billing details or Edit payment details to bring up a dialog that lets you rectify or complete your billing information. 

Warning! If you have an active subscription and your banking details have changed, please make sure you provide a new valid billing address, name, and credit card information. If you don't, your plan won't be renewed when the current billing period expires.
Modifying results
It's not currently possible to change results you've collected through your typeforms within the Typeform platform. However, you can export your results as an Excel (XLSX) or CSV file, or connect your typeform to Google Sheets. You can then edit them in third-party software.
If you need to amend the results of a typeform you or your respondents could also submit a new response to your typeform (by answering it) with corrected details. Once this is done, you can then delete the old response from your results.
If you've sent your personal data through a typeform, the creator of the typeform is responsible for processing your data. This means that you have to contact them to exercise your data subject rights. Find more information here.
If you want to fix or change any other piece of data not included in this guide, or need more clarification, please contact us and our Support team we'll be happy to help you!
Want to learn more about GDPR, Typeform, and you? Check out the Privacy and Security section of our Help Center.