How to run an NPS® campaign
If you're a marketer looking for a simple and standardized way to measure the satisfaction score of your respondents, look no further. You can now add a Net Promoter Score® (NPS ®)* question directly to your typeforms.
NPS® is a research metric commonly used to ask people how likely they are to recommend a company, product or service to someone. NPS® groups responders into promoters (a rating of 9 or 10), passives (a rating of 7 or 8), and detractors (a rating of 6 or lower). You can read more about NPS® here.
This article will show you how to add an NPS® question to your typeform, how to embed it in an email, and how to integrate it with other apps.
To add an NPS® question:
1. Click + and select Net Promoter Score®.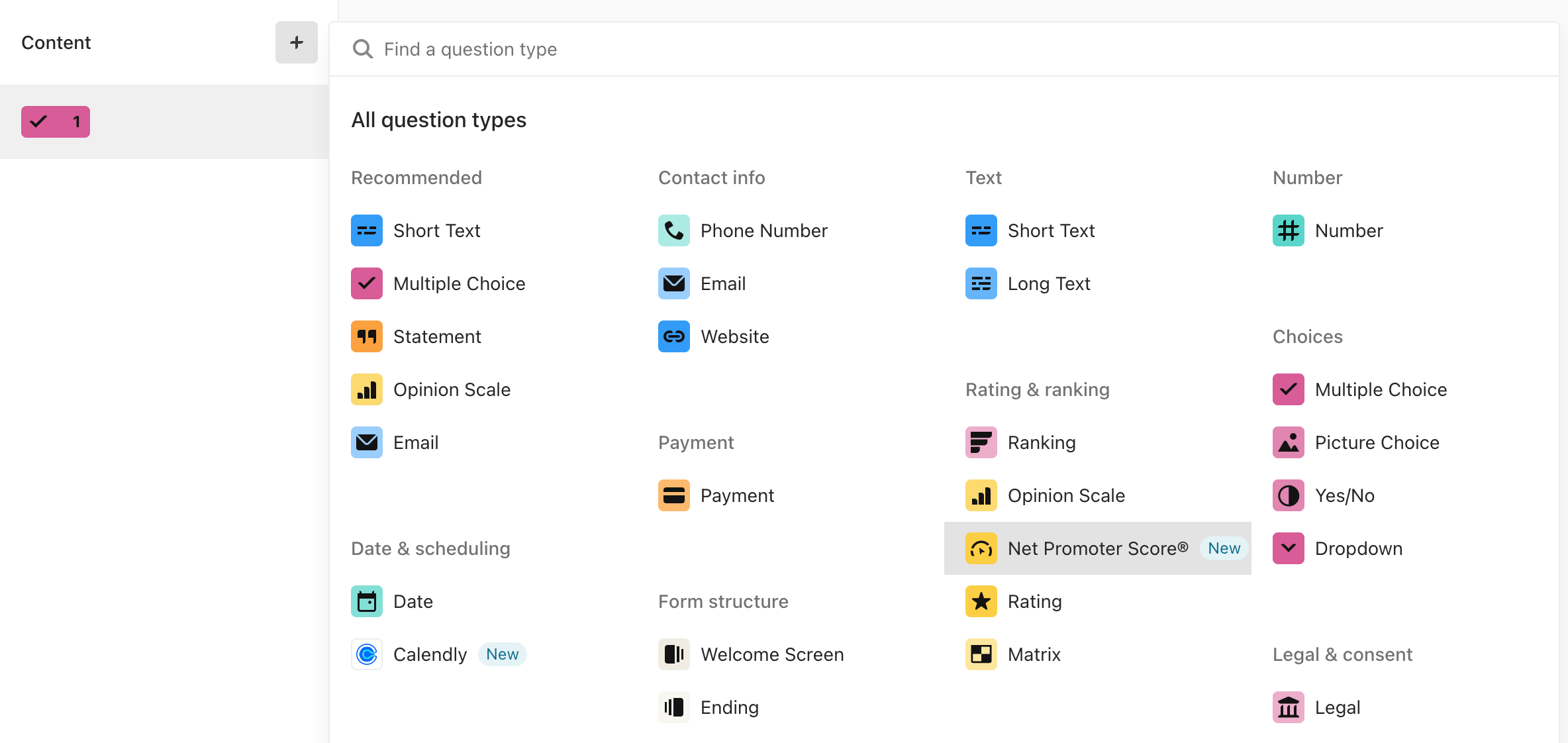 2. Edit the question to fit your use case:
3. Toggle the switch under settings to make your question required...
...or hit Add next to Image or video to jazz it up with something visually appealing:
Add Logic to your NPS® question
You can also send people to different follow up questions or Endings by adding Logic to your NPS® question: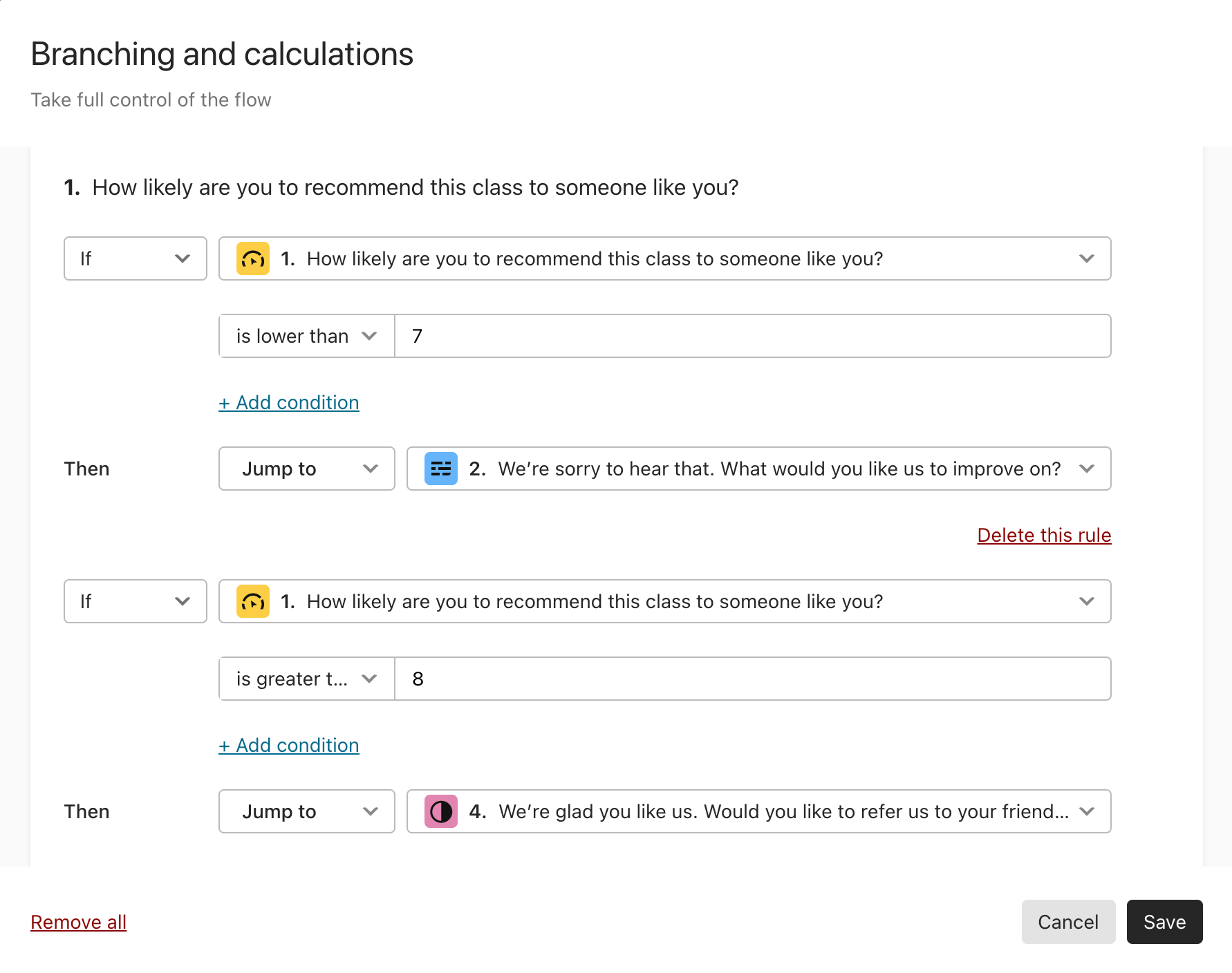 In this example, we used Branching and calculations to send detractors to a Long text question, where they can leave us some feedback about how we could improve, and we'll send promoters to a Yes/No question, where they can decide if they want to refer us to a friend.
Launch your NPS® question in an email
If the first question of your typeform is an NPS® question, you can also launch it from an email. When your respondents select a score in the NPS® question in the email, they'll be redirected to the form showing the option they selected.
To share your NPS® question in an email:
1. Go to the Share panel and click Launch in an email: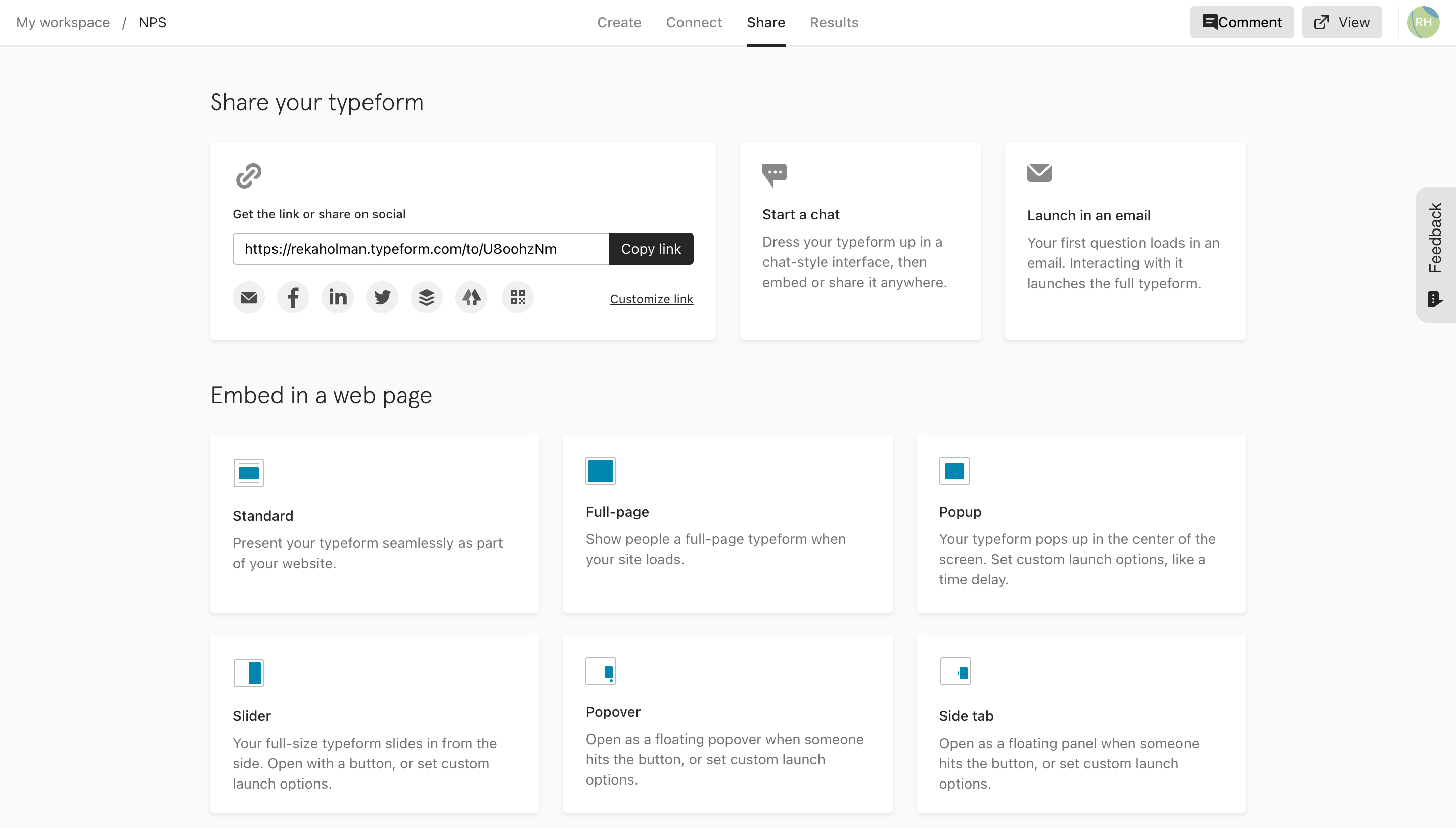 2. Click Get the code: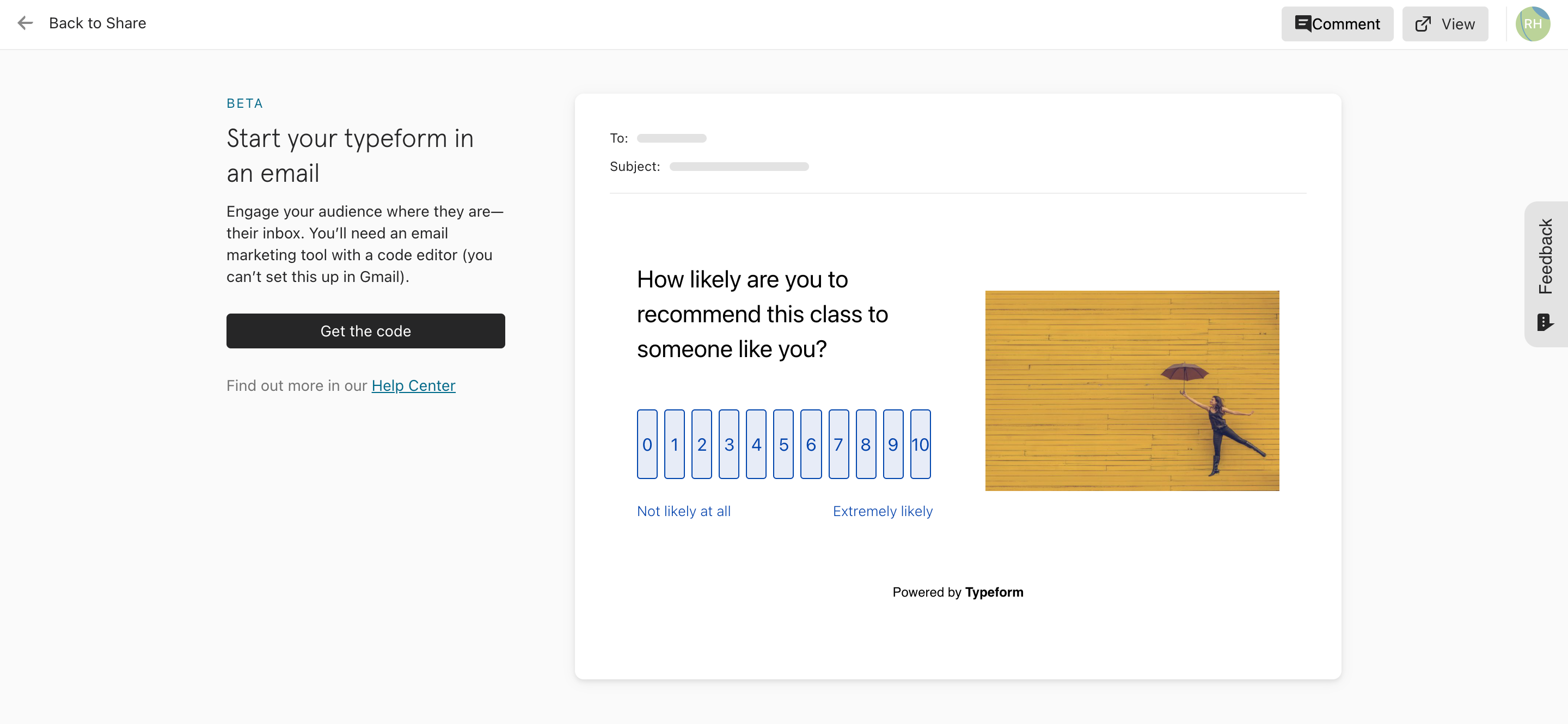 Now you can copy the email code and use it to share your typeform with a marketing automation tool like Mailchimp, as explained in this article. You can also read more about launching your typeform in an email here.
Follow NPS® trends in your Results Summary
Once people start responding to your typeform, you can track your Net Promoter Score® in the Summary section of your Results:
The response summary shows your Net Promoter Score® along with the percentage and number of detractors, passives and promoters at a single glance, so you can ditch that calculator.
Generate a report of your NPS results
To generate a report:
1. Go to the response summary of your typeform, and click Generate a report:
2. Customize the report as desired, then print it out or share its link:
Send NPS® data to other apps
You can integrate your typeform's NPS® question with other apps in the Connect panel:
In this example, we're already sending our NPS® data to Google Sheets and Slack. Follow the links to learn more about setting up the Google Sheets and Slack integrations.
Respondents can also answer your NPS® question without leaving Slack when you share your typeform in a public Slack channel. Learn more here. 
*Net Promoter, NPS, and the NPS-related emoticons are registered U.S. trademarks, and Net Promoter Score and Net Promoter System are service marks, of Bain & Company, Inc., Satmetrix Systems, Inc. and Fred Reichheld.