Use Typeform to collect leads for event planning and registration
Have an exciting event coming up? From getting the word out, to collecting registration information, to coordinating on-the-day logistics, let Typeform help you turn your big day into a smashing success!
With our range of integrations, you can send typeform responses to dozens of your favorite tools, making it easy to track information about event attendees as they become leads and clients. Read on to learn more, or click a section name to jump there:
Setting up your event typeform
Registration forms are one of the easiest ways to incorporate a typeform into your event planning. With Typeform's variety of question types, you can collect any information you need about future attendees - and details like dates, emails, and phone numbers will be stored in an easy-to-use, standardized format.
Here's an example of a simple event registration form:
This form uses Text, Email, and Multiple Choice question types to score contact details for new leads and gain insights into attendees' interests: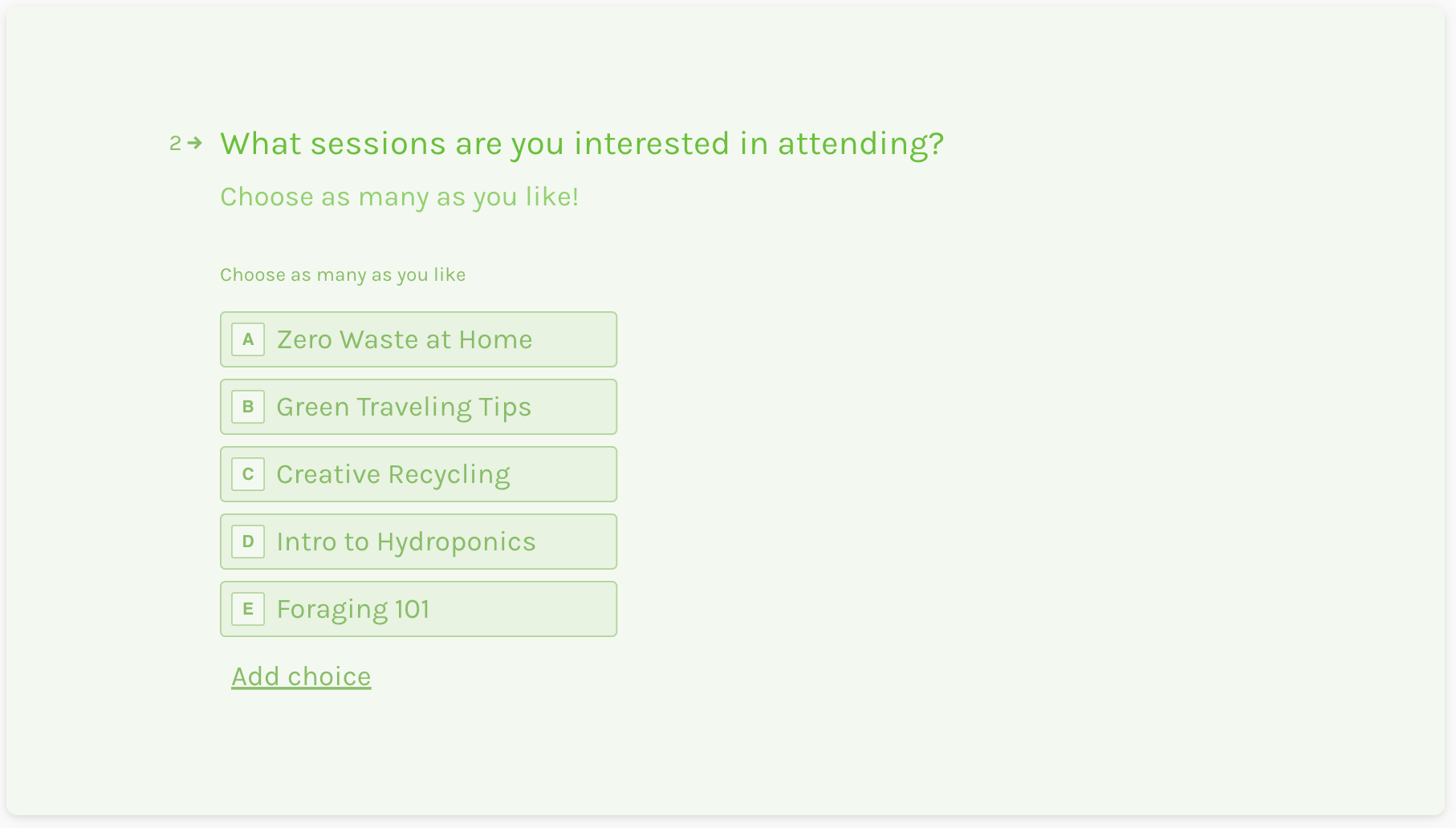 Use typeforms at several points before, during, and after your event to plan specifics and measure success. Get inspired with these ideas:
Keep respondents engaged with Logic and Hidden Fields
With Logic, you can streamline your respondents' experience so that answering a typeform feels like a conversation, not a chore!
Use respondents' answers to skip over questions they don't need to see - for example, if you're planning a catered breakfast and ask respondents about their diet, you can make sure not to follow up by asking vegans how they'd like their omelettes:
Hidden Fields are another great way to personalize your event typeforms. Hidden Fields are prefilled variables that live right in your typeform's URL. They typically contain information like traffic source, respondent name, or user location, like the example here shows:
https://form.typeform.com/to/xRKttB4w#name=xxxxx&city=xxxxx&source=xxxxx
When you get typeform responses, you can see the respondents' Hidden Field values, letting you know which of your links have gotten the most responses! Learn more here.
You can also use your favorite CRM tool, like Mailchimp, to automatically prefill Hidden Fields values. Check out how it's done here.
Collect typeform responses from anywhere on the web
When you publish a typeform, we give you a handy link that you can send to anyone who wants to fill out your form on desktop or mobile.
But that's not all! With Typeform's range of embed options, it's easy to add your form to any page on your website, including sites built on popular hosting solutions like WordPress, Squarespace, and Shopify: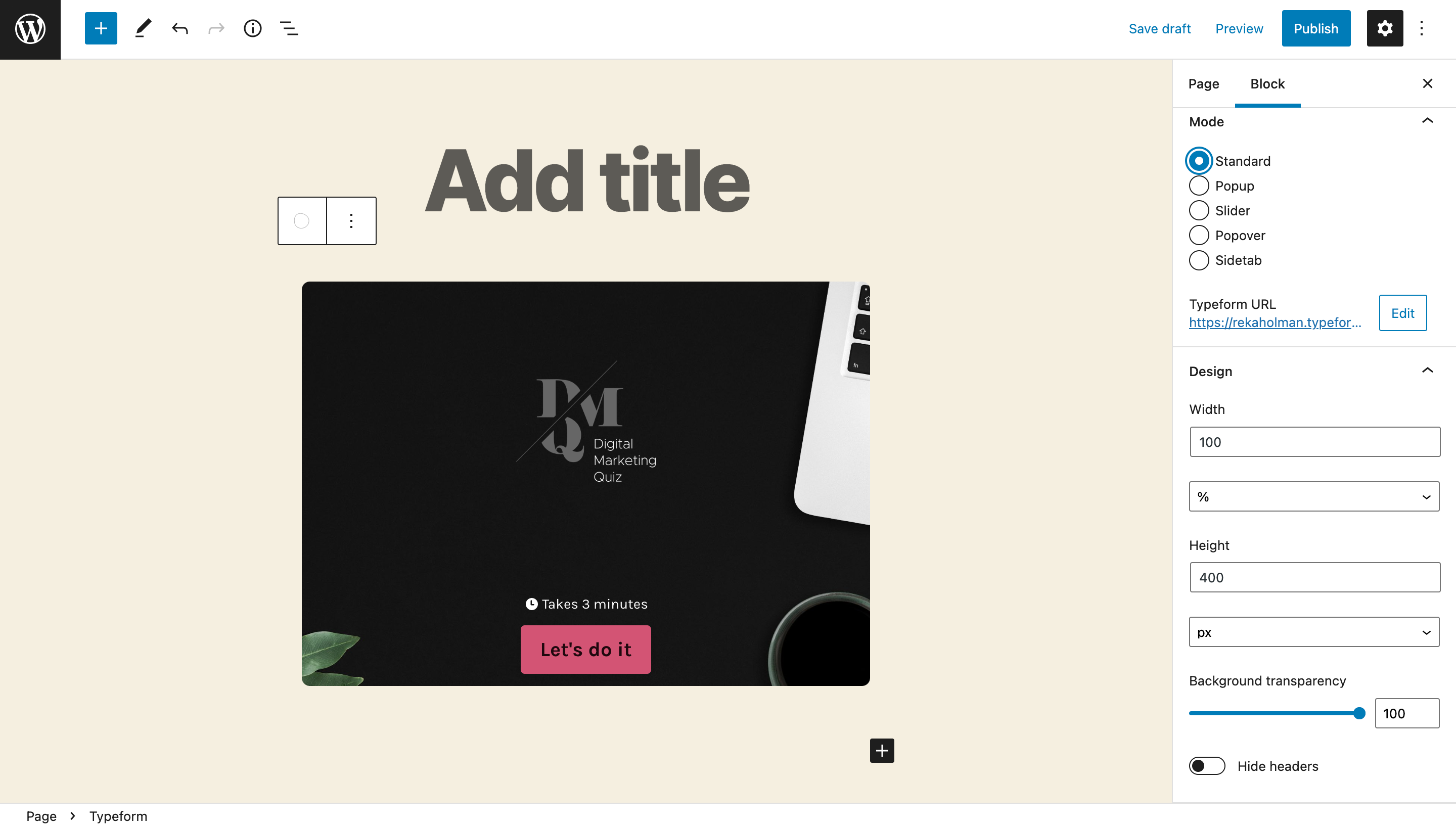 Alternatively, you can launch your typeform from an email, and connect with your attendees right in their inboxes.
Want to know more? Our guide to embedding your typeform will help you get started.
Connect your typeforms to the tools you use most
Whether your event is the blowout of the year or a cozy affair with a limited guest list, it's likely that Typeform isn't the only service you're using to make sure everything goes off without a hitch.
With your workflows in mind, the Typeform team has made it easy to integrate typeforms with dozens of popular tools, including email marketing software like Mailchimp or HubSpot, or general task management software like Slack, or Trello. Store contact details about attendees for future communication, or create to-do items to check off later, all based on typeform responses.
Did we mention your favorite tool? Just click its name to learn more about integrating it with Typeform! Haven't seen it? Browse all Typeform integrations on our Connect page, or click here to read about connecting Typeform with Zapier to set up integrations with hundreds of other apps.