Make a product feedback form
Many people use typeforms as part of their product development process. One of the simplest uses is to gather feedback from the people testing your product.
We have a ready-made product feedback form template which you can adapt to collect valuable insights from your team. You can use the template as-is, or adapt it to fit your product.
This article takes a look inside the product feedback typeform, explaining how it works so you can build one yourself from scratch. Here's what the finished typeform looks like:
How to build a product feedback form
Our product feedback survey typeform uses the following features:
Welcome Screen
Multiple Choice questions
Long text questions
Rating questions
Opinion Scale questions
Logic 

Warning! You'll need a Basic or higher account in order to use the product survey template as it is, since it has more than 10 questions (the limit for Free account holders). If you want to use it for free, simply cut the questions so you have no more than 10.
Here's how it's made:
1. Our product feedback survey typeform uses an eye-catching Welcome Screen to greet the feedback-giver and ask them for help. If you're starting from scratch, create a Welcome Screen by clicking the + button in the left-hand sidebar and choosing Welcome Screen.
2. Now add the content of your Welcome Screen. In our case, we've used an image that was created by our design team. You can insert an image of your own using the Design menu in the right-hand sidebar, or write a greeting.
We've also customized the Button text from the Question menu to give a strong, immediate call to action ("Tell us what you think").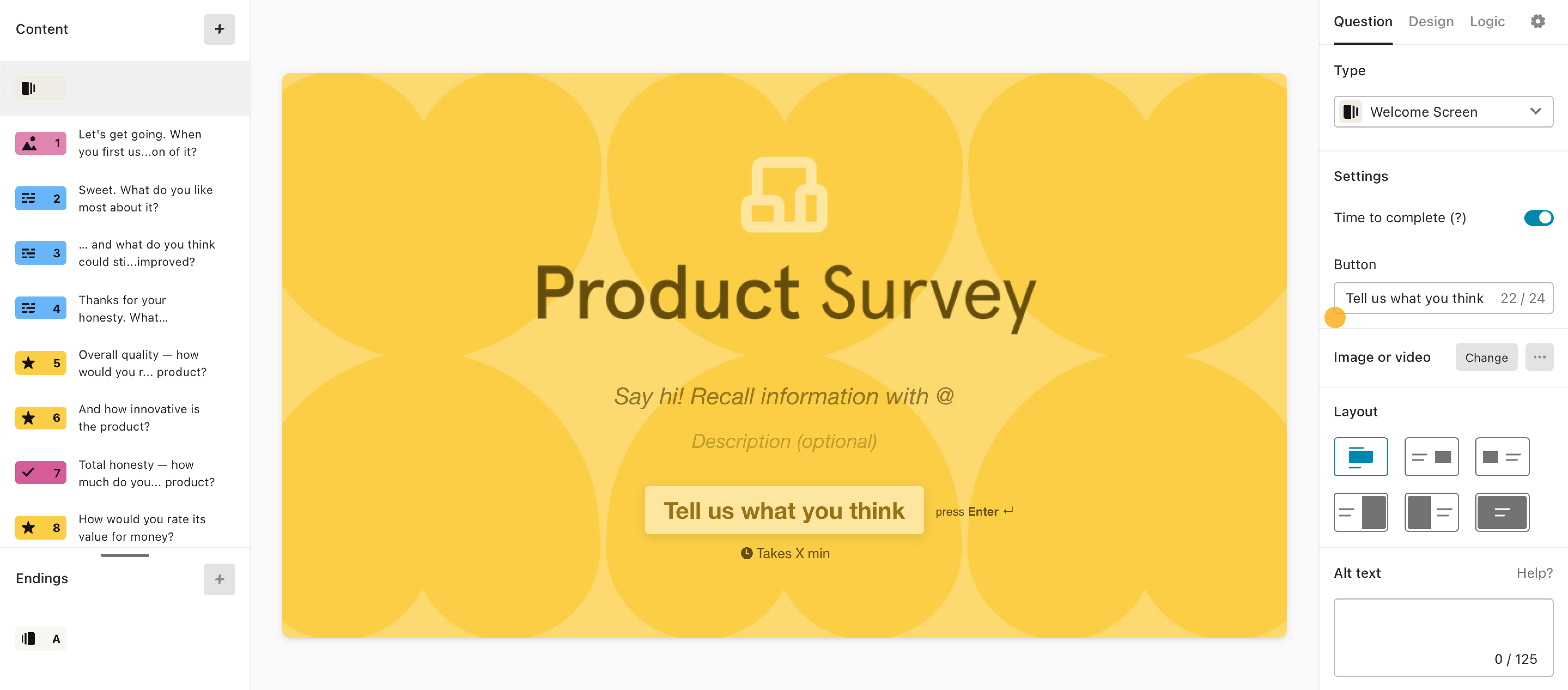 3. Before we add any questions, let's adjust the design of our survey to make it look great. Click the Design tab in the right-hand sidebar and select the three dots next to your theme. You can create your own theme, or edit the theme in our template by clicking the Edit button.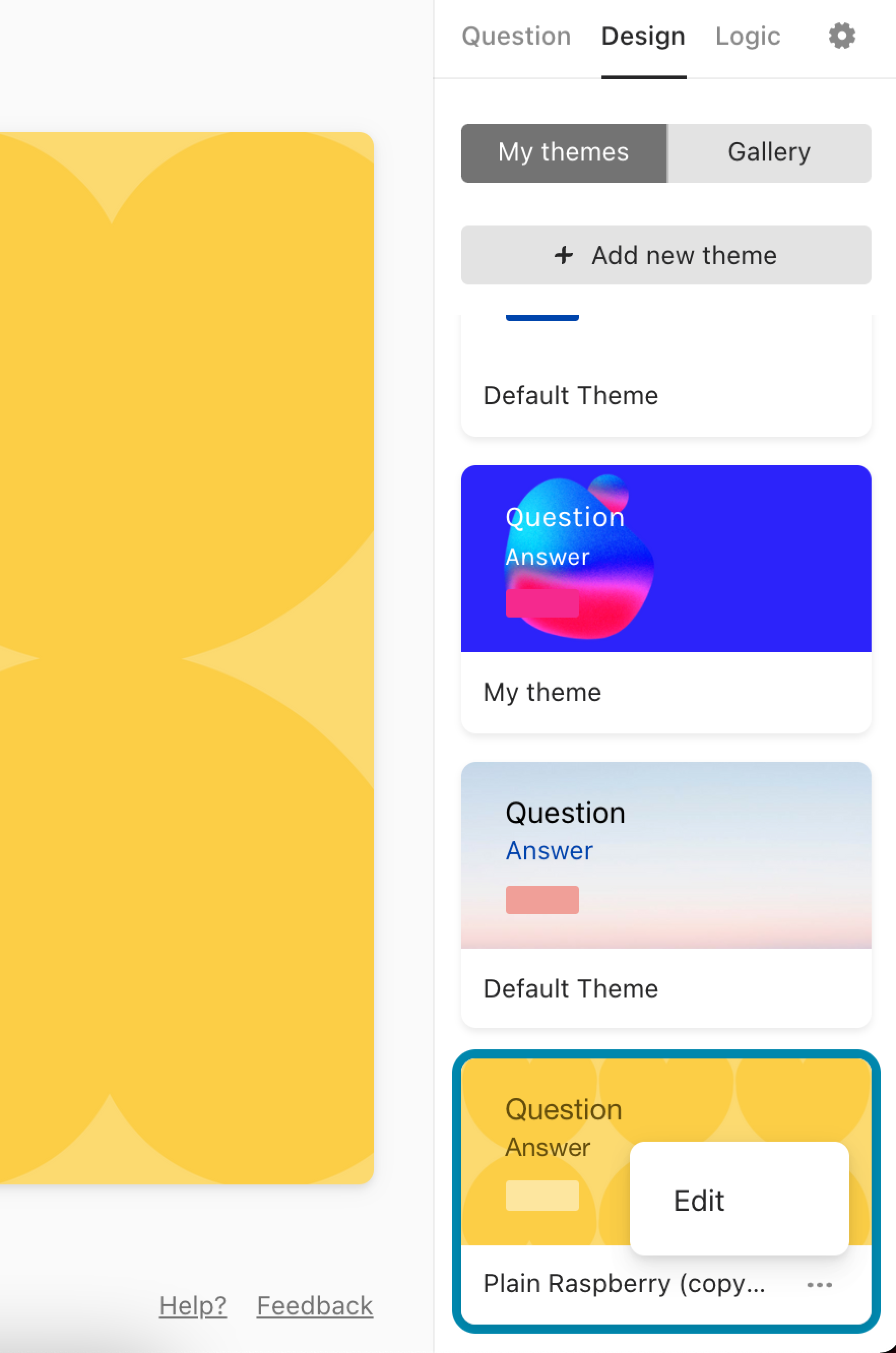 Our product survey typeform uses a background image created in-house and a matching yellow and brown color scheme for the survey's text and buttons. 
4. Click Question to switch back to the question builder. Let's start adding and editing questions. The first question in our product survey typeform is Picture Choice, asking the person's overall impression of the product. We've set this question as 'Required' to make sure we get an answer.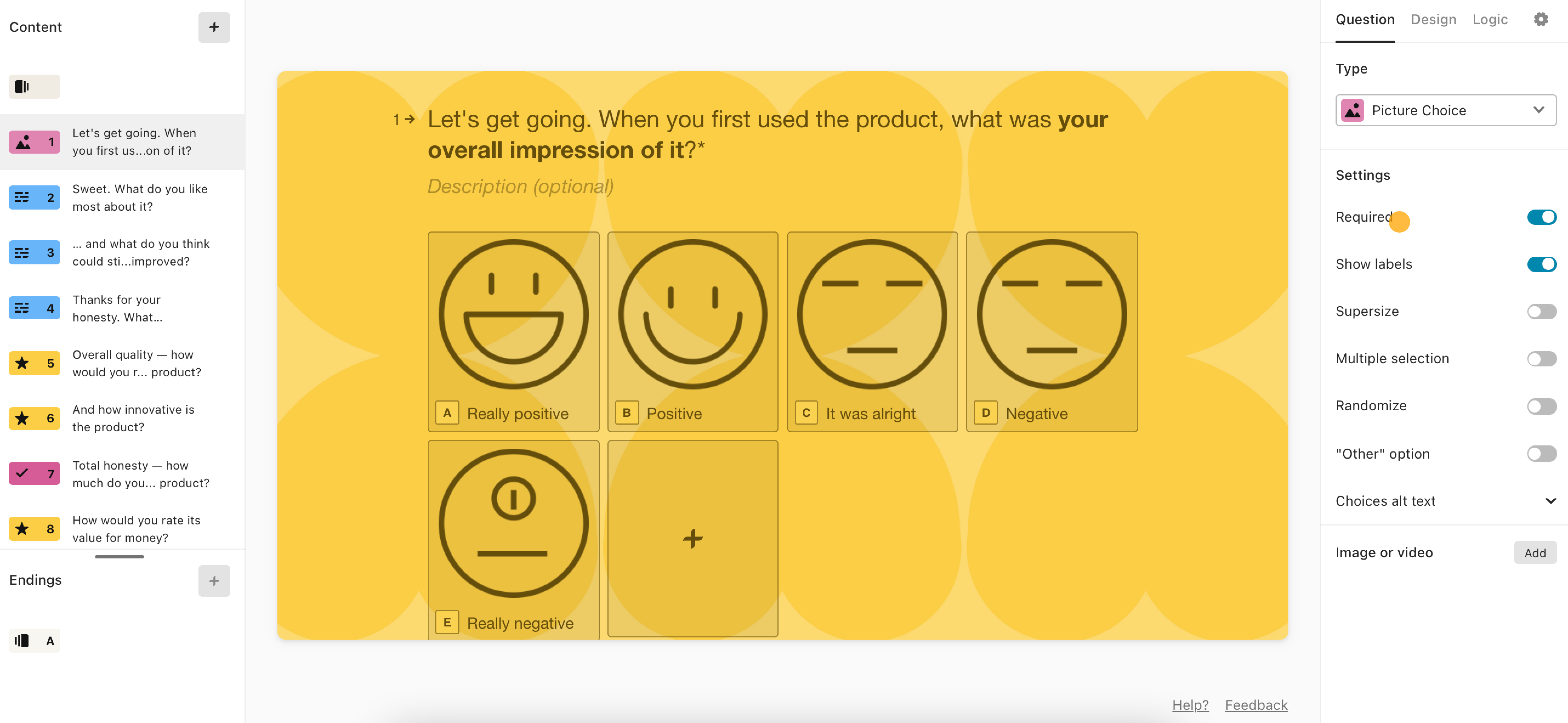 5. Next, you can include some Long Text questions to collect some detailed feedback about what they liked and didn't like about the product.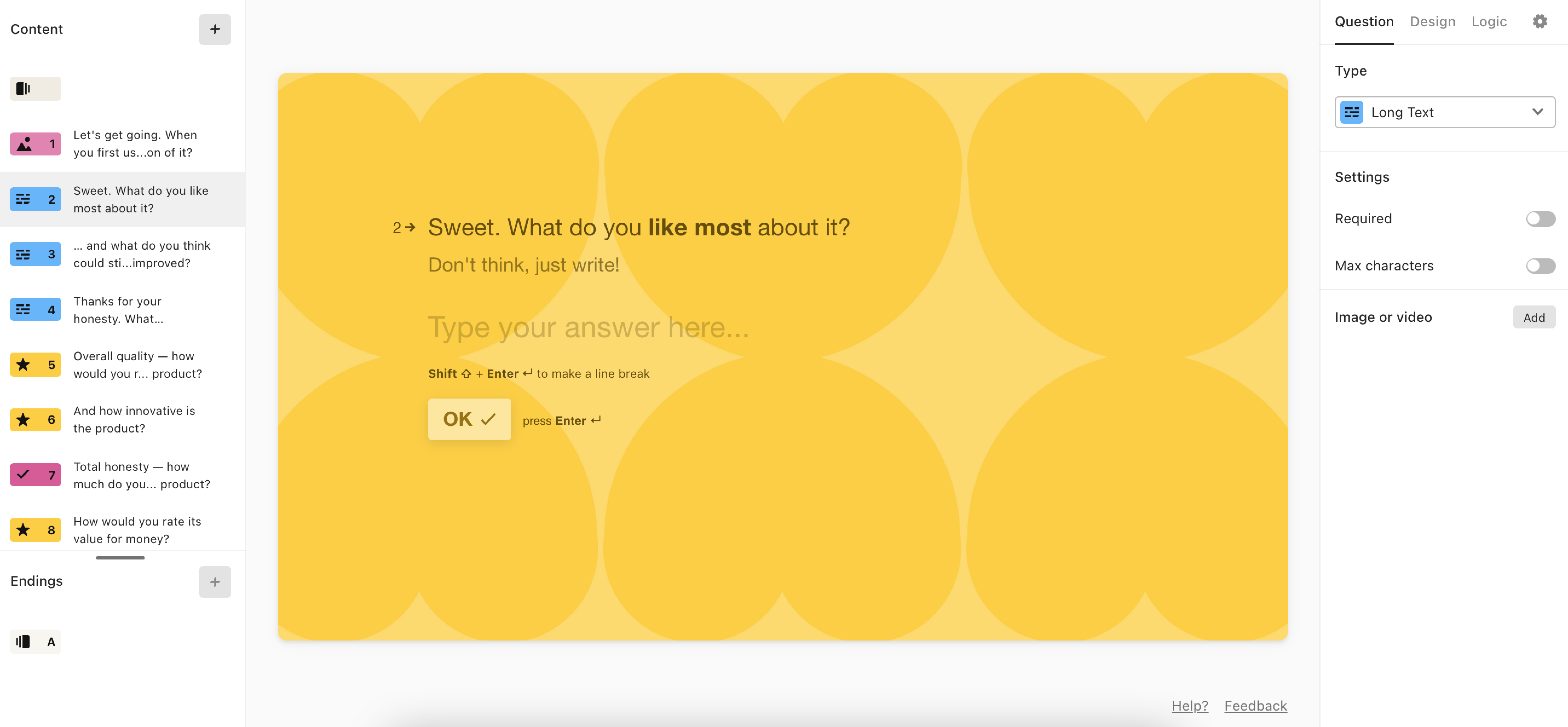 6. If you want to give a more personalized experience here, add a third Long Text question that will be displayed only to those who answered negatively to the Picture Choice question…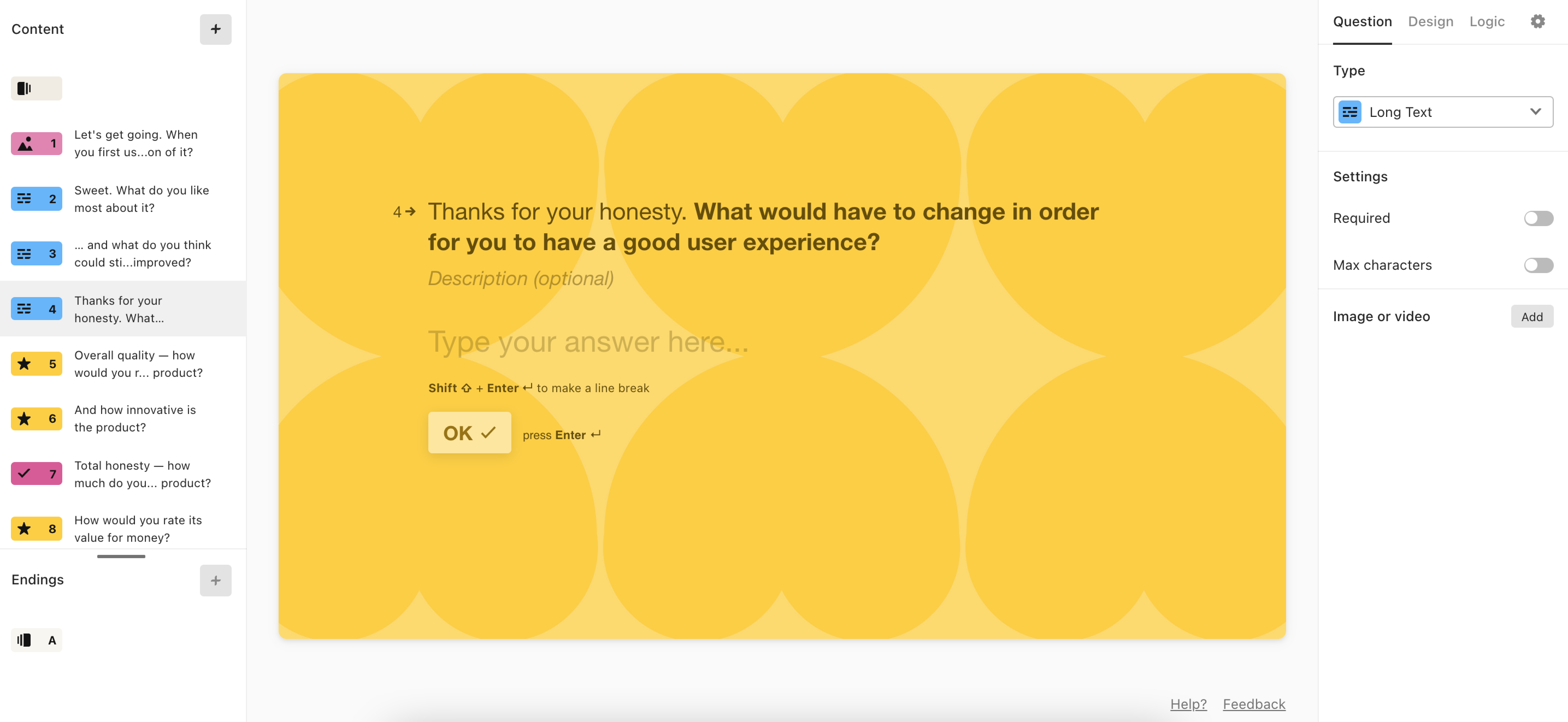 …then apply Logic to the Multiple Choice question to people who answer negatively. Set up your Branching and calculations as follows:
You'll also need to set up Branching and calculations on question three to jump to question five when you've created it (see next step).
7. Rating questions allow someone to give a star rating for your product (or for a feature/attribute of your product).
You can set the scale to be anything from between 0 and 10 using the drop-down menu in the right-hand sidebar. It doesn't have to be stars, either: you can change the icon that appears via the Shape drop-down (you'll find everything from trophies to skulls here).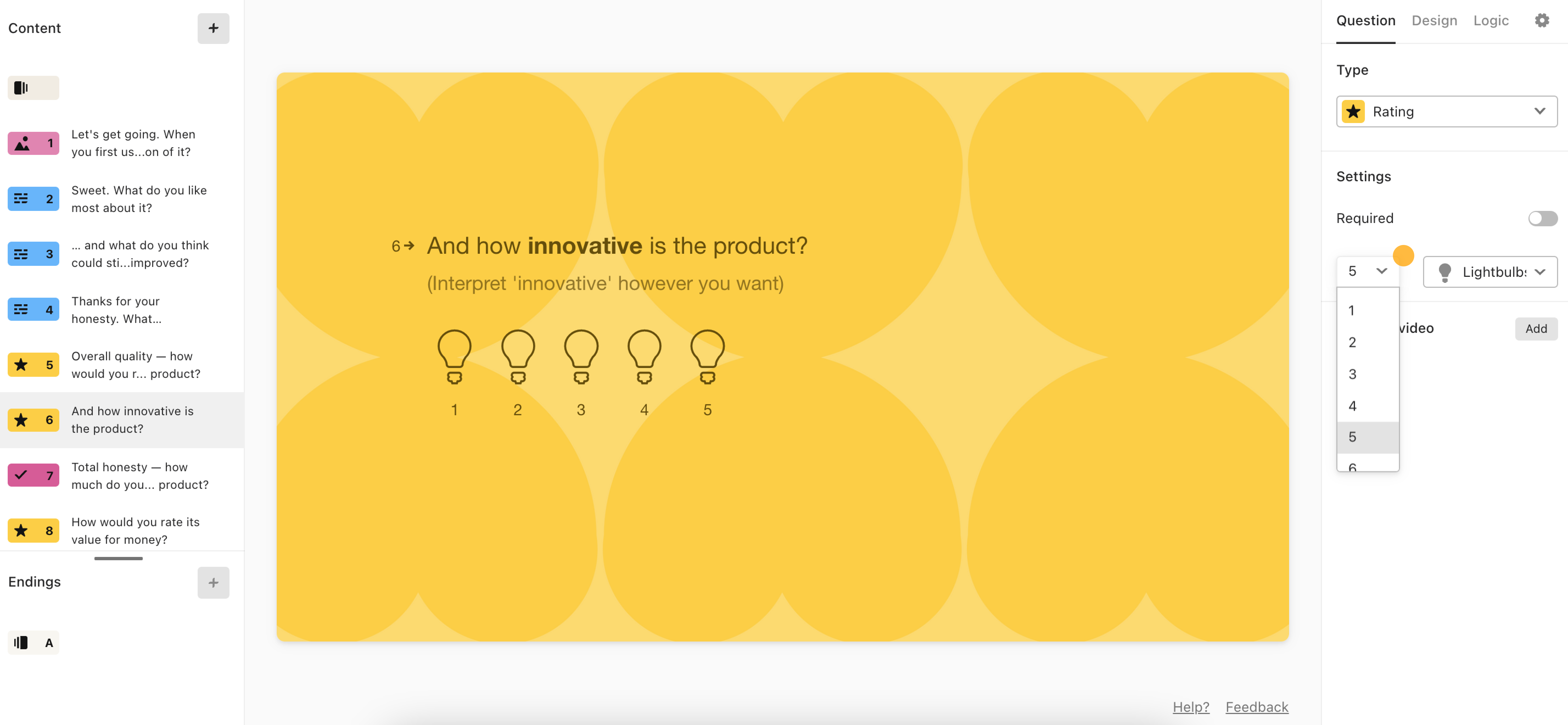 8. Our product survey typeform uses Multiple Choice and Rating questions to gather more information about how much the reviewer needs the product, its value for money, and whether they would buy it.
9. Next, we add a couple of Opinion Scale questions. These are great for asking people things like "how likely they are to…" or to "what degree they liked….".
You can change the number of steps in the scale and edit the labels that appear at either end of the scale.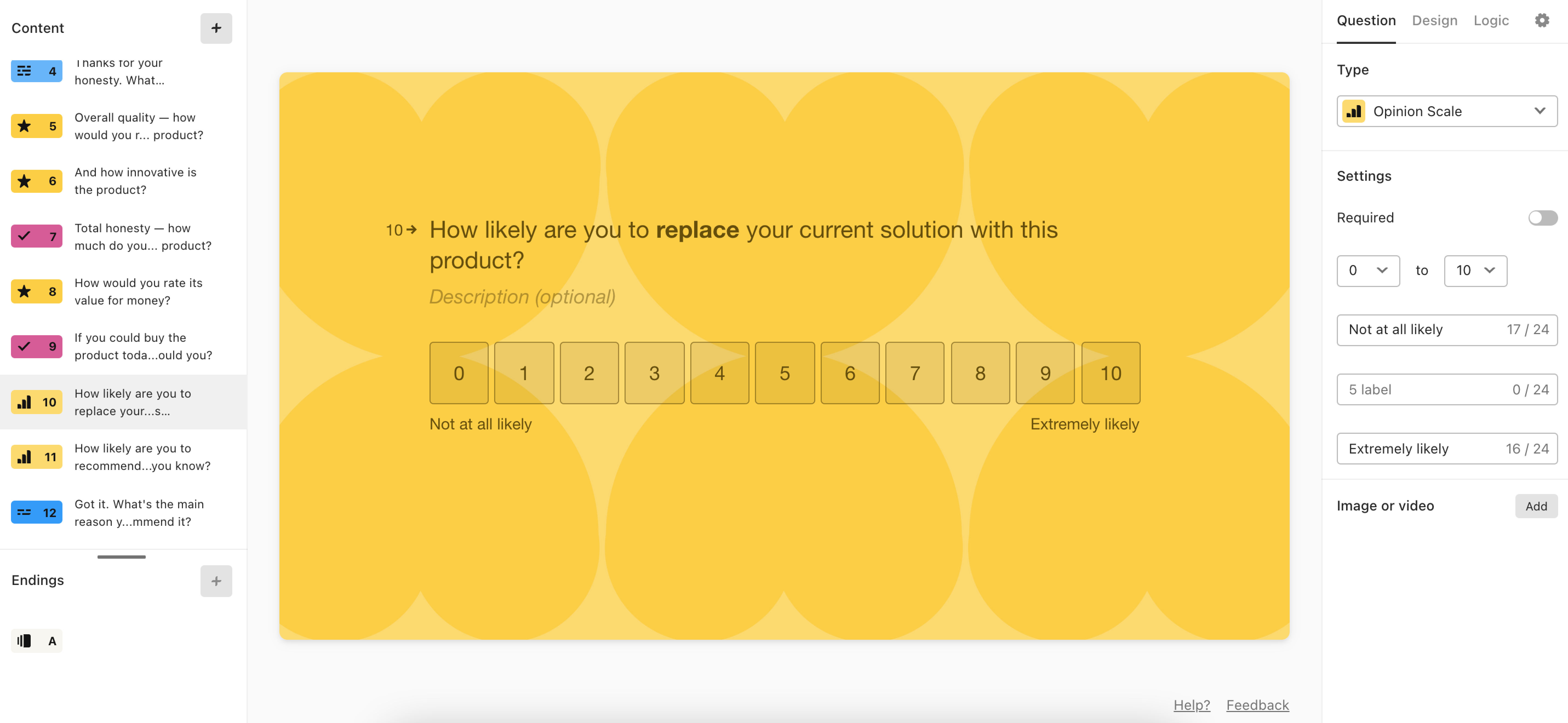 10. The final Opinion Scale question in our product survey is "How likely are you to recommend this product to someone you know?" – a question commonly seen in NPS surveys.
We apply Branching and calculations to this question to ask a follow-up question based on how they answered. To do this, create two new Short Text questions…
…then add the following Logic to the Opinion Scale question (question 11 in this case).
11. To round off our product survey typeform, we added an Ending Screen with a stock image taken from our integrated Unsplash photo library. We also customized the button text here to give a friendly farewell ("See ya").
What to do with your feedback survey results
Once you've created your typeform, it's ready to be shared with your community. Find out more about sharing your typeform here.
But then what? How do you get the results of the feedback survey to the people on your product who matter? Here are some suggestions:
1. Share the feedback in a Google Sheet. Our integration allows you to send all your results to a single spreadsheet. You can share this with stakeholders on your team who can dip in and look at the feedback. Find out more about the integration here.
2. Send a Slack alert to stakeholders on the product team as soon as a piece of feedback comes in. Use our Slack integration to ping specific channels with answers from the feedback survey. Find out more here.
3. Add feature/improvement requests automatically to a Trello board. If your product team uses Trello, our integration is a great way to keep a constantly updated backlog based on customer feedback and requests. Find out more about the Trello integration here.