Organization, account, and profile settings
Need to change some of your account details, such as your name, email address, or profile image? Head to the Settings area. There are two ways to get there:
1. Click here while logged into your account.
2. Click on your alias in the upper left corner of your Workspace and then click Account: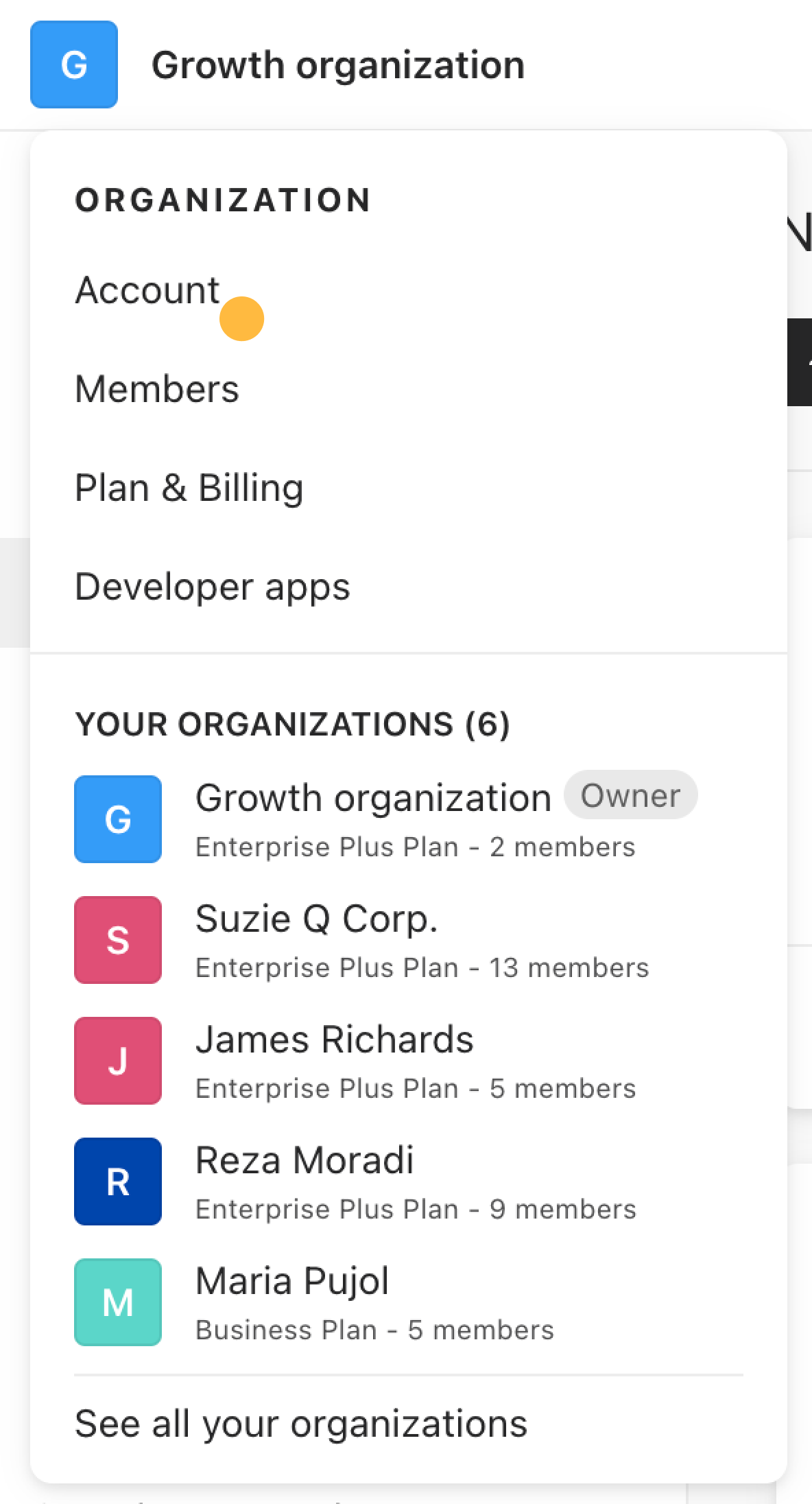 3. Whichever route you take, you will now be in the Organization and Profile settings area:
What you'll find in Organization Settings
Here's a breakdown of all the various settings you can modify in the Organization section.
Account
Here's where you can view and edit your Typeform URL, request data about the typeforms in your account, and delete your account.
Change account name. Click this to edit or change your account name. This is the name that appears next to your avatar when logged in to Typeform. For Plus and higher users, this is also your Organization name:
Edit the URL of your typeforms. Take a look at this Help Center article to find out more.
Request your data. Click this and we'll email you all the data we hold in your account.
Danger Zone! If you want to delete your account, it's as simple as clicking the Delete my account button.
Members
If you have a Plus or higher plan, this is where you can add or remove team members and assign organization roles.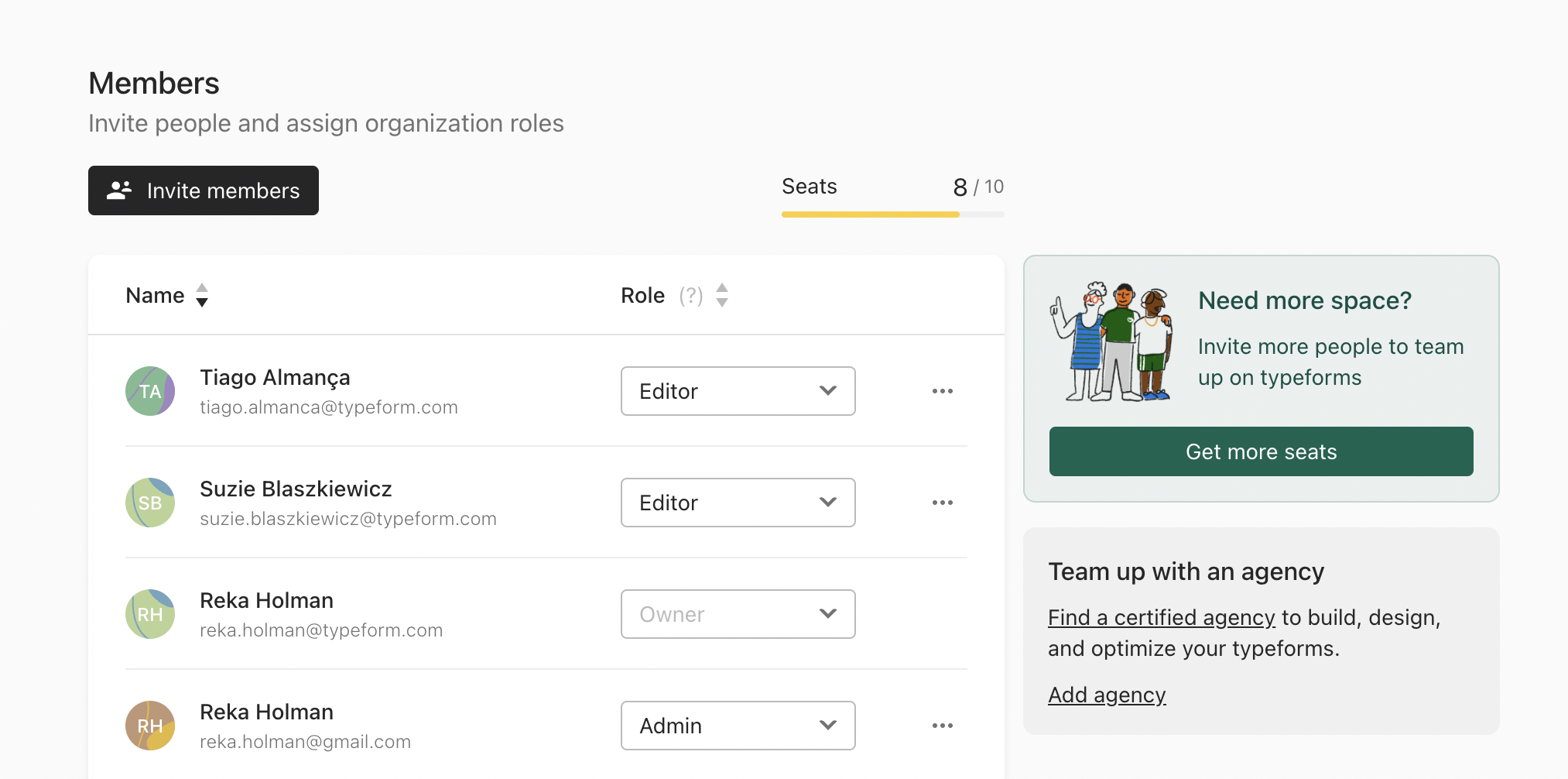 Plan & Billing
Here you can adjust your billing information or change your plan. Visit this article to learn more.
Scroll down to see your invoices: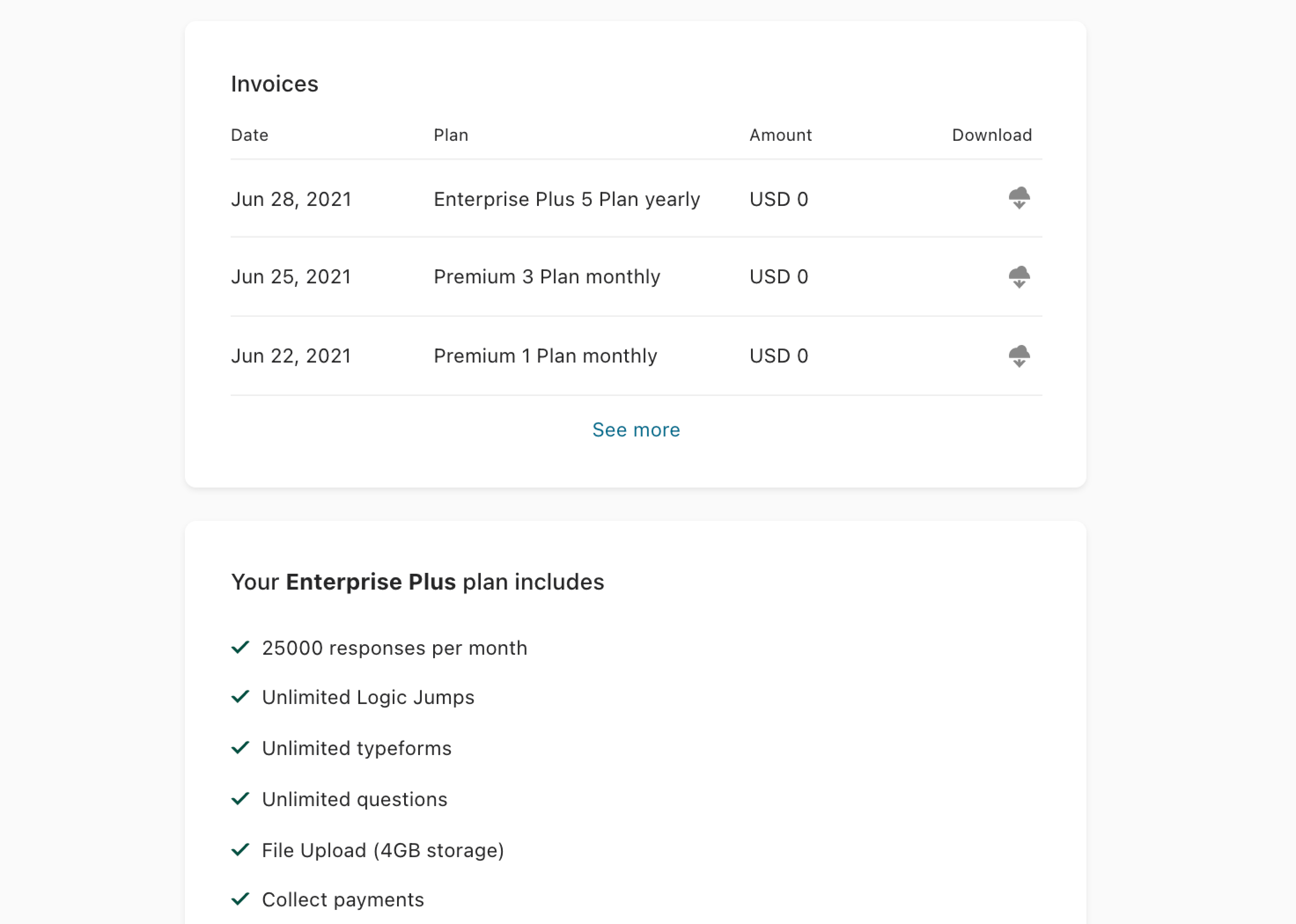 You can also find a list of all the features in your current plan.
Developer apps
You can view the developer apps you've registered here, or click Register a new app to add a new one to your account:
For more information on creating and registering your own apps, go to our Developer Portal.
What you'll find in Profile Settings
You can set preferences for your Typeform experience in the Profile Settings section. If you're part of a multi-user organization, these preferences won't affect other users in the organization.
You can access Profile Settings from the left-hand menu of the general settings area:
You can also go to Profile Settings by clicking on your avatar in the upper right corner of your Workspace and clicking Settings: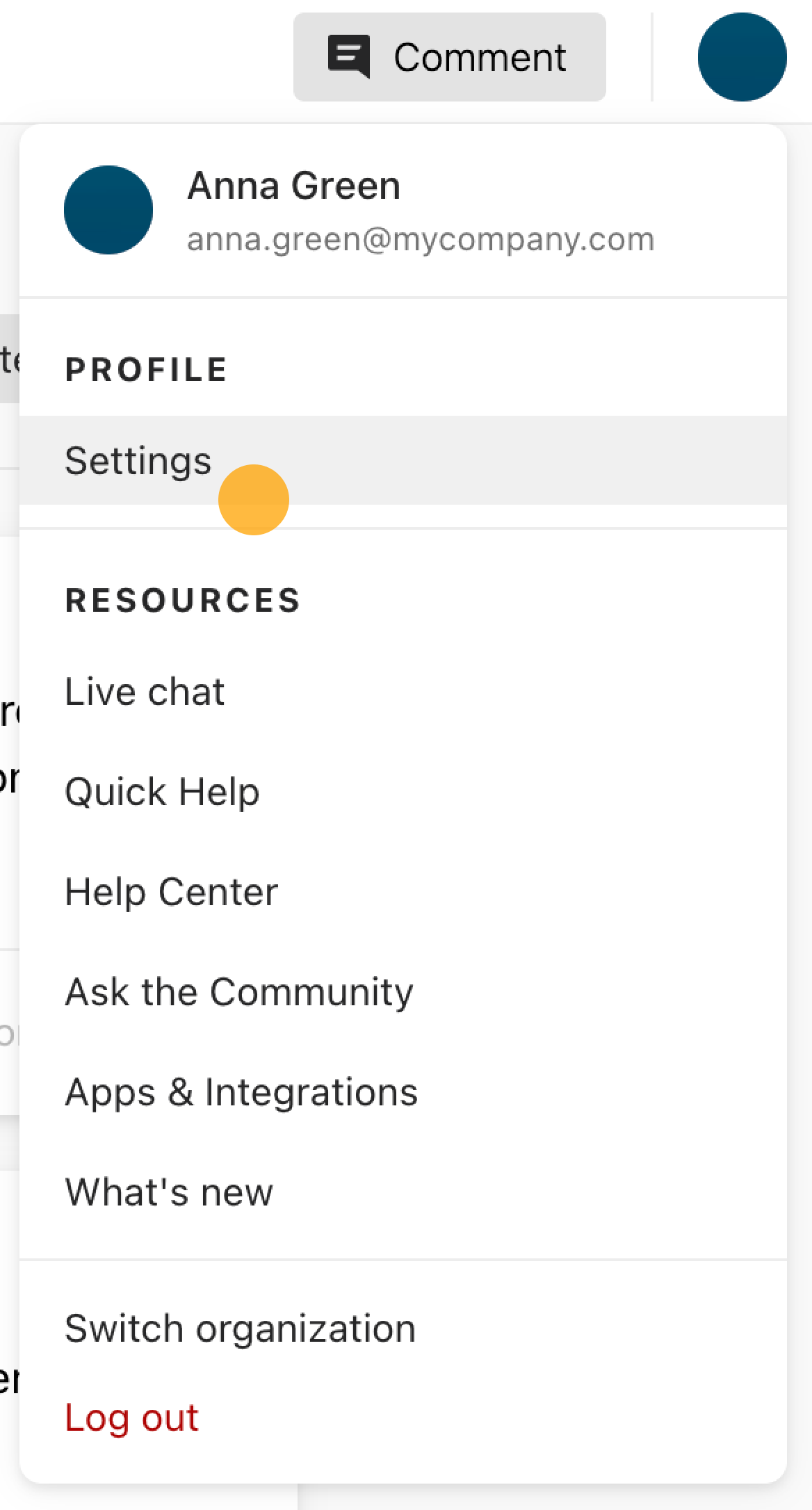 Here's what you can adjust from Profile Settings:
Preferences
In Preferences you can edit the email address associated with your account - this is how we get in touch with you, so make sure it's correct! You can also change your name, reset your password and change the account language (the Typeform platform is available in English or Spanish).
Your name here is not the same as your Account/Organization name (see Organization Settings above). Your name will appear in any communications we have with you, and also next to the avatar in the upper right corner of your Typeform Workspace:
Communications
In Communications, you can choose what kind of emails we send you. You can opt in or out of our emails by clicking the switches: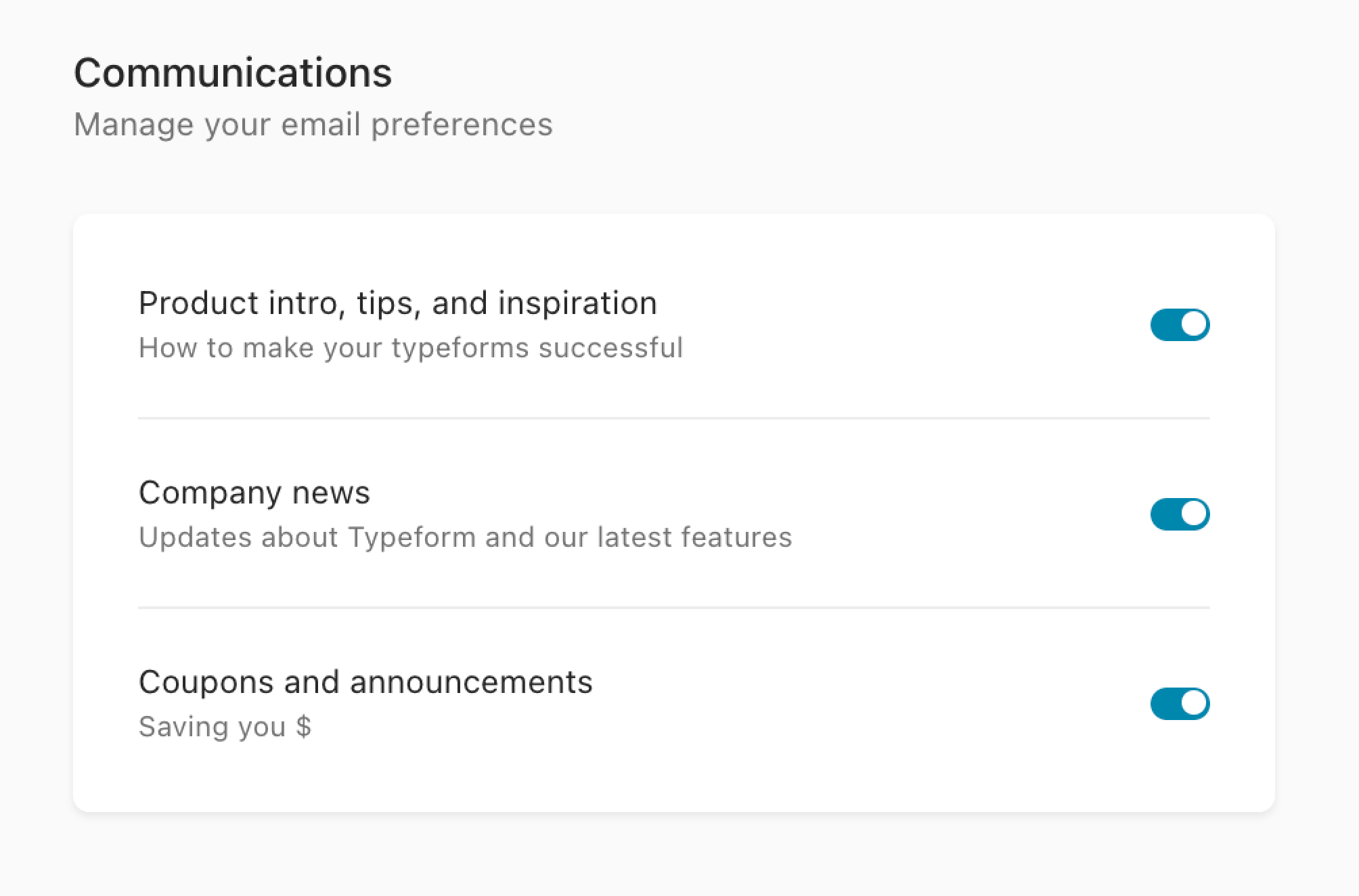 Authorized apps
In Authorized apps , you can see a list of all the applications you've given permissions to access your account (e.g., non-native integrations you use).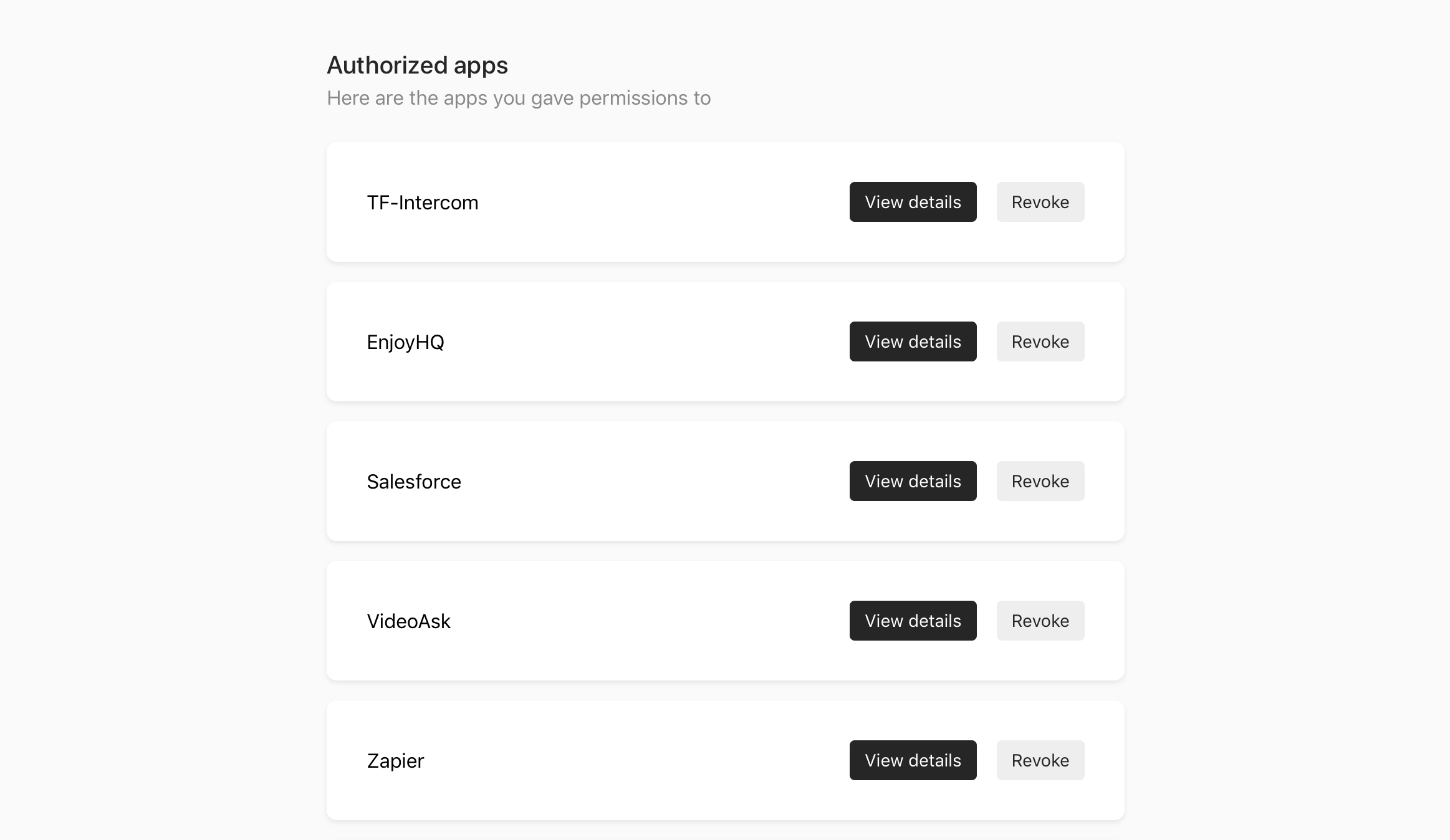 Personal tokens
These are for users of the Typeform Create, Responses, and Webhooks APIs. Create and customize personal tokens by clicking Generate a new token. Find out more about tokens on our Developer Portal.