Share your typeform
Welcome to the Share panel. This is where to come when you've finished creating your typeform, and are ready to show it to the world.
When you click on the Share panel, you'll see all the different ways you can share your typeform:
Your typeform will need to have been published before you can share it from the Share panel. Clicking Publish from the Create panel will bring up a menu of the same sharing and embedding options that the Share panel shows: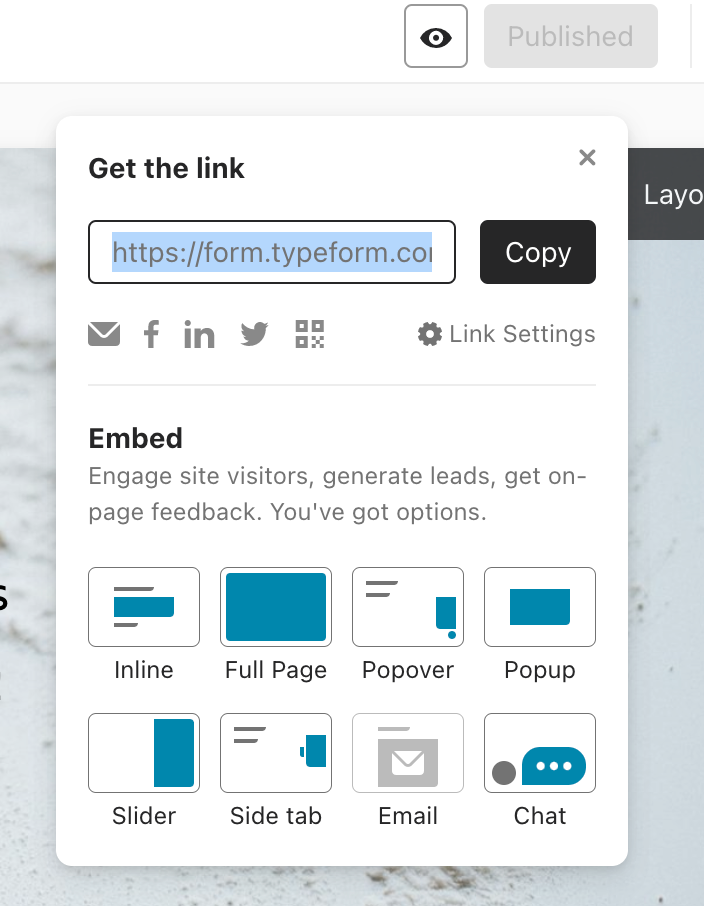 You can share the URL of your typeform by clicking Copy link: anyone who clicks this link will be able to see and use your typeform.
Clicking the social media and email buttons lets you immediately share it on Facebook, LinkedIn, Twitter, Buffer, Linktr.ee or via email. The last icon gives you a QR code which you can also use to share your typeform:

Warning: If your typeform's URL changes after you generate the QR code (for example, if you change the form ID or subdomain) your previously-generated QR code may break. Depending on your needs, you may prefer to generate a QR code through a different application that provides dynamic URL support, or that redirects to a page on your website where the typeform is embedded.
How to turn on search indexing
By default, your typeform is not indexed by Google. This means people can't find it by searching on Google. You can turn this on by clicking Customize link, and then toggling on the switch next to Allow indexing.
But that's not all! You can make your typeform look even better in Google searches and on social media, by adding your own meta image and description. This means that when your typeform appears in a Google search or on Facebook etc, people will see the image and custom text you've chosen. 
Be aware that changes to your meta description can take between four days and two weeks to be reflected in search engine results.

Note! Due to how LinkedIn works, only the meta title and image of your typeform will show on this platform, but not its meta description.
Sharing your typeform on a website, as a chat, or in an email
Now let's move to the Embed section, which allows you to share your typeform on a website. Click on any of the six embed modes from the Share panel to preview (or the Embed SDK option, if you're comfortable with front-end development) and edit your embedded form:
For full instructions on how to embed your typeform, check out this article.
You can also click Start a chat from the Share panel to share your typeform in chat format.
Head to this article to learn more about how to turn your typeforms into chats.
Finally, let's look at the Launch in an email option, also accessible from the Share panel.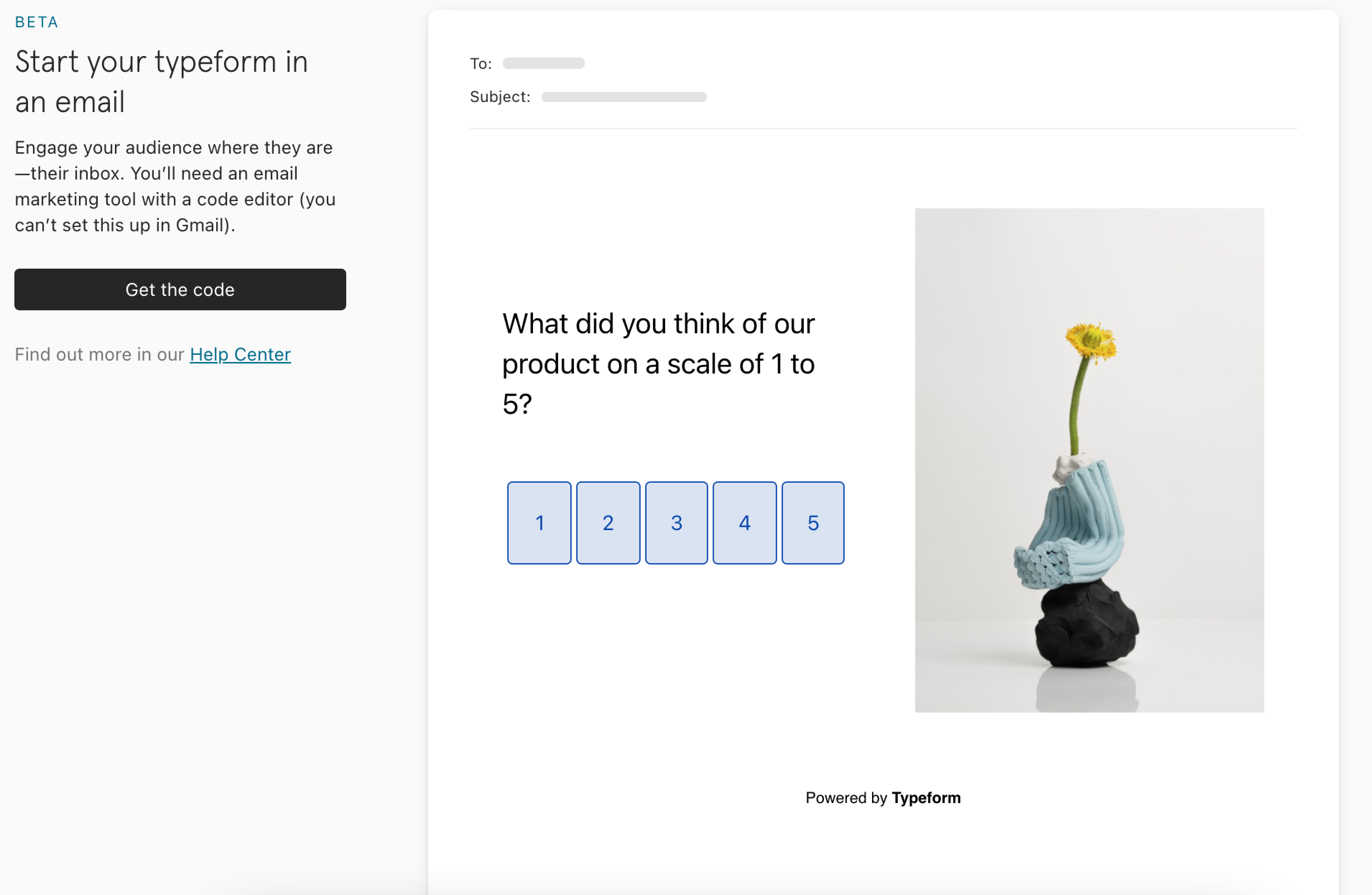 Depending on the question type of your form's first question, you can use an email marketing app like MailChimp so people can start it in an email. This article explains how.
Now you've shared your typeform, sit back and wait for your results to roll in!