Grow your Mailchimp lists with Typeform
You can connect typeforms to your Mailchimp account, and use them to create new contacts in your Mailchimp lists. This means you can use Typeform for registration and lead generation, and get the contact details you collect automatically added to your Mailchimp email list.
To use this integration, you need:
A Free or above Typeform account
Tags set up in Mailchimp (if required)
A typeform with an Email question set to required, a Picture/Multiple Choice or Dropdown question to connect with tags if needed, and a Legal question to collect data consent if needed.
Here's how to build a simple registration form that you can integrate with your Mailchimp account.
Setting up the integration
1. Open the typeform you want to connect, from your Workspace, then go to the Connect panel and click on Integrations. Search for 'mailchimp' in the search bar and click Connect: 
2. You'll be prompted to select a Mailchimp account that's already connected to your Typeform account, or log into your Mailchimp account if you haven't connected to any accounts yet.
If you add a new Mailchimp account or log into your first one, a window will pop up allowing you to enter your account details.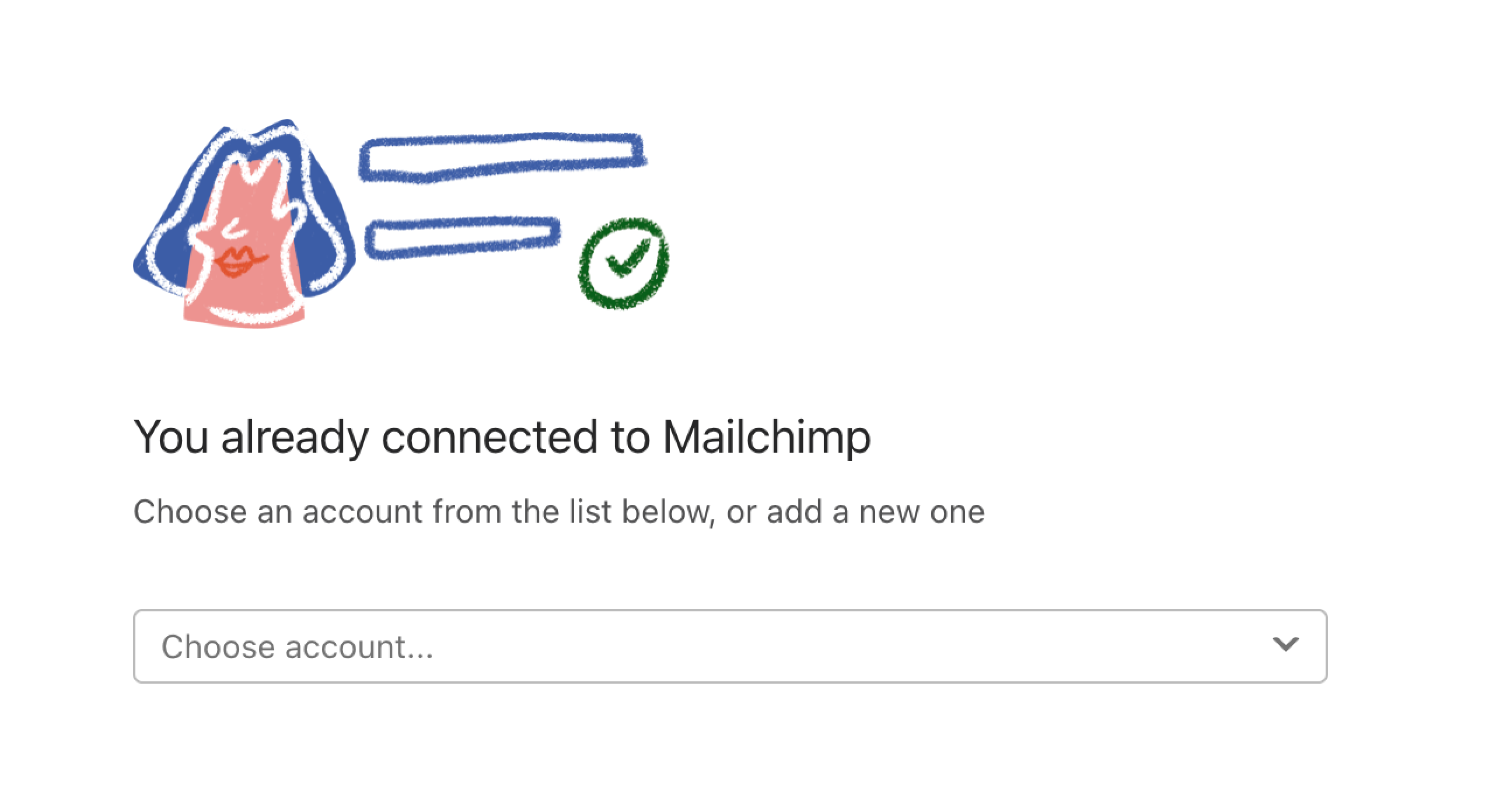 Note! You can associate multiple Mailchimp accounts with your Typeform account. Any account you have previously connected will be listed here. Each unique typeform can be integrated with one Mailchimp account: in other words you can't integrate the same typeform with multiple Mailchimp accounts.
3. Now you're logged in, choose which Mailchimp list you want to use with your typeform.
4. Next you should choose which Email question in your typeform will send data to Mailchimp. Click on the drop-down menu to see what's available (remember, the Email question must be set to Required).
5. Now you can choose to connect any other question from your typeform to a text field in your Mailchimp list, or simply press Continue if email is all you need.

Note! You can connect any Typeform question to any Mailchimp text field (no other field types are compatible at the moment).
Click +Add another, then select a typeform question from the left dropdown menu, and a corresponding Mailchimp field from the right dropdown. You can connect as many as you like.
Here you can see I've connected a few:
If you make a mistake, just click the trash icon on the right of each connected field. Click Continue when you're done.
After mapping your typeform's questions to Mailchimp fields, you can hit I'm done to finish setting up the integration, or you can continue to more advanced options.
Next, you'll see a question about tags: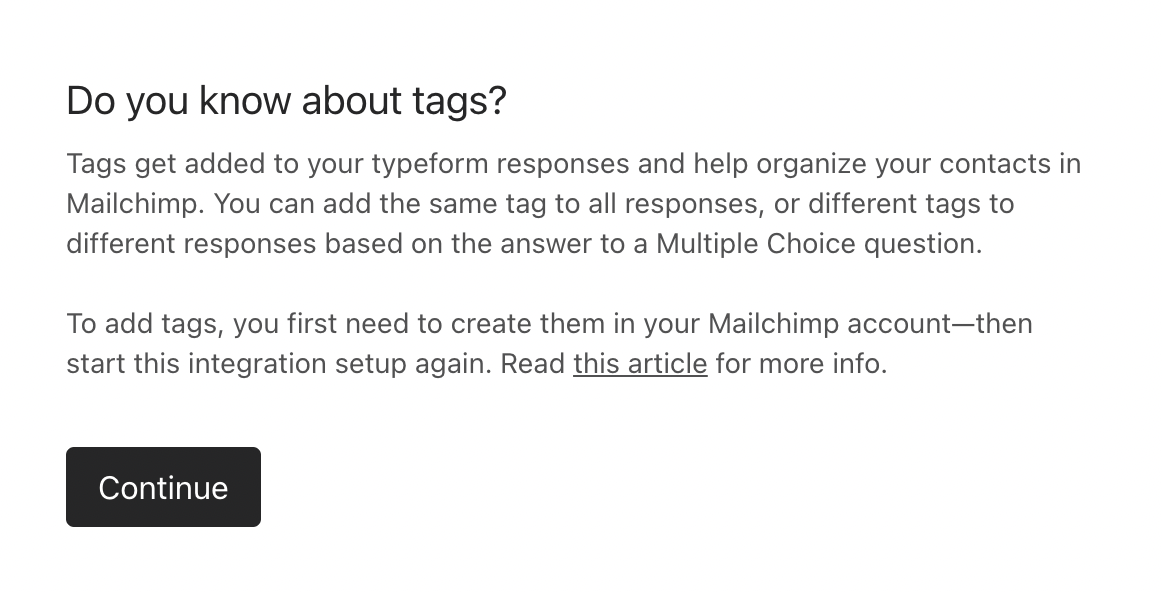 6. If you're using tags in Mailchimp to segment or filter your contacts, you can connect them to a Picture/Multiple Choice or Dropdown question.
First select your question from the top dropdown:
Next, we'll connect your question answers to tags. I have tags in Mailchimp set up by industry. So I added a Multiple Choice question to my typeform asking leads what industry they work in.
Connect these answers one at a time by selecting an answer from the left dropdown menu, and then selecting a tag from the right menu. Click + to keep connecting more.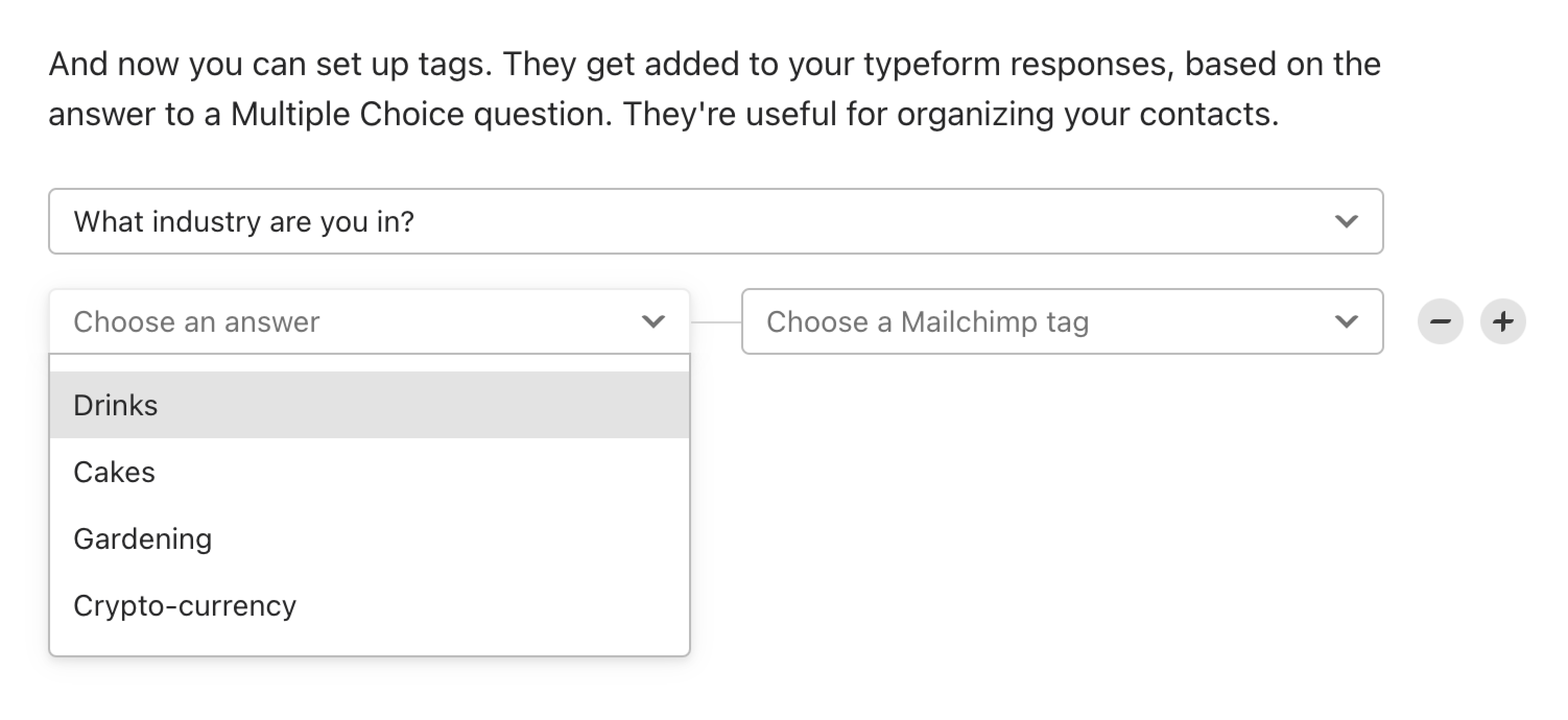 Here are my answers, connected to corresponding tags: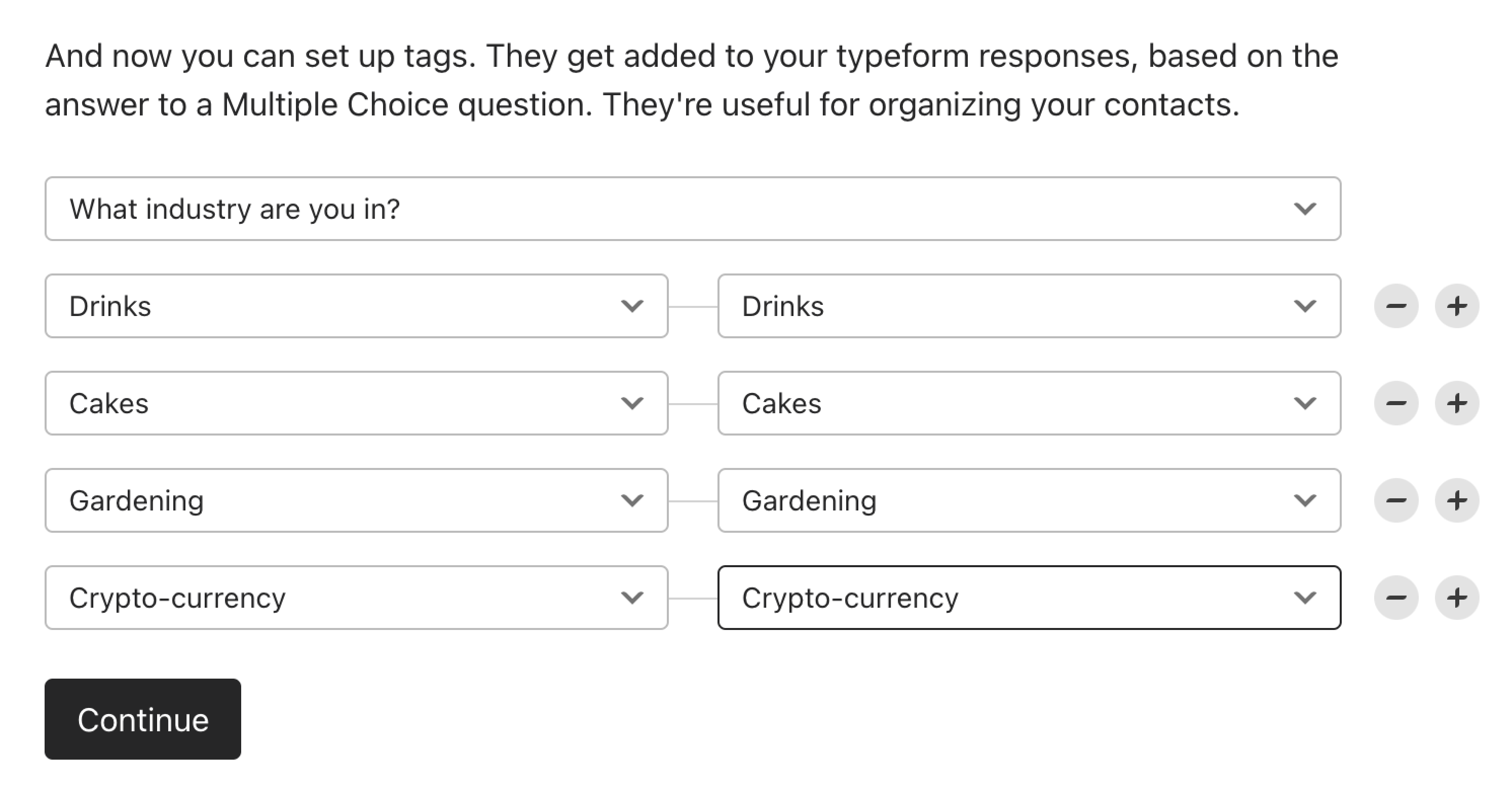 Note! You can connect only one question per typeform to your Mailchimp tags
If your typeform is a quiz, you can also choose to map it to quiz outcomes or skip this step and save your integration:

For example, if a respondent subscribed to your newsletter, you can tag the quiz outcome (the End Screen people see based on their answers) as a new customer...
...or you can set a tag to be added for every typeform submission. For example, I could have a "Typeform" tag in Mailchimp, so every time I get a lead via this typeform, I'll be able to filter out those contacts with ease.

Click Continue when you're done.
7.  Now you have an option to add a GDPR compliance question. If you need your respondents to be compliant with EU laws, then click Yes, set this up. 
Your typeform must already have a Legal or a Yes/No question for this to work - if you don't already have one, you'll be sent back to the Create panel to add one to your typeform.
8. Now choose the Legal question you want to use from the dropdown menu:
Click Continue when you're done.
9. Next you'll see this message:
Click I'm done.
10. All you need to do now is click the Activate integration button, and your typeform is connected to Mailchimp: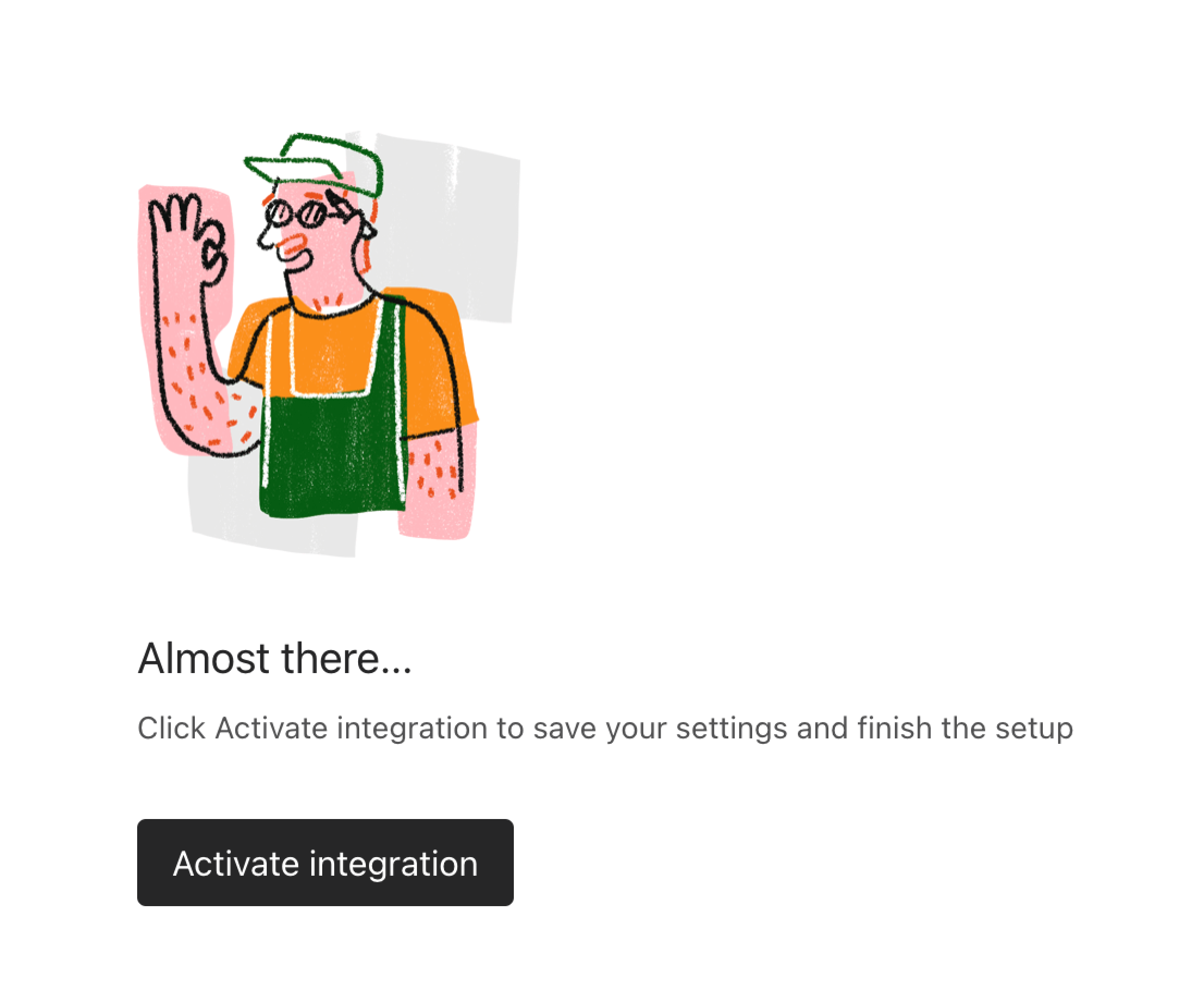 Now when people complete your typeform, the email and name data will appear in your Mailchimp list automatically.
11. If your typeform has already collected results, you can choose to send them to Mailchimp now. This feature is currently in Beta, and you can backfill up to 3000 results.
If you do want to backfill your Mailchimp list with your results, just click Yes, send 'em. You won't see this message if your typeform has no results.

Note! If someone unsubscribes from your Mailchimp list, their address cannot be re-added through backfilling.
12. You can now see an integration switch in the Connect panel:
Click this switch to turn your integration off or on again, or click the three-dot menu for option to delete the integration.

Warning! There is no edit function for this integration. Click the hamburger menu next to the integration switch above, and you'll find a Delete option. Click this to delete your integration, which means you are free to set up another.
This integration creates new contacts – you cannot currently use it to update existing contacts in Mailchimp lists. If you delete and reconnect the integration, you will not be able to update contacts that already exist in Mailchimp.
Required fields in Mailchimp and Typeform
If you have fields in your Mailchimp list which are set as Required, then the corresponding questions in your typeform must also be set as Required. If not, you will see a warning message, and the integration will fail.
Currently, if you have other Required fields in your Mailchimp list, you will have to change them to not Required, or the integration will not work. You will see a warning message if this is the case.