With this feature you can embed an Opinion scale, Multiple Choice, Picture Choice or Yes/No question right into an email. This makes sending out something like a Net Promoter Score survey quick and easy.
Typeform is great for collecting feedback. With this feature, when sharing your typeform by email, instead of clicking a link then starting the typeform, people can answer the first question from your email. This makes life easier for respondents, and can therefore help to increase your completion rates.
This feature works with email distribution applications like Mailchimp. Everyday email services such as Gmail, Outlook, or Yahoo! Mail do not support this kind of code.
Once the code is in your email distribution app, you can then create your email campaign as usual.

Note! This feature is currently not compatible with Klaviyo. For more information, refer to this article in the Klaviyo Help Center.
Here's an example of what people will see when they open your email:
When someone answers the question in the email, a new tab will open with the complete typeform, and that answer already entered.
1. To embed this in an email, open your typeform from your Workspace, and go to the Share panel. Then click Launch in an email.
2. Now you'll see this screen:
3. If your typeform's first question is not an Opinion Scale, Multiple Choice, Picture Choice or Yes/No question, or if you have a Welcome Screen, you'll see a warning: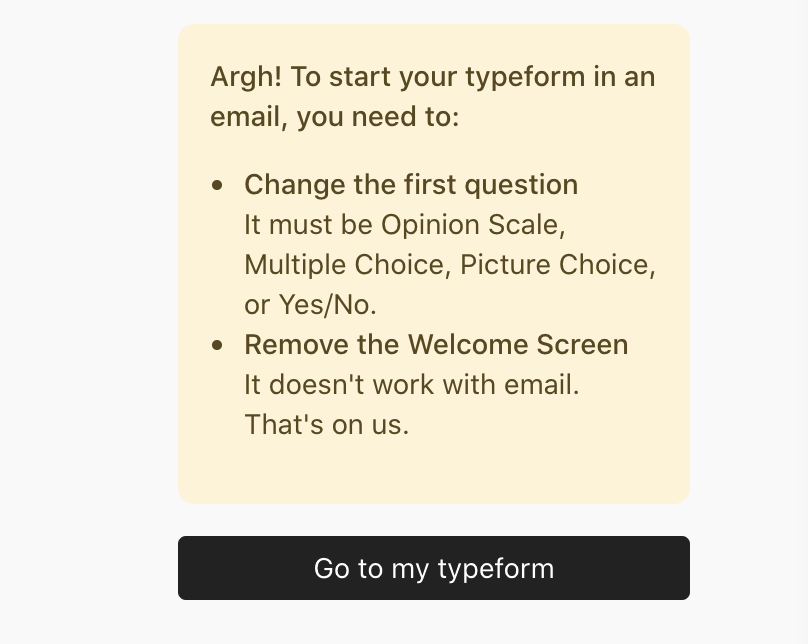 To fix this, click Go to my typeform, add a valid first question, and save your typeform. Go back to Share, and this warning will disappear.
4. Click Get the code, which will open a popup window with the code you need to paste into your email marketing tool.
Click the Copy code button. The text will be highlighted, and added to your clipboard.
5. You can then paste this code into your email marketing app. Here's what that looks like in MailChimp:

Tips! Results are captured when someone clicks the submit button. If someone clicks a score in the email, but then closes the typeform without hitting submit, the score will not be recorded. Mention this in your email (or the typeform) to encourage people to complete your survey.