Salesforce question mapping FAQs
This table shows how you can map Typeform questions to Salesforce field types as part of our Salesforce integration. Currently, you can map typeforms to Lead, Opportunity, Contact, Account and Case objects. Other standard objects are not supported at the moment. (If you're a proficient Salesforce user, you can also create records for custom objects - check out our guide here!)
| | |
| --- | --- |
| Typeform question type | Salesforce field type |
| Short Text | Text, Text Area |
| Long Text | Text Area (long) |
| Email | Email |
| Phone | Phone |
| Number | Number |
| Date | Date |
| Multiple Choice (single select), Dropdown | Picklist |
| Multiple Choice (multi-select) | Picklist (Multi-Select) |
| Picture Choice (single select) | Text, Picklist |
| Picture Choice (multi-select) | Text, Picklist (Multi=Select) |
| Opinion Scale, Rating | Number |
| Website | URL |
| Hidden Fields | Text |
| Ranking | Long Text Area, Rich Text |
Yes/No and Legal questions should be changed to Multiple Choice questions with the options "Yes"/"No" or "I accept"/"I don't accept" respectively. They can then be mapped onto a Picklist field in Salesforce.
The Salesforce integration currently does not support File Upload, or Payment questions.
You can map Hidden Fields onto Text fields in Salesforce. The integration does not currently support mapping variables or scores.
You can also create conditional mappings between Hidden Fields and regular fields. For example, you can map both a Hidden Field and an Email field to a Salesforce Email field. In this case, the field with a non-null value will be mapped to the Salesforce Email field. The default value of a Hidden Field, for example, "xxxxx", is considered a null value.
Read on to find the answers to several common mapping-related questions: 
I edited my typeform questions and published the form to update it, but the Salesforce field mappings don't reflect how my form looks.
The Salesforce integration refreshes the forms periodically. The exact frequency is specified by you during the setup stage of the integration (see the screenshot below). If you wish to update the forms so your recent changes are available in your mappings, open the Typeform app in Salesforce, go to the Connect page in Typeform Admin, and click Run Now under Retrieve Forms.
What kinds of records can I create in Salesforce?
You can map typeforms to Lead, Opportunity, Contact, Account and Case objects. Other objects such as Surveys are not supported at the moment. (If you're a proficient Salesforce user, you can also create records for custom objects - check out our guide here!)
I want to create a record and link it to an existing contact. How can I do this?
To link any record type to an existing contact in Salesforce you need to use a Lookup field. Our integration doesn't currently support Lookup fields, so this is not possible.
Can I update existing records in Salesforce with my Typeform integration?
Yes. When editing an object's field mappings, you can specify that typeform submissions should either create a new record by default or check against existing records first.
Choose Check for Existing for the second option. Then, use the checkboxes under Dynamic Field Mappings to select one or more keys for the integration to check when deciding whether to update a record or create a new one.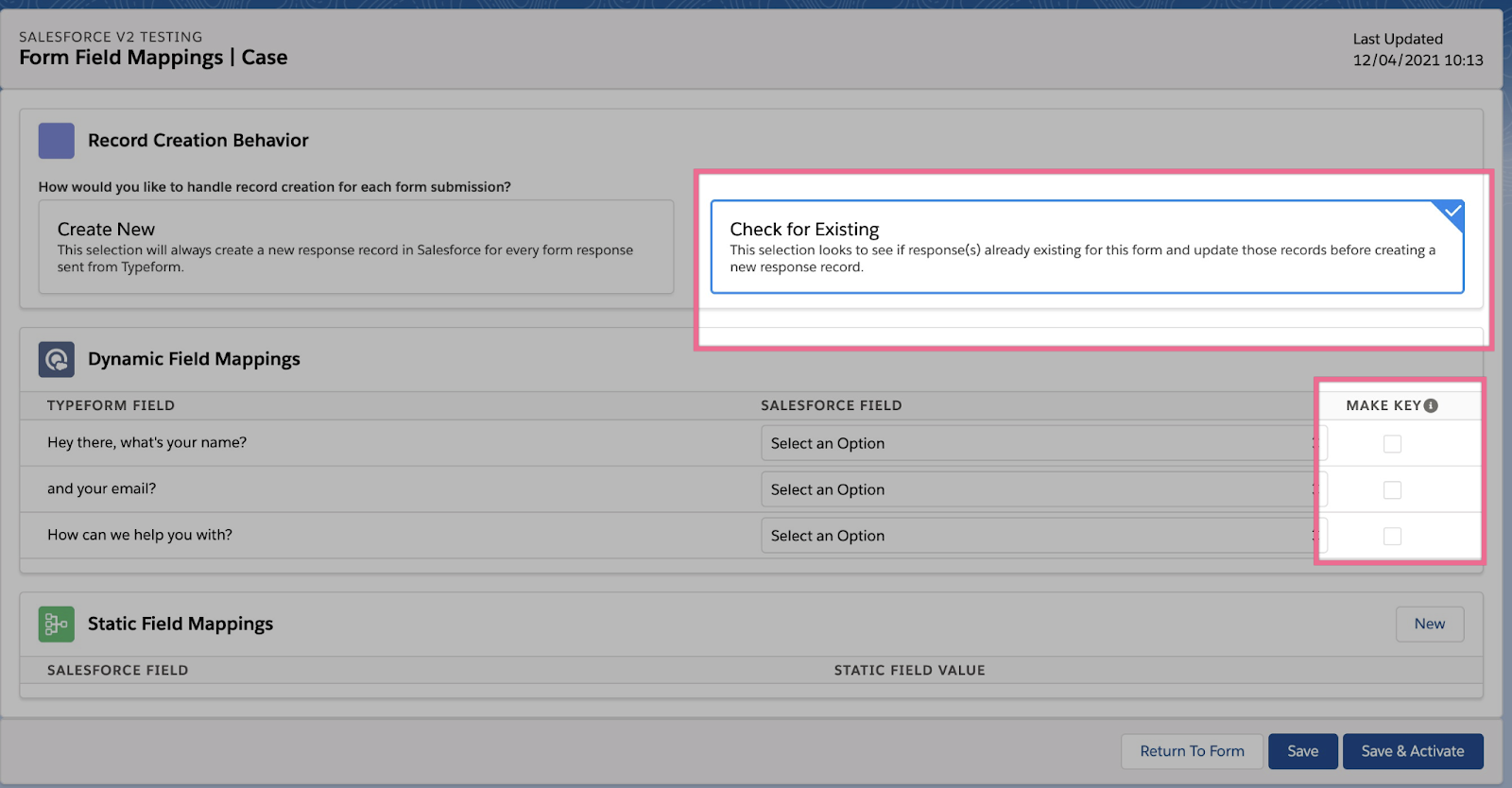 How do I map Multiple Choice questions to Salesforce object fields?
Map Multiple Choice questions to a picklist or multi-select picklist in Salesforce, depending on whether you have enabled multiple selection in Typeform or not. If you have Typeform's Other option enabled, make sure that the "Restrict picklist to the values defined in the value set" option is unchecked in the Salesforce field settings.
My Hidden Fields are showing as hidden1, hidden2, etc., in Salesforce instead of the names I gave them in Typeform. Why?
This may occur when Hidden Field names are changed in Typeform and the form is republished on Typeform's side, but Salesforce does not show the refreshed names correctly. To refresh the mapping in Salesforce, go to the Connect page in Typeform Admin and click Run Now under Retrieve Forms.
Can I map typeform metadata to Salesforce?
No, we currently do not support mapping typeform metadata (Submit Date, Network ID, Typeform ID, Start Date, Lead Record Type, etc.) to Salesforce, only typeform fields.
Why am I seeing an "Exception: Attempt to de-reference a null object" error?
This error is triggered when a required field in Salesforce receives a null value in Typeform (empty Hidden Fields are also treated as null values).
To work around this issue, create a manual record in Salesforce for the response with null values. Delete the corresponding response from the Responses panel in Typeform. Then, run the Retrieve Responses job in Salesforce again.