Get started with Typeform
We're improving our builder all the time. Here's a quick overview of how you can create a form, survey, quiz, or whatever you want, with our new Create panel. 
1. When you log into your Typeform account, click Create typeform to get started: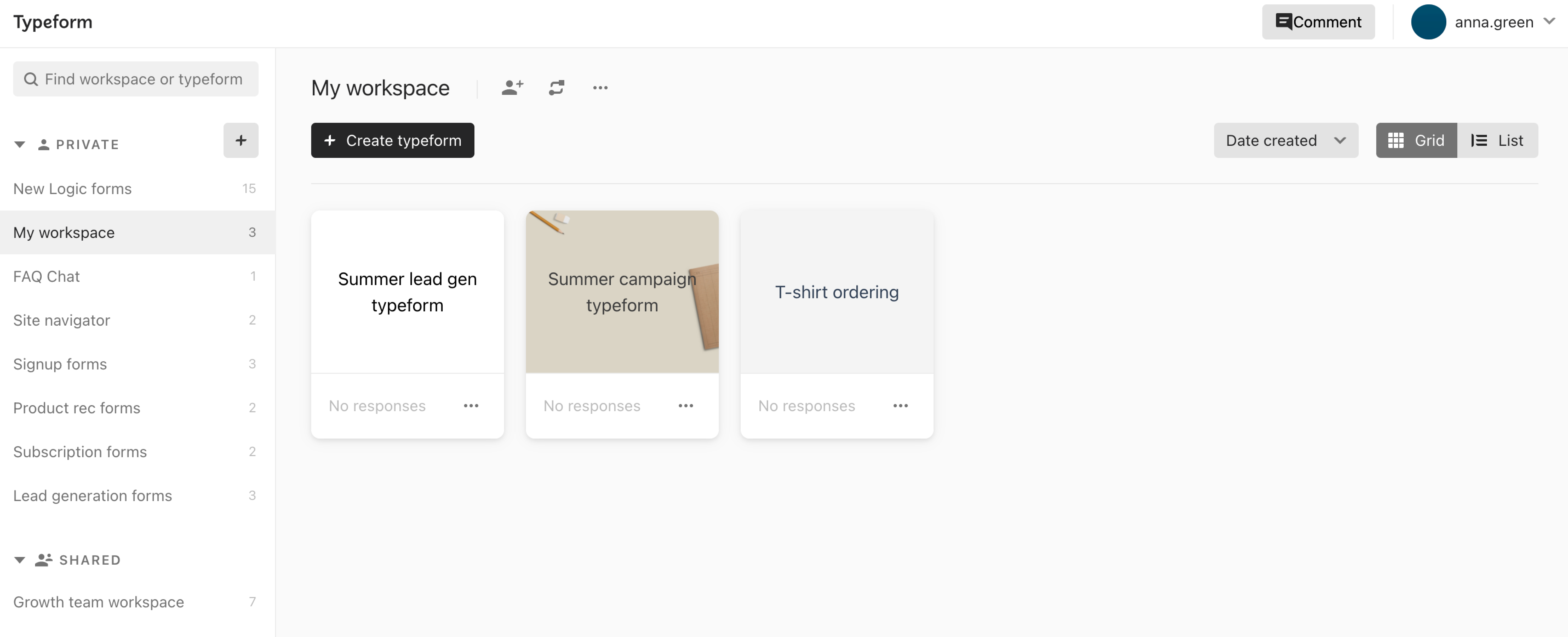 2. Now click Start from scratch. You can also choose a template, but for this example we'll start fresh!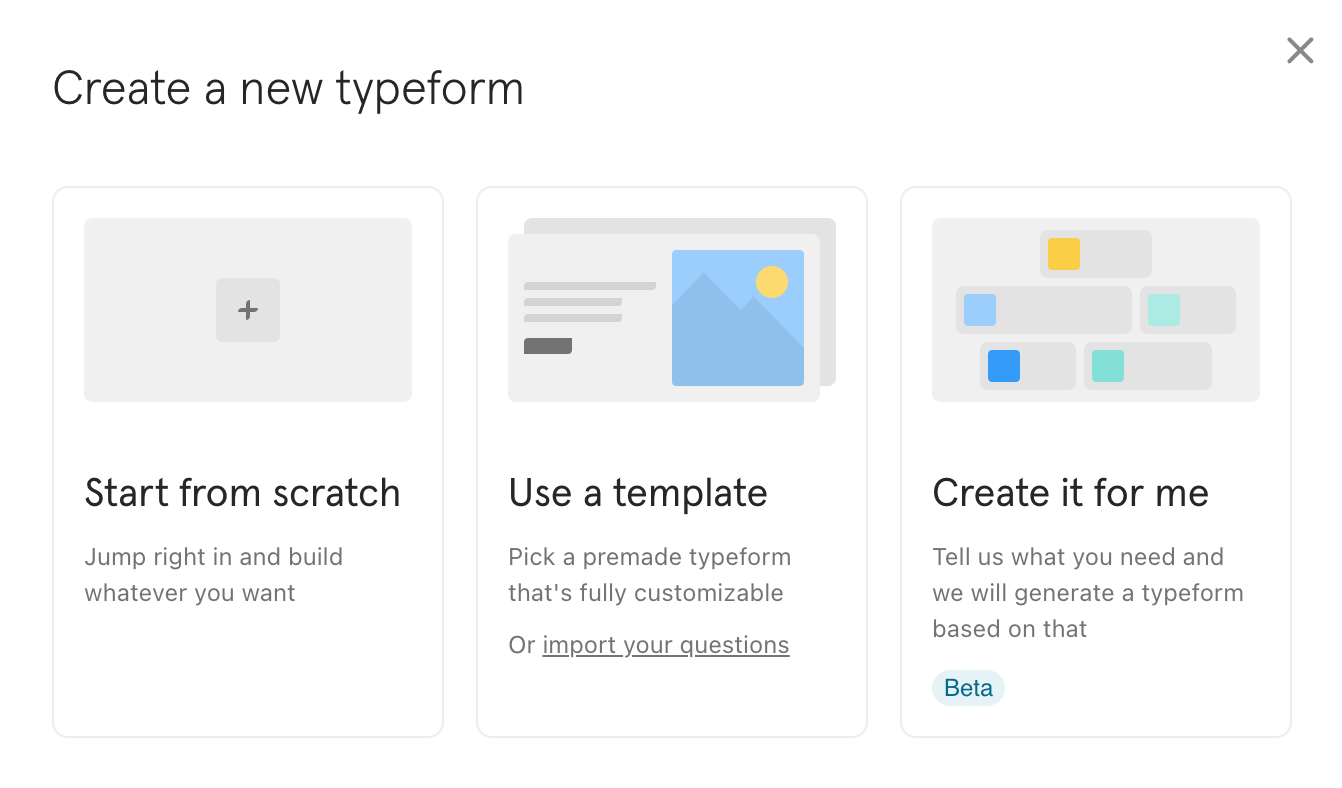 3. Give your project a name, and tell us what you want to make (this is optional!):
4. Now you'll be able to see our builder, where you'll create your typeform. By default there's a Multiple Choice question to get started with, which you can edit or remove as you please.

Tip: Enter 'www.typeform.new' into your address bar to create a blank typeform in your most recent Workspace.
5. To add a question, click the + button on the left to see all different question types: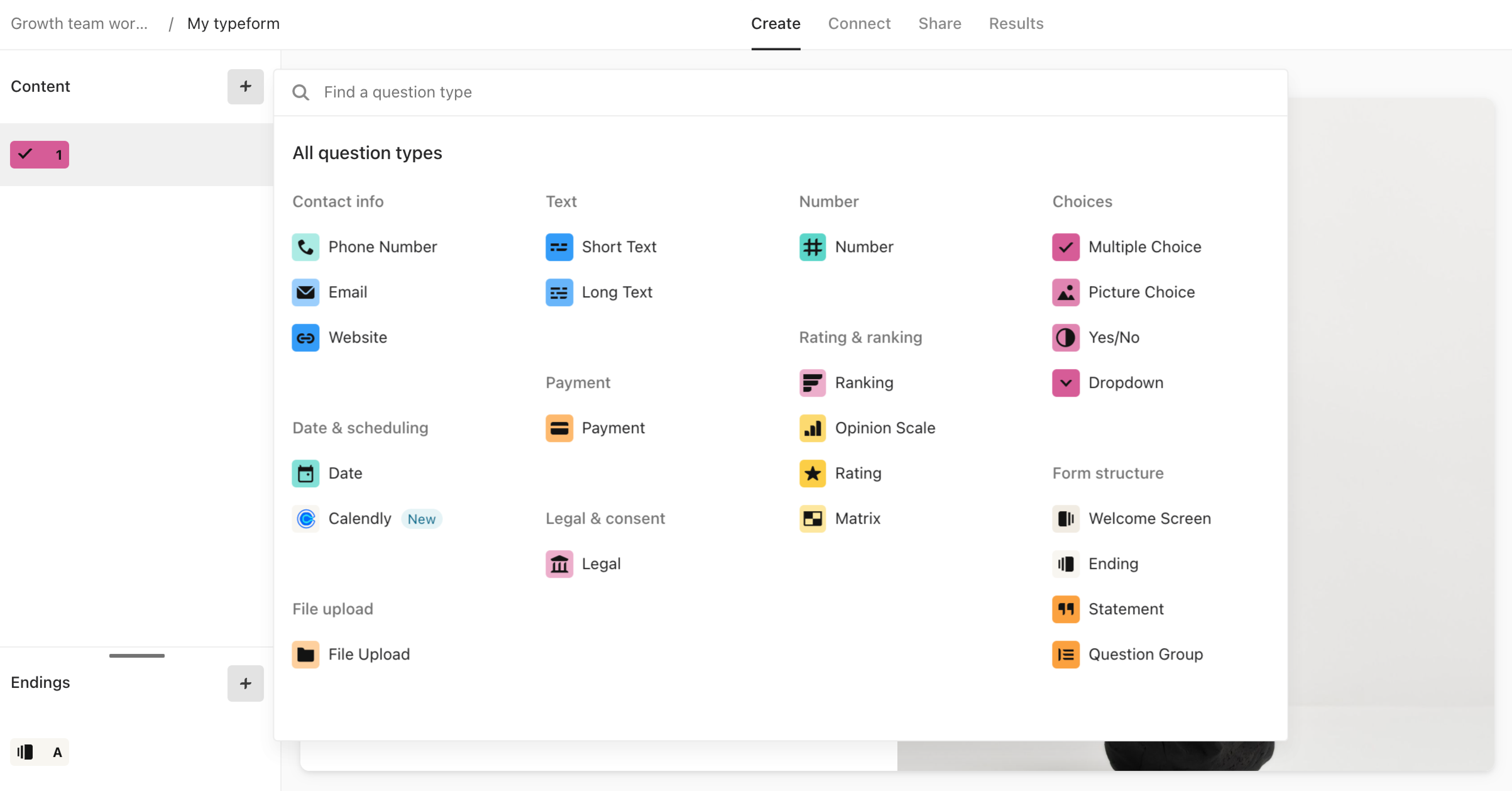 Typeform might recommend some question types to you. These recommendations are based on how you answered the welcome questionnaire when you first joined Typeform. For example, if you told us you'd be using Typeform to collect leads, you might see recommendations for question types related to contact information. 
6. You can edit question text directly in the central preview panel. Here, we've added a Welcome Screen, to greet typeform respondents:
This is a WYSIWYG (what you see is what you get) editor, so you can see exactly how your finished typeform will look while you create it.
7. You can change question settings in the right hand panel. Here you can change things like making the question required, or randomizing answers:
Click the dropdown under Type if you want to change the question type: 
8. Then, spice up the design with Layouts. Click the Change icon next to Image or video to open our media gallery, where you can choose an image or video, or upload your own:
9. Once you've chosen your image, close the media gallery, and you'll be taken back to the builder, where you can play around with the Layout and focal point of your image: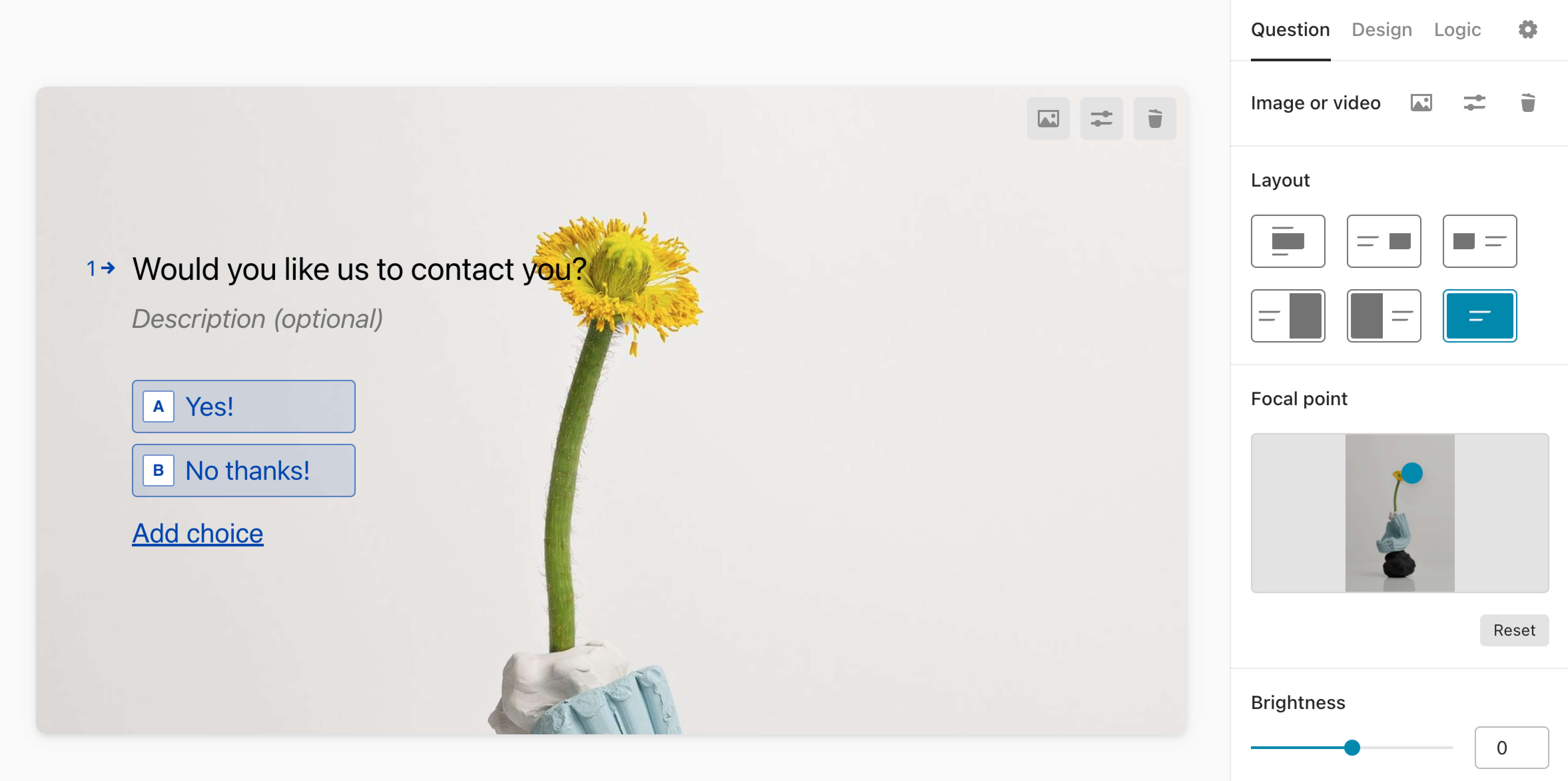 We also recommend adding Alt text to your image, so it can be understood by screen readers.
10. Edit your typeform's look in the Design tab by changing the colors and font:
11. Once you've added all of your questions, you can reorder them just by dragging and dropping them in the Content panel on the left. Click and hold any question to move it: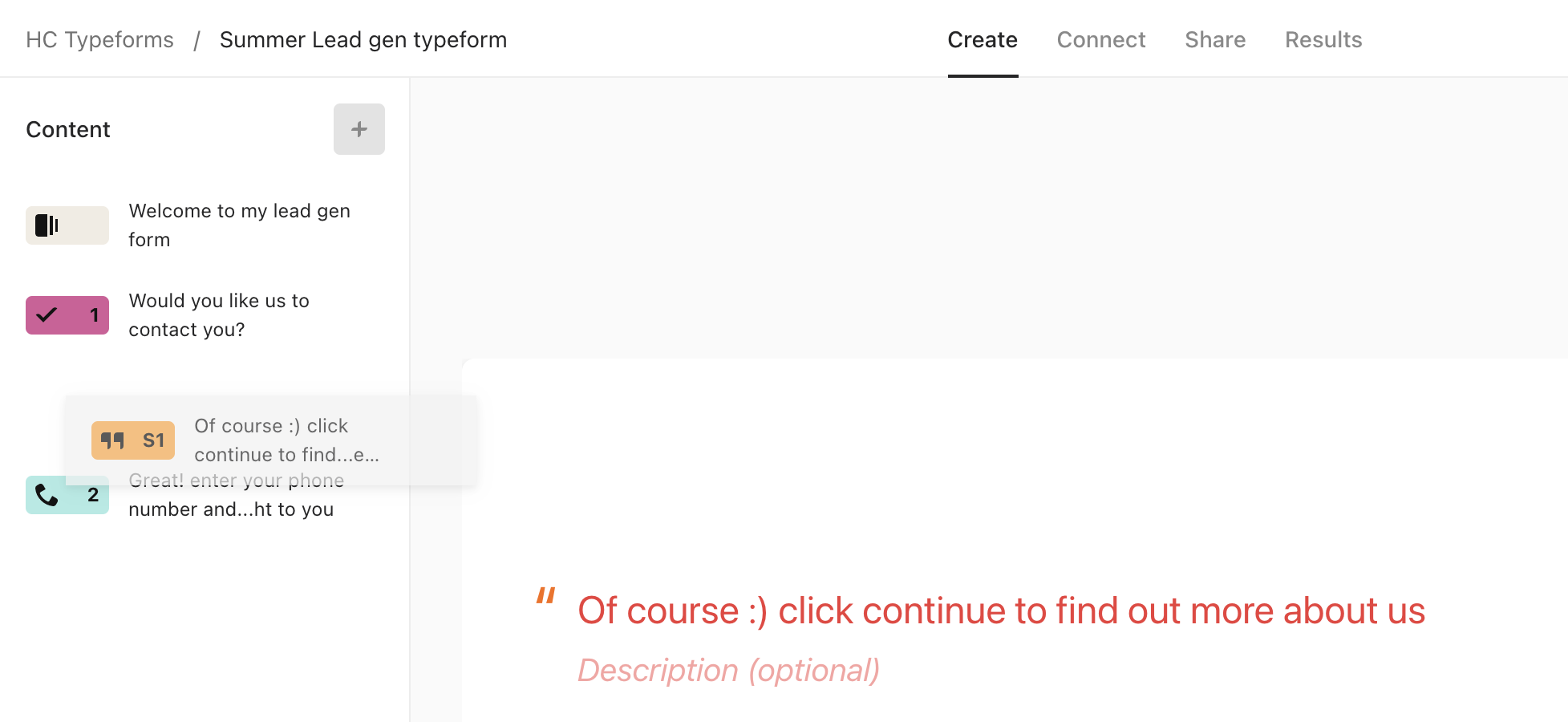 12. You can duplicate or delete questions by clicking the three-dot icon by each question:
13. Then add one or more Endings to finish off your typeform:
You can also reference the answers to previous questions using Recall information - just hit the @ key and choose from the list of available items. Here, we'll use it to mention the respondent's answer to 'What's your name?' in the Ending screen, and give a more personal goodbye:
14. Using Logic, you can link specific answers to specific endings, to show people different endings based on how they answered your typeform. Or how about adding points to each answer, and showing people an outcome based on their score?
You can do all that, and a lot more, from the Logic tab. Read more about that here.
15. Once your typeform's set up, you can test it using the View button (eye icon). Click this, and a preview of your creation will pop up:
Ready to roll? Hit the Publish button to make the typeform live!
Now head to the Share panel to find the link, and share it with the world:

If you want to edit your typeform after publishing it, we have you covered. You can make changes to your typeform, and they will be saved automatically. But the changes will not appear on your live typeform until you click Publish again. Find out more.